ARCHDIOCESE OF DENVER CO

Accused Diocesan Priests: 7 (against whom allegations "have been substantiated or admitted")
Total Priests: 1,402 (of which 647 diocesan and 755 order priests)
Alleged Victims: 21 (of the 7 priests against whom allegations were "substantiated or admitted")
Counseling and Settlement Costs: $997,730 (covered by insurers)

See the 2/25/04 letter from Archbishop Charles Chaput and Auxiliary Bishop José Gomez.

Denver abuse total: 7 priests
Critics say archdiocese manipulated numbers

By Eric Gorski
Denver Post
February 26, 2004

http://www.denverpost.com/Stories/0,1413,36~11741~1979694,00.html#

For the first time, the Denver Roman Catholic Archdiocese produced a public accounting Wednesday of clergy sexual abuse of minors in northern Colorado: seven confirmed perpetrator priests, 21 victims and nearly $1 million spent on settlements and counseling over the past five decades.
The disclosures, made in a letter from the archdiocese's two bishops to the 368,000 Catholics in their charge, came two days before the release of a national study that will provide the most comprehensive data ever on priest sex abuse in America.
One Denver priest, Monsignor Ed Buelt of Our Lady of Loreto church in Foxfield, expressed relief that the numbers were low compared with the devastating reports that have emerged in Boston, Chicago and elsewhere. He gave thanks for strong leadership, laity and policies in place since the early 1990s to deter abuse.
But victims' advocates and other critics say the numbers are too low to be believable. They also criticize what the report doesn't include: the total number of allegations made, exactly when the abuse occurred, and whether the priests were charged with a crime, plus other details.
Other U.S. dioceses have made those facts public in recent weeks, although the level of disclosure has varied.
Sergio Gutierrez, archdiocese spokesman, said the information made public was appropriate and accurately depicts the situation in the 24-county archdiocese.
The John Jay College of Criminal Justice in New York is compiling data provided by U.S. dioceses for release Friday. The report grew out reforms U.S. bishops adopted in Dallas in June 2002 in response to the national scandal.
Last month, the Denver archdiocese won high marks for taking steps to meet requirements spelled out in the so-called Dallas charter, including hiring a staff person to deal with the sex-abuse issues full time.
CNN last week reported that a draft of the national abuse survey showed that 4,450 priests had been accused of sex abuse against minors between 1950 and 2003. That amounted to about 4 percent of the priests who served in the country during that span.
The draft states 6,700 of 11,000 allegations against priests were investigated and substantiated, and another 1,000 were unsubstantiated. The remaining 3,300 were not investigated because the priest involved had died by the time the allegation was made.
The national report will not include a diocese-by-diocese breakdown, and dioceses are urged, but not required, to release any information.
The letter Wednesday from Denver Archbishop Charles Chaput and Bishop Jose Gomez, his assistant, did not list the total number of allegations against diocesan priests - only ones that were substantiated or admitted to.
"Allegations, when they're localized, give the presumption of guilt, which is not the just thing to do," Gutierrez said.
The seven priests abused 21 minors between 1950 and 2003 and account for 1.1 percent of the 647 diocesan priests that served in the archdiocese in those years.
Gutierrez said each of those priests has been removed from the ministry. But he would not say whether that happened immediately after the victims' stories were confirmed. The diocese did not reveal how many abuse cases were connected to each respective priest.
Since 1991, archdiocesan policy had mandated the immediate removal of a priest if an abuse claim is substantiated. But it's unknown if that occurred in these seven cases because the archdiocese won't say which years or even which decades they took place.
Following the lead of nearly all dioceses that have announced findings, the Denver archdiocese did not name the priests who were found to be abusers.
Chaput has said repeatedly that there are no known abusers working in the archdiocese. He was not granting interviews Wednesday.
The archdiocese also did not disclose whether law-enforcement authorities were told of or investigated any of the abuse cases.
Under the 1991 diocese policy, authorities must be contacted about any claim that comes to light.
The church also now conducts criminal background checks of all clergy, staff and volunteers and runs training sessions on how to minimize the risk of child abuse.
Insurance covered the $997,730 the archdiocese paid to victims for counseling and settlements in connection with sex abuse since 1950, the bishops said.
From 1950 to 2003, 755 priests who belong to religious orders - groups like the Jesuits, Vincentians and Dominicans - served in the Denver archdiocese. The archdiocese did not, however, make public any confirmed or alleged abuse cases involving them.
Gutierrez said such disclosures should be left to the their religious communities, which hold jurisdiction over the priests and would have weighed any claims.
Elsewhere in Colorado, the Pueblo diocese reported allegations against 12 clergy dating to 1950 and the Colorado Springs diocese reported cases involving three priests since its 1984 founding. Those figures include religious order priests.
"If more than half the priests that have served in Denver are not being reported on, we have an incomplete picture about Denver," said John Kane, a religious studies professor at Regis University, a Jesuit school. "It's a missed opportunity."
Richard Sipe, a San Diego psychotherapist and former priest who has written several books on clergy sex abuse, delivered a harsher critique.
"Denver is not being forthright," he said. "They're cheating a bit on their numbers and minimizing them as much as they can by not telling all the allegations, not telling really how they were disposed of. They're fudging in little ways, not to tell the whole truth and nothing but the truth so help them God."
Gutierrez defended the archdiocese's approach: "This absolutely gives a very accurate picture of the scope of this issue here in the archdiocese of Denver. The reason is it focuses on facts and information that's been substantiated. To go outside information that is fact and hasn't been substantiated is not the responsible thing to do and not the most just thing to do, for all parties."
Jack Lavino, co-director of the Colorado chapter of the Survivors Network of Those Abused by Priests, which has a dozen members, said it was "unimaginable" that only seven diocesan priests over 53 years were guilty of abuse. Lavino said abuse is chronically under-reported and diocese keep sketchy records.
Ginny Riegel, past president of the Archdiocesan Pastoral Council, a group of lay people and clergy who advise Chaput, said she is satisfied with the archdiocese and called the bishops' letter straightforward and honest.
"Allegations are just that," Riegel said. "I just don't think that needs to be in the news because that only further burns the fires, and for what? You have to trust that it was handled accordingly, and I do."
Buelt, of Our Lady of Loreto, said while any abuse against a child pains him, he was relieved by the relatively small number of substantiated abuse cases in Denver.
He said he hoped the numbers "would help us continue our journey of repentance and renewal as a church."





Archbishop's letter: Sexual abuse claims involved 21 minors
Chaput says church is going through 'national moment of self-examination'
By Lisa Marshall
(Boulder CO) Daily Camera
February 26, 2004

http://www.bouldernews.com/bdc/state_news/article/0,1713,BDC_2419_2684521,00.html

Between 1950 and 2003, at least seven priests in the Archdiocese of Denver were the subject of "substantiated or admitted" allegations of sexual abuse involving 21 minors, according to a letter by Archbishop Charles Chaput published Wednesday in the Denver Catholic Register.
In the Diocese of Pueblo, 12 priests were accused of abusing 16 people over the past 50 years, according to a letter issued by Pueblo Bishop Arthur Tafoya. In the Diocese of Colorado Springs, one priest has been removed from the ministry for abusing a minor in the past half-century.
The revelations by Colorado clergy come in anticipation of Friday's release of a national survey of sex abuse claims against Roman Catholic priests. A leaked copy viewed by CNN earlier this month said 11,000 abuse claims have been made against 4,450 clergy since 1950.
Chaput's letter says the church is going through a "national moment of self-examination."
"The intent of the letter is to get to the absolute core of what the local situation is," said Archdiocese of Denver spokesman Sergio Guiterrez.
But during a tearful press conference in Boulder Wednesday night, members of the Colorado Chapter of Survivors Network of those Abused by Priests called the numbers laughable and told their own stories — many of them for the first time publicly — to illustrate what they call an incomplete picture of the problem's scope.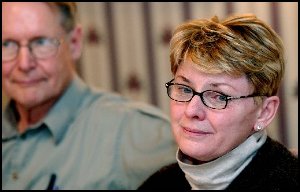 Carol Kobel becomes emotional while recalling being sexually abused by nuns in a Colorado Springs Catholic high school when she was 14. Kobel and others spoke at a meeting Wednesday of the Colorado Chapter of Survivors Network of those Abused by Priests at the Hotel Boulderado. Photo by Mark Leffingwell.
"This is a voluntary, self-survey, so they can say whatever they want," said Marnie Williams, 50, a Boulder woman who says she was abused by a priest during her college years in Hays, Kan. She said many survivors have yet to come forward, others' allegations were never recorded, and many were not abused by priests at all.
Carol Kobel, 54, of Boulder County, said she was 14 and studying to be a nun when she was sexually abused by two nuns at a Catholic high school in Colorado Springs.
She kept it to herself for years, she said, and attempted suicide twice.
"There were no witnesses, and I have no proof," she said. Nonetheless, she recently contacted the Catholic order to which the nuns belonged and is seeking compensation for her years of therapy.
"I lost my faith because of this," she said.
SNAP member John Brourink made the drive from Cheyenne for Wednesday night's news conference. He isn't Catholic. He said he was 14 when he was molested by a Presbyterian minister.
"Clergy abuse is going on in every denomination, and I hope all the denominations will start taking responsibility," he said.
Chaput's letter concedes that the provided numbers may not include every allegation made against priests in the Archdiocese of Denver. Between 1950 and 2003, 1,402 priests have served in the Archdiocese. Of those, 647 were diocesan priests, while 755 were priests from different religious orders.
Because the individual religious orders handle complaints against those priests, they were not included in the Archdiocese of Denver self-survey.
"We feel it is appropriate to allow them to comment on those cases because they are the ones who handle it," Guiterrez said. Whether those complaints show up as part of the national study depends on whether the religious order opted to participate in the survey, he said.
He said that all seven priests mentioned in the letter were removed from the ministry, and the cases were handed over to the proper civil authorities.
The letter also reports that the Archdiocese of Denver has paid a total of $997,730 in counseling and settlement costs in connection with allegations of sexual abuse of minors.
"We can never forget the suffering of victims during this national moment of self-examination for the Church," the letter said.