DIOCESE OF BATON ROUGE LA

Accused Priests: 23 (of which 10 diocesan, 13 extern and order)
Total Diocesan Priests: 709 (242 diocesan and 467 religious and extern priests, not including 51 diocesan deacons)
Persons Making Allegations: 35 (of which 20 against the 10 diocesan priests and 15 known against the 13 externs and order priests)
Costs: $2,072,274 (of which $1,336,009 for compensation and legal fees, $320,265 for victims' therapy, and $416,000 for priests' therapy)

Sources of Funds:
| | | | |
| --- | --- | --- | --- |
| Category | Diocese | Insurance | Total |
| Compensation and Legal Fees | $914,009 | $422,000 | $1,336,009 |
| Victims' Therapy | $320,265 | $0 | $320,265 |
| Priests' Therapy | $335,000 | $81,000 | $416,000 |
| | $1,569,274 | $503,000 | $2,072,274 |
See letter from Bishop Robert Muench with related article, a competent presentation that was published in the diocesan newspaper, the Catholic Commentator, on February 18, 2004.

BR diocese gives abuse report

By Barbara Schlichtman bschlichtman@theadvocate.com
(Baton Rouge LA) Advocate
February 21, 2004

http://www.2theadvocate.com/stories/022104/new_church001.shtml

The Roman Catholic Diocese of Baton Rouge reported Friday that 10 diocesan priests have been accused by 20 victims of sexual abuse of minors throughout the diocese's history.

The diocese also reported spending $2,072,274 on victims' compensation, legal fees, therapists and counselors for victims and priests, part of which was covered by insurance.
There has not been a new allegation in the Baton Rouge diocese since 1992, said the Very Rev. John Carville, vicar general for the diocese.
"While we are extremely sorry that anyone representing our church, particularly clergy, has ever abused a minor, we are grateful that there have been no incidents of abuse reported or alleged for the last 12 years," Carville said.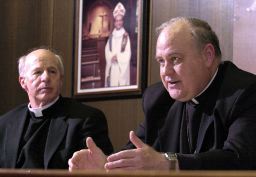 Advocate staff photo by Travis Spradling
Bishop Robert Muench, right, and the Very Rev. John Carville talk Friday about a report that says 10 diocesan priests have been accused of sexual abuse in the Baton Rouge Catholic diocese's history. "The response is one of sadness and deep sorrow," Muench said.
The diocese voluntarily released the numbers that had been gathered for a national report, which will be released Friday. Bishop Robert Muench said the diocese released its numbers for the sake of openness; the national report will not break down the numbers by diocese.
The diocese reported in April 2002 that six priests had been removed from active ministry because of accusations of molesting minors. Since then, three more priests were accused, and the diocese discovered an accusation in unrelated records bringing the total to 10.
The four newly identified priests are either dead or resigned from priestly ministry years earlier, Carville said.
"If the number were one, it would be too many. The response is one of sadness and deep sorrow," Muench said.
None of the 10 accused priests remain in ministry anywhere, Muench said. If the accused priest was diocesan, the priest would need the diocese's permission to work elsewhere, which would have been denied, he said.
Also noted in the report is that 13 other accused priests, from religious orders, have served in the Baton Rouge diocese.
If the accused priest was a religious order priest, the order would have been notified. However, the report does not reflect whether the accusations against those priests arose in Baton Rouge.
Religious order priests do not work for dioceses and usually work in a diocese temporarily.
The diocese also looked at a third category of priests, externs, priests from other dioceses. There were no accusations against this group.
Any credible allegation against a diocesan priest was included. Behavior in the accusations ranges from a hug or kiss to sodomy. All of the information has been given to district attorneys who decide whether to prosecute, Carville said.
The costs related to the allegations have been paid from a 1961 fund established for infirm and retired priests, Carville said.
The diocese spent more money on priests' therapy and counseling than victims, Carville said, because the diocese can order priests into residential treatment while victims can choose between residential and outpatient treatment. They often choose outpatient, which is less expensive.
The forthcoming national report was commissioned by the U.S. Conference of Catholic Bishops. It is being conducted by the John Jay College of Criminal Justice in New York.
The national survey will report how many priests have been credibly accused of sexually abusing minors since 1950, how many victims have come forward and how much the nearly 200 U.S. dioceses have paid to cover settlements and related costs. The Baton Rouge diocese formed in 1961.
In Baton Rouge, Voice of the Faithful leaders said they hope more lay people will take a role in the church as a result of the report.
Voice of the Faithful is a national lay group that formed in response to the clergy sex crisis.
"Unless we, as laity, become involved in running our church, we as a church will become irrelevant to the world around us," said Shelton Bourgeois, a member of St. Joseph Cathedral and Voice of the Faithful leader.
Bourgeois commended the Baton Rouge diocese for receiving national recognition for its plan to protect children and deal with priests.
Steps the Baton Rouge diocese has taken to prevent future abuse include:
- update the policy on sexual abuse by clergy.
- conduct background checks for clergy, school administrators and teachers, and people with supervisory responsibilities over young people, including youth ministers, teachers, secretaries and custodians.
- offer seminars for safe environment programs, mandated for clergy and teachers, recommended for parents.
- expanded the Independent Review Board with experts in child care, therapy, health and legal professions.

The Baton Rouge diocese covers 12 civil parishes: Pointe Coupee, West Feliciana, East Feliciana, Saint Helena, Tangipahoa, Livingston, East Baton Rouge, West Baton Rouge, Iberville, Assumption, Ascension and St. James.