One survivor tells a tale of triumph
By Margery Eagan
Boston Herald
October 17, 2002

Phil Saviano still remembers "the coolness of the dark church basement; the smell of his sickly, sweet cologne; the beads of sweat on his forehead; the force of his hands around my skinny wrist, the sense of being completely trapped.''
He remembers delivering the evening Worcester newspaper to the old Victorian rectory where Father David Holley, with those thick horn-rims, would joke with him. Sometimes he'd visit Sunday school and thrill the children by making fun of the nun behind her back.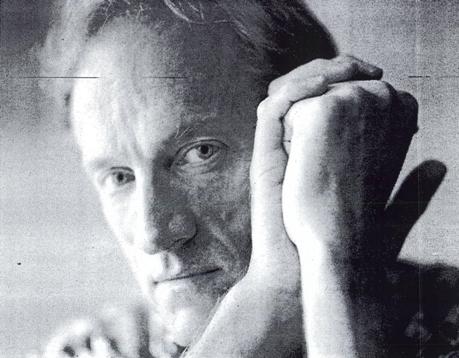 STAND UP: Phil Saviano, stepping down as head of the New England chapter of SNAP (Survivors Network of Those Abused by Priests), wonders why more Catholics aren't outraged by the sexual abuse scandal. Staff photo by George Martell. [Photo scanned from a copy of the Eagan column in the Phil Saviano Archive.]
"He'd show us card tricks and give us 50 cents—this was when an ice cream only cost a dime—to move boxes after Sunday school.'' From the sacristy to the rectory, from the rectory to that cool, dark church basement.
"One day the deck of cards he pulled from his pocket had pornographic pictures on them. That was the beginning,'' Saviano said. Then his confessor became his abuser. Then on Saturday afternoons he'd kneel before the screen and say to Holley, "Bless me Father for I have sinned. I yelled at my mother. I lied to my brother. . . And you know the rest.''
Phil Saviano was a skinny 12-year-old when Father Holley, now serving 275 years for molesting at least eight children, first grabbed the fleeing Saviano's wrist and pulled him back.
Now Saviano is 50. Until yesterday he led the New England chapter of SNAP (Survivors Network of Those Abused by Priests). Yesterday, after 10 years, he passed the job on to others. He is tired. He needs to make more money to pay his Jamaica Plain rent.
And while Saviano will not say this himself, among those who've followed the church scandal, Saviano is a hero, a gay man living with AIDS who dared go public in 1992—a time when few had any interest in pedophile priest tales, certainly not ones from an HIV-infected homosexual.
He also spent hours researching in the Boston Public Library, compiling a database of priest abusers and victims and hounding reporters until somebody listened.
Saviano is also what we don't see enough of in this tragic story: a true survivor, a living, inspiring, example of a man who's struggled to come to terms with what happened, and triumphed. He may be drowning in anti-AIDS drugs, Saviano joked yesterday. "But I'm good emotionally. Not on anti-depressants. I hope to keep it that way.''
What Saviano said bothered him most during his years with SNAP was neither horrible stories from victims nor arrogance and secrecy from the church, but how little Catholics seemed to care.
As he asked in a moving speech this summer at the Voice of the Faithful convention, "What took you so long? . . . The silence from the pews was deafening . . . Where (was) the Catholic laity when those notorious Massachusetts priests were sent off to prison in the early 1990s—Father Porter, Father Holley, Father Hanlon, Father Robert Kelly? What about Father Andrew Greeley's 1993 report in which he estimated that 2,000 to 4,000 Catholic priests had molested over 100,000 children?
Says Saviano, "The bishops and cardinals and 2,000 child-molesting priests have been on a 30-year rampage because we gave them the power to do so. We trusted them, we revered them, we dropped money in the basket every Sunday and never asked where it was going.''
Too many Catholics won't ask still, even after dozens and dozens of cover-ups have been exposed. And too many priests still hide behind a vow of obedience instead of following their conscience and uniting for power.
"They're part of an organization that's supported child molesters,'' Saviano said. "And they've derived benefits by not taking a stand.''
Phil Saviano has received apologies from no one, including the priest with the nerve to call him at home when he was a 14-year-old to inquire "how my body must have changed since puberty.''
His mother sat 3 feet away at the kitchen table as Saviano fielded sexual questions from Holley. "I was feeling the way I had felt so many times before, trapped again with Father Holley.''
When he finally hung up, Saviano said, his mother said, "Isn't he a wonderful priest to care so much about you kids?''
His mother died in 1976, never knowing what Holley did to her son. His father knows now, and is proud of Saviano's work. As for Holley, he has sent legal dispatches to Saviano, none contrite, all with a familiar theme: the unfair legal system. Each is signed this way: "May the Lord continue to keep you in his tender care.''