Paraguay president Fernando Lugo recognises another son

bbc.com
June 5, 2012
http://www.bbc.com/news/world-latin-america-18334555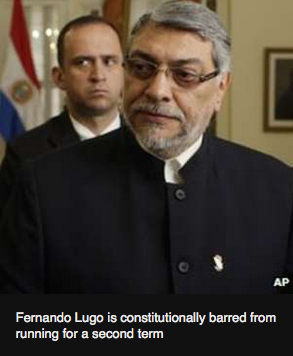 Paraguayan President Fernando Lugo has said he will recognise that he fathered a 10-year-old child born when he was still a Roman Catholic bishop.

The mother, Narcisa Delacruz, is a nurse who said she met Mr Lugo after separating from her husband.

She is the fourth woman to come forward with similar allegations since Mr Lugo, 61, renounced the priesthood and was elected in 2008.

This is the second child he has acknowledged.

Narcisa Delacruz, 42, said Mr Lugo informally recognised paternity of her younger son, Angel, soon after his birth in the northern town of Santani.

"I approached him when the baby was 10 months old and showed him the baby. He said it was a beautiful child and from that day he began helping financially to support the baby."

She said she avoided filing for formal recognition before to avoid a scandal that could damage the Paraguayan president's political prospects.

But she changed her mind after her son demanded to have his father's surname.

Narcisa Delacruz had four children when she met Mr Lugo and was divorcing her husband.

Mr Lugo's lawyer, Marcos Farina, says the president has acknowledged the paternity "without any problems" and asked him to file the paperwork to have the child's name changed.

Image caption Narcisa Delacruz said she has kept quiet for years to avoid a scandal
DNA tests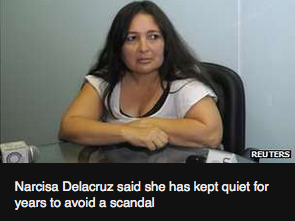 Mr Lugo served as a Roman Catholic bishop of the diocese of San Pedro, one of Paraguay's poorest areas, until stepping down in December 2006, saying he felt powerless to help the country's poor.
He took office as president two years later, ending 61 years of conservative rule in Paraguay.
But in 2009, the country was shocked when he acknowledged he was the father of a three-year-old child, Guillermo Armindo.
Two other women - Benigna Leguizamon and Hortenzia Moran - have since filed paternity suits against the former cleric.
DNA tests have shown that he had not fathered a child with Hortenzia Moran.
Ms Moran said her son, Juan Pablo, was conceived while she was working for one of the left-wing parties that supported Mr Lugo's candidacy for president in 2008.
Ms Leguizamon, who has three other children, said she had relations with Mr Lugo when she worked as a cleaner in San Pedro region, where he was a bishop.