Nine days and no verdict in clergy sex-abuse trial
By Joseph A. Slobodzian and John P. Martin
Philadelphia Inquirer
June 15, 2012

http://www.philly.com/philly/news/breaking/20120615_Nine_days_and_no_verdict_in_clergy_sex-abuse_trial.html

The jury in the sex-abuse trial of two Philadelphia Catholic priests ended a ninth day of deliberations Friday without a verdict — but also without any word that it was deadlocked.
The Philadelphia Common Pleas Court panel of seven men and five women returned to court late in the afternoon to be read the part of the trial testimony of Msgr. William J. Lynn, the first Catholic Church official criminally charged for his supervisory role over deviate priests.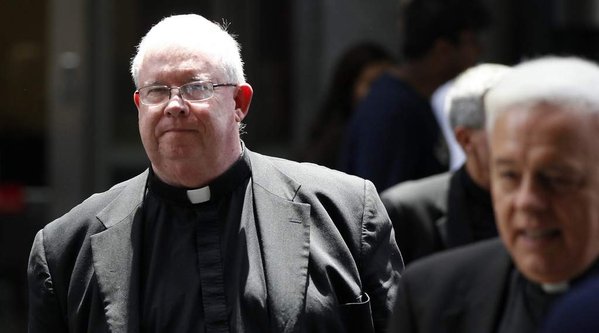 Msgr. William J. Lynn (left) walks from the Criminal Justice Center. Matt Rourke / Associated Press
The testimony — a portion of the three-day grilling of Lynn, 61, by Assistant District Attorney Patrick Blessington — appeared to go to the heart of the question that has been bedeviling the jurors for several days: Did the cleric knowingly put minors in danger of being sexually abused by allowing pedophile priests to be assigned to parishes where they would have access to children?
Fifteen minutes after hearing the testimony read by the court reporter and going back to the jury room, the panel returned to court to be excused for the weekend. The jury is to return at 10 a.m. Monday.
The 12 jurors had been a generally upbeat group during the trial and first few days of deliberations. Not Friday afternoon. All the jurors seemed solemn and tired and several appeared angry, faces scowling and arms crossed tightly across their chests. Nevertheless, Philadelphia juries have taken longer to reach verdicts and this panel has yet to tell Judge M. Teresa Sarmina that it is unable to reach a unanimous decision.
Lynn, who as the Archdiocese of Philadelphia's secretary for clergy from 1992 to 2004 was responsible for investigating allegations against priests suspected of sexually abusing minors, is charged with conspiracy and two counts of child endangerment. On trial with him is the Rev. James J. Brennan, 48, charged with attempted rape and one count of child endangerment involving a 14-year-old boy who visited his apartment in 1996.
The testimony the jurors had read to them Friday involved one of the child-endangerment charges against Lynn — his handling of the case of Edward Avery. Avery was accused in 1992 of molesting a boy in the late 1970s, when he was assistant pastor of a parish in Pennsburg, Montgomery County.
According to trial testimony, Avery was sent to St. John Vianney, the archdiocesan hospital for priests with sexual and substance-abuse problems. He remained there on medical leave until 1993, when he left for a 10-year-stint as the chaplain at Nazareth Hospital. The problem was where he should live because of the recommendation that he not be near children.
Lynn testified that he had recommended a parish assignment for Avery where he would be strictly supervised, but that then-Cardinal Anthony J. Bevilacqua vetoed the idea and said he wanted Avery to be the Nazareth chaplain. The cardinal relented on forcing Avery to live at the hospital and said he could live in the rectory of St. Jerome Parish nearby in Northeast Philadelphia.
Avery was later accused of sodomizing a 10-year-old altar boy there in 1998 and 1999.
In testifying, Lynn said that he was sorry for what had happened to the boy but maintained that Bevilacqua had the final word on priest assignments. The prosecutor, Blessington, questioned Lynn about calls with the pastor at St. Jerome, who was supposed to be part of Avery's supervisory aftercare team, about word that Avery was saying Mass, hearing children's confessions, and resuming his moonlighting as a disc jockey.
The testimony dealt with the child-endangerment charge against Lynn: that he knew about Avery's history but let him continue living at St. Jerome's though it put children at risk.
Avery, 69, who was later defrocked, was charged in the case with Lynn and Brennan but pleaded guilty the week before the trial started on March 26 and was sentenced to 2½ to 5 years in prison. Another priest and a parochial schoolteacher charged with sexual assault on the same 10-year-old altar boy are to be tried separately Sept. 4.
Contact Joseph A. Slobodzian at 215-854-2985 or jslobodzian@phillynews.com, or follow on Twitter @JoeSlobo.