Archbishop Bars Prominent Priest As Canon Lawyer

By Dennis Coday
National Catholic Reporter
May 2, 2008

http://ncronline3.org/drupal/?q=node/801

Saying Dominican Fr. Thomas Doyle had "failed to represent [clients] properly or effectively" in the church court in St. Louis, Archbishop Raymond Burke has barred the priest from acting as a canon lawyer in the St. Louis archdiocese.

In a decree issued April 11 and printed in the archdiocesan newspaper, Burke justified his action by saying Doyle is guilty of two canonical crimes: "abuse of ecclesiastical function" and culpable negligence.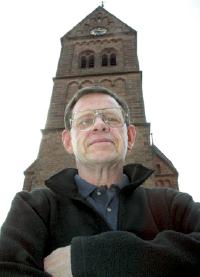 Frank Rumpenhorst: Dominican Fr. Thomas Doyle
Photo by AP


Doyle, long noted as an outspoken advocate for victims of sexual abuse by Catholic clergy, has a private practice as a canon lawyer representing people who, in his words, have "found themselves in disputes with the Catholic church or harmed in some way by the institutional church."

Doyle said Burke's action is an abuse of the church's judicial process. Burke "has sorely misused and abused the canonical process as a way to get even with people who disagree with him or whom he sees as being in opposition to him," Doyle told NCR.

In St. Louis, Doyle had been representing Stan Rozanski and Bernice Krauze, two members of the board of directors of St. Stanislaus Kostka, a parish under interdict over a property dispute with the archdiocese. Other board members and the parish pastor, Fr. Marek Bozek, have also been excommunicated and have been consulting with Doyle.

Earlier this year, Burke refused to recognize Doyle as canon lawyer for Bozek in the diocese's attempt to laicize him (NCR cover story, Feb. 22). The cases against the board and Bozek are now at the Vatican on appeal.

Burke's decree says that Doyle failed to seek Burke's permission to represent Rozanski and Krauze, missed deadlines for filing papers and didn't appear before the St. Louis tribunal as summoned.

In a statement, Doyle said he didn't get Burke's approval to represent Krauze and Rozanski because he was already representing other board members. He acknowledged that he did miss a filing deadline, but said Burke had rejected his written explanation for the delay. He also acknowledged failing to obey summons to appear before the archbishop because he had judged the appearances to be "unnecessary, inconvenient and punitive in nature."

According to Oblate Fr. Francis Morrisey, a member of the canon law faculty at St. Paul University in Ottawa, Burke's decision to bar Doyle is highly unusual.

Canon law requires an advocate to "be of good repute," so presumably a bishop can make a judgment about a particular person in a particular case. However, he said, "It is quite unusual for a bishop to refuse recognition for a canon lawyer to represent a person before a court in his diocese."

Morrisey expressed uneasiness about this case. "Canon law was not designed to handle this type of situation," he told NCR. "It can easily become a travesty of justice to apply all types of canons to situations that do not merit such an action."

He suggests that the guiding canon should be 1341, which "strongly recommends that before any penal process is begun, there be previous steps, such as fraternal correction, reproof, methods of pastoral care and so forth."

"A penal process is the last resort in canon law, and to impose penalties too readily goes very much against the principles that were accepted when the Code of Canon Law was being revised," Morrisey said.

Both Burke and Doyle hold doctorates in canon law. Burke has published numerous scholarly articles in the field and, since 2006, has served on the College of Judges of the Apostolic Signatura, the supreme court of the Catholic church.

Doyle has taught canon law at Chicago's Catholic Theological Union, The Catholic University of America in Washington, and Mundelein Seminary in Illinois and has served on the tribunals of three dioceses, including the Military Services archdiocese.

He was serving as secretary and canon lawyer on the staff of the Vatican Embassy in Washington when he began reviewing files on cases of clergy molesting minors. Since then, he has reviewed more than 1,500 priest personnel files in at least 190 U.S. dioceses. In the mid-1980s, he began warning church leaders that "irreparable financial and spiritual damage" was imminent if they did not make a serious effort to deal with the problem of clerical sex abuse.

He has become a hero to victims and a thorn in the side of the U.S. hierarchy for his refusal to remain silent on the issue.