A Choice for New York Priests in Abuse Cases

By Andy Newman
The New York Times
August 31, 2006

http://www.nytimes.com/2006/08/31/nyregion/31priest.html?ei=
5087%0A&en=ff81d8c6ae369451&ex=1157169600&adxnnl=1&pagewant
ed=1&adxnnlx=1157018659-u57M8JH0ee3nDcKdpYXm0w
[Note from BishopAccountability.org: See the follow-up article in the local paper: Two Accused Priests Enter Trinity House Retreat, by Judy Silberstein, Larchmont Gazette (8/31/06). See also a 1993 article on the crisis by Rev. Benedict J. Groeschel, C.F.R., who directs the Trinity Retreat House, Making Sense of the Scandal, by Rev. Groeschel, Catholic World Report (11/93), as well as two exchanges with his critics: Sins of the Fathers, by Rod Dreher, National Review (2/11/02); Wages of Relativism, by Rev. Groeschel, National Review (2/28/02); and Unholy Mess, by Rod Dreher, National Review (2/28/02). Priest Plays down Abuse Crisis, by Brooks Egerton, Dallas Morning News (3/2/03); Rodimer: Psychologist Gave Me Bad Advice, by Maya Kremen, Herald News (3/4/03); and Father Groeschel Responds to His Critics, Catalyst (5/06). For Cardinal Egan's arrangements with priests sent to Trinity Retreat House, see Egan's letter to an accused priest.]

As the Roman Catholic Church struggles to repair itself and its image in the wake of the sex abuse scandals, one of the more confounding questions church leaders face is what to do with priests accused of abuse.

Some priests whose crimes fell within statutes of limitation are in jail. Some have been defrocked.

But others — because they are elderly, because of the nature of their offenses, or because they have had some success fighting the charges — cannot be defrocked under canon law. These priests occupy a sort of shadow world, stripped of most duties but still financially supported by the church and fairly free to move about, both angering the critics of the church and exposing the diocese to further liability.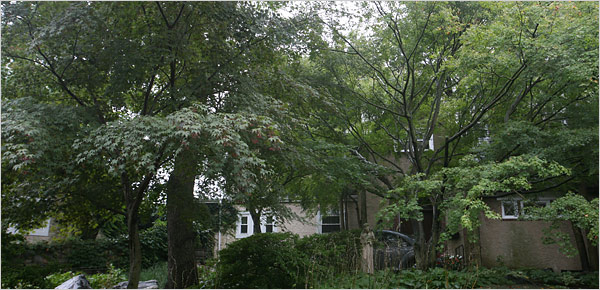 The Trinity Retreat House in Larchmont, N.Y., where the New York Archdiocese is sending priests who have faced sexual abuse allegations that it has deemed credible.
Photo by Angel Franco/The New York Times

Cardinal Edward M. Egan, head of the New York Archdiocese, is trying something new. Since June, he has offered seven priests that the archdiocese believes have been credibly accused of sexually abusing children a choice.

They can spend the rest of their lives in closely supervised housing, where, in addition to receiving regular therapy, they must fill out a daily log of their comings and goings. Or they can leave the priesthood and the lifetime security net that comes with it.

Priests who agree to enter the program move temporarily to a handsome, ivy-covered retreat house on Long Island Sound in a mansion-filled corner of Larchmont, N.Y., in Westchester County, a place where priests with troubles have long been sent.

The building, Trinity Retreat House, flanked by the sound on one side and an inlet on the other, is, unlike its neighbors, nearly invisible from the road, hidden behind leafy trees and an ivy-covered wall. In a few months, the priests are transferred to permanent housing elsewhere, said Joseph Zwilling, Mr. Egan's spokesman.

So far, five of the seven priests who received the letters have resigned rather than submit to monitoring. One priest has moved into the retreat house, and the other is on his way, Mr. Zwilling said.

It is difficult to determine how many other dioceses have a supervised-living program like the new one in New York. In the Chicago Archdiocese, nine priests accused of sex abuse live in a retreat house on the grounds of a seminary and are carefully monitored, officials there said, adding that they also planned to install surveillance cameras and keep the priests locked in the building during some hours.

A spokesman for the United States Conference of Catholic Bishops, William A. Ryan, said, "There are several other dioceses that have similar programs, but unfortunately, none of them are willing to talk about it."

In the New York Archdiocese, the priests who received the letter fall into one of several categories, Mr. Zwilling said.

Some have been convicted in a canonical trial but determined to be too elderly or infirm to endure being defrocked and are instead sentenced to a life of prayer and penance. Others have had the accusations against them referred to an archdiocesan advisory board consisting mostly of laypeople, including psychologists and lawyers. The board, which can interview the priest but does not have to, issues a recommendation to the cardinal on whether the priest should continue to minister.

The archdiocese notifies law enforcement authorities of all allegations that could result in criminal charges. But in many cases, with the accusations decades old, statutes of limitations had long since run out.

Those who defend priests have said the New York policy is too harsh, especially since the board that decides whether an accusation is credible does not have to give the priest a chance to defend himself. But Mr. Zwilling said the archdiocese was doing what it had to do.

"If there has been a finding and a belief that a cleric has misbehaved, we want to do all that we can to protect against such misbehavior occurring in the future," Mr. Zwilling said this week.

The letter to the priests states, "The continued safety of our children and young people, the protection of the reputation and patrimony of the archdiocese, and your own well-being dictate that you enter this program and residence."

The Rev. John P. Bambrick, a priest in the Trenton Diocese who says he was abused as a youth by a priest in Yonkers and who is now an advocate for victims, said that the program seemed in part like an attempt to force out abusive priests so that the church is no longer accountable for their actions.

"I don't think the archdiocese is doing this out of their great concern for children," he said. "There's a liability issue here, and the archdiocese's lawyers have come up with this brilliant plan, which is either to corral them and control them or to force them to leave."

He added that if the archdiocese really wanted to protect the public, it would publish the names of abusive priests and former priests. "Unleashing them on society is not the responsible thing to do," he said.

Mr. Zwilling said the program was not an attempt to drive out problem priests. "Our goal was to have them all participate in this program," he said. "They are people who can make choices on their own, and this is what they have chosen."

Mr. Zwilling added that he did not believe the archdiocese could legally notify the neighbors of abusive priests if the men were not convicted of any crime, though it does notify the local district attorney. The archdiocese covers New York City and five other downstate counties.

David Clohessy, the executive director of SNAP, the Survivors' Network of Those Abused by Priests, said community notification should not pose a problem: "If a bishop can publicly say, 'Father Bob has been accused of child sexual abuse,' " — the archdiocese does tell parishioners in a priest's own parish when he has been removed because of abuse allegations — "that same bishop can say 'Father Bob now lives at this address and here's why.' "

Before the new program, called the Shepherd Program, was put into effect, most accused priests lived on their own, as they do in much of the country, barred from functioning as priests but required only to tell the archdiocese every few months where they lived, Mr. Zwilling said.

It is typically difficult for laypeople to find out where abusive priests are living, said Paul Baier, co-director of bishopaccountability.org. "Here in Boston they've removed 150 of them, and no one knows where they are," he said. "In Los Angeles they have 200 or 300 of them, and no one knows where they are."

But the Rev. Michael Sullivan, chairman of the canonical board of Justice for Priests and Deacons, a national organization that helps clerics accused of sexual offenses, said that New York's program was one of the strictest he had heard of.

"I don't read in their policy that the person has an opportunity for a different job within the church unless they accept laicization," Father Sullivan said, referring to the conversion of priests to laymen. "My sense is that if the canonical courts cannot prove anything, that that becomes overly restrictive, and that's unjust."

While the letter to the priests mandates psychotherapy, it does not speak of rehabilitation or of leaving the program. "That was the situation we found ourselves in the past, where individual clerics would go through intensive therapy and would be judged able to return to ministry, and it didn't work," Mr. Zwilling said. "They relapsed — that led to all the charges about shuffling priests around. With what we know today, I don't think that can be an alternative."

Priests who agree to enter the program may not say Mass in public, dress as a priest, be alone with children or "inappropriately use computers," the letter says. They must receive therapy and spiritual counseling. And they must fill out a logbook every day, have it signed by a monitor and be prepared to document their claims.

Over the years, Trinity Retreat House, on Pryer Manor Road, has provided a temporary home for priests with all kinds of problems, including sex abuse. Several residents of Larchmont said they knew about the retreat house and were not bothered by it or by the new program.

"I think this shows that the cardinals are making an effort," said Jeanne Murray, a retired teacher leaving Mass on Tuesday at St. Augustine's Church, less than a mile from the retreat house. "What would we do with people who are not priests who make mistakes? We would try to help them."

At the retreat's office, the secretary showed a reporter the door. "It's nothing to publicize," she said. "It's a retreat house for priests. Period. End of story."

In the retreat house itself, a man answered the door, and three others inside got up from couches and scattered. There will be no interviews, he said.