New Charge against Pastor

By Marcus Kabel
The Associated Press, carried in The Morning Sun [Neosho MO]
August 31, 2006

http://morningsun.net/stories/083106/reg_20060831004.shtml

Neosho, Mo. (AP) - Plying her with what he called "angel kisses" and assurances God had instructed him to "fulfill her needs as a woman," a pastor repeatedly molested a young girl at two reclusive southwest Missouri church communities for nearly a decade, prosecutors in two counties say.

And many other potential victims are expected to come forward as an investigation of what authorities consider a pattern of ritual child abuse by church leaders unfolds.

The Rev. George Otis Johnston, 63, pastor of Grandview Valley Baptist Church North, pleaded not guilty Wednesday in Newton County to eight counts of statutory sodomy. Later that day, McDonald County prosecutors charged him with one felony count of child molestation.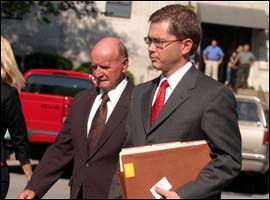 George Otis Johnston, left, and his attorney David Sims leave the Newton County courthouse following Johnston's arraignment in Newton County district court Wednesday in Neosho, Mo. Johnston, a pastor accused of repeatedly molesting a young girl from his church, pleaded not guilty Wednesday in one of five cases against leaders of two affiliated church communities in rural southwest Missouri. Johnston, 63, is charged in Newton County with eight counts of statutory sodomy.
Photo by The Associated Press



He and four leaders of a church compound in McDonald County are accused of molesting and having sex with young girls from their churches, possibly for decades.

Johnston entered his not guilty plea during a brief arraignment in Newton County Circuit Court in Neosho. He declined to answer reporters' questions as he left with his attorney.

Neither Johnston nor his lawyers were available to comment on the latest charge.

McDonald County officials also have charged four leaders of Grand Valley Independent Baptist Church with sexual abuse of several young girls from the late 1970s to 2005, sometimes as part of what court documents called "a ritual or ceremony."

The Rev. Raymond Lambert, 51; his wife, Patty Lambert, 49; and her brothers Paul Epling, 53, and Tom Epling, 51, also have entered pleas of not guilty.

Lambert is the pastor of Grand Valley, a remote 100-acre farm in eastern McDonald County. Johnston, who is Lambert's uncle, is head of the Grandview Valley on a 10-acre property in rural Granby, about 75 miles southwest of Springfield.

The McDonald County charge against Johnston relates to the same girl named as a victim in the eight counts against him in Newton County. A probable cause statement alleges Johnston repeatedly molested the girl at the McDonald County church over a period of five years, starting when she was 11 years old.

The felony complaint alleged the acts happened "as part of a ritual or ceremony" before and after church services at the McDonald County compound. It said Johnston called his acts "angel kisses."

Investigators expect new defendants to be named as more alleged victims come forward.

Johnston initially was charged with repeatedly molesting the girl at his Granby compound starting in 1997 when she was 8 years old and continuing until earlier of this year.

The girl told investigators that when she was around 12 years old, Johnston told her that "he was ordained by God to fulfill her needs as a woman," according to a probable cause statement.

The pastor also said "that if she would have sexual intercourse with him that she would remain a virgin and remain pure," the girl said.

Though she refused intercourse, she continued to be molested, she told investigators.

Lambert is charged with repeatedly molesting two underage girls with the help of his wife, sometimes as part of a ritual or ceremony, according to court filings. The pastor allegedly told each of the girls, "We are preparing your body for service to God".

Paul Epling and Tom Epling each are accused of repeatedly having sex with girls as young as age 4 in the late 1970s and early 1980s.

Investigators have said the McDonald County live-in church community, started in the 1970s, numbered up to 100 people until recently, when the abuse investigation began, but only about a dozen are thought to still be living there.

The Newton County community numbers about 35 to 45 people, investigators said.