Whistle-Blower Leaves Parish, Quits Priesthood

By Donna Porstner
The Advocate [Darien CT]
August 30, 2006

http://www.stamfordadvocate.com/news/local/scn-sa-priest2
aug30,0,933707.story?coll=stam-news-local-headlines

The priest who blew the whistle on his boss for allegedly stealing from their wealthy Darien parish resigned without warning yesterday.

Along with the church bookkeeper, the Rev. Michael Madden hired a private investigator earlier this year to look into the lavish spending habits of the former pastor. That led to an FBI investigation that is continuing.

The investigator found the former pastor of St. John Roman Catholic Church, the Rev. Michael Jude Fay, spent at least $200,000 on airline tickets, fancy dinners, limousine rides and gifts for himself and his boyfriend. Fay was forced to resign after the scandal broke.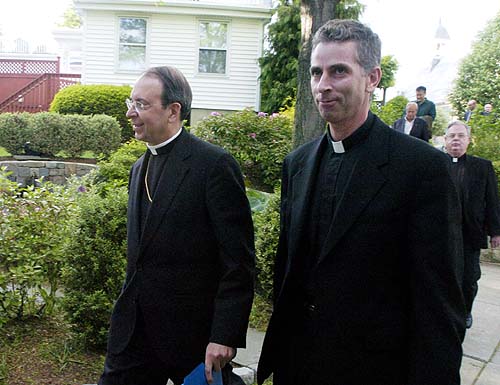 Bishop William Lori, left, and the Rev. Michael Madden head yesterday to the parish hall at St. John Church in Darien.(May 24, 2006)
Photo by Kathleen O'Rourke/Staff


An audit commissioned by the Bridgeport Diocese found Fay might have misspent up to $1.4 million in church funds.

Madden went to the new pastor of the church, the Rev. Frank McGrath, at about 1:15 p.m. yesterday and told him he was leaving the parish and the priesthood immediately.

"He was already packed, and we had a good, long talk," McGrath said in a telephone interview last night.

Madden was upset and disappointed with the diocese's handling of the Fay incident, McGrath said.


Rev. Michael Jude Fay
Photo by Tom Ryan/Staff



"It's the culmination of several disappointments in his 11 years as a priest," McGrath said.

McGrath said he offered Madden the opportunity to explain his sudden departure in the weekly parish bulletin, but Madden declined, saying he had already made a statement to the Darien Times that would be read by parishioners. Madden served as the church's parochial vicar.

"I walked him to his car and wished him well," McGrath said. "I said, 'You are always welcome back.' We shook hands, and he drove off."

A spokesman for the Bridgeport Diocese, Joseph McAleer, said the diocese and Bishop William Lori learned of Madden's resignation from McGrath yesterday afternoon.

McAleer said the diocese was shocked by the news.

"We hope that Father Madden will reconsider his decision and, if so, the diocese will welcome him back to continue serving as a priest," he said.

McAleer said the diocese did not push Madden to leave. "We had no knowledge of this. This was 100 percent Father Madden's decision."

Madden's whereabouts were unknown as of last night. He could not be reached for comment.

His father, Ralph Madden of Brookfield, said he knew his son had left the parish but was secretive about where he was going. The father he did not press him for details.

"I'm kind of shocked by the whole thing, and I'm very sad," Madden's father said.

But he said his son was not happy recently and said he hopes something good comes out of his decision to leave the priesthood.

"He's done a lot of agonizing over this, and he deserves better," Ralph Madden said in a telephone interview.

Michael Madden's resignation came a few weeks after the bookkeeper, Bethany D'Erario, quit her job.

D'Erario moved out of state with her husband and child. She did not return a message last night.

The private investigator hired by Madden and D'Erario, Vito Colucci of Stamford, said last night he hadn't spoken to Madden in about a month. "I feel very bad to hear this because, if ever there was a poster child for what a Catholic priest should be, it was Father Mike. I saw how he loved God, how it was important to him to do what was right, no matter the repercussions, and how his congregation loved him and reached out to him when all this happened. It's a shame he's gone."

Colucci said he was disappointed but not surprised by the resignation. "The man went through a lot. I believe he knew it was all over for him not long after this came out. He told me that, in the end, the only one he has to answer to is God, and he had to do what he knew to be right. He's a good, honest man."

Phillip Dolcetti, who serves on St. John's newly formed advisory board with his wife, Allison, said he was surprised when he got a phone call last night from another board member alerting him of Madden's resignation.

Madden had been over for dinner a few weeks ago and made no mention of leaving, Dolcetti said.

He had asked Madden point-blank whether he planned to stay at the parish.

"When I asked him that question, he smiled at me and didn't answer," Dolcetti said. "I didn't want to push him."

Dolcetti said he knew it was only a matter of time before Madden would leave.

Madden apologized to parishioners in May for hiring Colucci, and hundreds of parishioners rallied in his support, fearing Lori would move him to another parish as punishment.

Parishioners who gathered at the parish May 23 to meet with Lori were angry and told the bishop not to punish Madden for being a whistle-blower.

Lori said Madden's actions "worsened" the situation with Fay and required him to take a sabbatical for rest and reflection, though he never took it.

Dolcetti said it bothered Madden that he became the focus of the controversy instead of Fay.

"He felt like he was alone fighting an uphill battle against all the warriors and standing alone, sooner or later, you'll get shot," Dolcetti said.

-- Assistant City Editors Angela Carella and Matthew Strozier contributed to this story.