International Manhunt Comes to End
Yearlong Hunt Finalizes When Jeffs' Vehicle Is Pulled over North of Las Vegas

By Scott Nowling
The Spectrum
August 30, 2006

http://www.thespectrum.com/apps/pbcs.dll/article?AID=/20060830/NEWS01/608300319/1002

St. George - An international manhunt lasting more than a year and ranging from Canada to Mexico and throughout Colorado, Texas, Arizona and Southern Utah came to an end Monday night on Interstate 15 north of Las Vegas when Warren Steed Jeffs was arrested by a Nevada Highway Patrol trooper during a traffic stop.

The fugitive leader of a polygamist religious sect has been sought by local, state and national law enforcement agencies since June 2005 and was placed on the FBI's 10 Most Wanted List in May 2006.

"The troopers did a great job," Patrick Kiernan, spokesman for the FBI's Salt Lake City field office, said.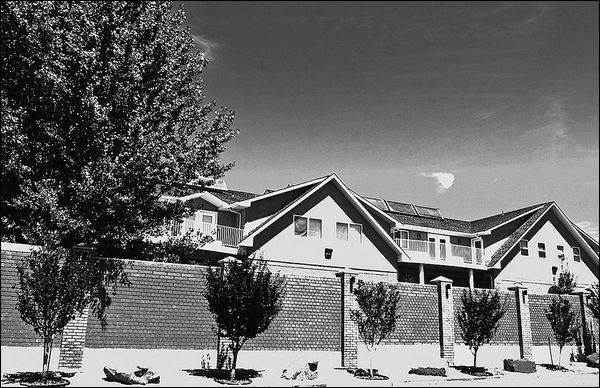 The outside of the home of FLDS leader Warren Jeffs in Colorado City, Ariz. Tuesday.
Photo by Garrett Davis/ The Spectrum & Daily News
WARREN JEFFS' CHARGES
Arizona - Two counts of sexual conduct with a minor, one count of conspiracy to commit sexual conduct with a minor and one count of unlawful flight to avoid prosecution.

Utah- Two counts of rape as an accomplice.

Federal- Two counts of unlawful flight to avoid prosecution.


REWARDS

Attorneys general of Utah and Arizona combined for a $10,000 reward for information leading to Jeffs' arrest.

The FBI, which put Jeffs on its Ten Most Wanted List, has offered a $100,000 reward for information leading to Jeffs' arrest and conviction. Because he was captured during a traffic stop, it is unclear whether the reward will be paid to anyone.


Kiernan said that the FBI made Jeffs' capture a high priority locally and nationally even though a relatively small number of field offices were directly involved.

Since he vanished from public view, sightings of Jeffs have been reported in many locations. Recently, reports had him in Mesquite, Nev. and on Red Hills Parkway in St. George.

Until today, all of the reports turned out to be false or too late.

Sam Brower, a Cedar City-based private investigator, has been on Jeffs' trail for more than two years.

He was hired by a law firm representing several former members of Jeffs' sect who filed a group of lawsuits against Jeffs.

Brower tracked Jeffs and some of his followers to many locations including South Dakota, Texas and British Columbia.

He laughed as he tried to estimate the number of miles he has traveled in the search.

"Probably more than 100,000 miles," he said.

"In the beginning, law enforcement wasn't very interested. Then we got Mohave County (Arizona) on board; then came Washington County and then both states' attorney generals," he said. "The attorney generals say they're doing something. I'd like to see it."

The final agency to join the hunt was the FBI, he said.

Law enforcement has the advantage of more manpower and more money, but in the end it appeared to be just dumb luck that got Jeffs, Brower said.

Washington County is likely to be the site of where Jeffs will answer to the Utah charges.

"I was very pleased that the arrest took place without anyone getting hurt," said Washington County Attorney Brock Belnap. "Now, Jane Doe's story can be told before a jury. We can finally shed some light on these practices so that the women and children who want to be free from this kind of abuse can.

"We are looking forward to having this heard in a court of law."

Belnap is coordinating the legal process between jurisdictions with Matt Smith, county attorney for Mohave County, Ariz., where Colorado City is located. Hildale, the Utah town across the state line from Colorado City, is in Washington County.

According to the FBI, Jeffs was wanted for unlawful flight to avoid prosecution, sexual conduct with a minor, conspiracy to commit sexual conduct with a minor and rape as an accomplice.

Washington County Sheriff Kirk Smith said the FBI called him at 1:30 a.m. Tuesday.

"I don't often get calls at 1:30 in the morning, but when I do, it's something big," Smith said.

Smith said that the Washington County Sheriff's Office has worked very closely with the agents in the Salt Lake City field office of the FBI.

"I want to express how grateful I am, especially to special agent in charge Tim Furhman, who worked very closely with us," Smith said.

Kiernan said that the law enforcement agencies in Arizona, Nevada and Utah, as well as the FBI, worked closely to catch Jeffs.

"This is how professional law enforcement works," said Smith. "Lots of assets are used to track and apprehend fugitives. We had a plan. We stuck with it. We got him at a time when he had no bodyguards and there was little or no chance it would turn into a forceful situation."

Marlon Stratton, chief of the St. George Police Department, said his department has been looking for Jeffs for months.

"I haven't heard all of the details yet, but I was quite pleased to hear that it was an officer on patrol that made the arrest," he said. "That's the way it happens so many times in situations like this."

When Jeffs goes to trial in Washington County, he will be held in the Purgatory Correctional Facility in Hurricane, Smith said.

Smith said that his office worked out protocols several months ago for handling high-profile inmates.

Brower believes his work is just beginning.

"In the last two to three years, I have amassed all kinds of information, tapes, real estate records and transactions in a huge database," he said.

"No, I'm not done."

With all of the details and all of the speculation that will surround a high-profile case like this, Belnap wanted to remind everyone of a basic tenet of the American system of justice.

"Warren Jeffs is innocent until proven guilty," he said.