Johnston Pleads Not Guilty

By John Ford
Neosho Daily News
August 30, 2006

http://www.neoshodailynews.com/articles/2006/08/30/breaking_news/01johnston.txt

During his arraignment this morning, George Otis Johnston pleaded not guilty to eight felony statutory sodomy charges.

Johnston, 63, the pastor of Grandview Valley Baptist Church North in rural Granby, faces seven unclassified felony charges of first degree statutory sodomy and a Class C felony count of second degree statutory sodomy.

With defense attorney David Sims, Johnston appeared before Newton County Division II Associate Circuit Court Judge Greg Stremel this morning and entered the not guilty plea.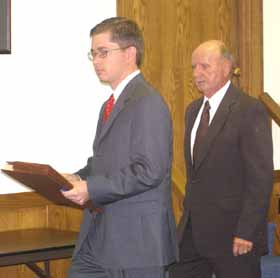 Led by defense attorney David Sims, George Otis Johnston leaves the Newton County Division II Associate Circuit Courtroom after an arraignment this morning. Johnston pleaded not guilty to eight felony charges of statutory sodomy.
Photo by The Daily News / John Ford


A preliminary hearing was set for 1:15 p.m. Sept. 18 in Stremel's courtroom. Immediately after the proceeding, Johnston left the courthouse with Sims and walked across the Neosho square to his attorney's law office.

If convicted, Johnston could face 10 to 30 years to life in prison on each of the unclassified felony charges, and up to seven years in prison on the Class C felony count.

Johnston turned himself in last Friday afternoon and posted a $100,000 bond.

On Monday, McDonald County Associate Circuit Court Judge John LePage ruled to maintain an ex parte order of protection on behalf of a 17-year-old girl who said Johnston has been sexually abusing her since she was 8 years old. The ruling came after consulting with Johnston's attorney, Andy Wood, who asked a year-long full order of protection not be granted until an adult abuse hearing was held Sept. 18.

Fourteen children have been removed from the church compound near East Newton High School, including 10 Thursday afternoon. The children range in age from 1 to 12 and are from three or four different families, investigators said.

The children were removed by authorities with the Missouri Division of Family Services under a court order issued by Newton County Division III Associate Circuit Court Judge Kevin Lee Selby.

Early last week, four children ranging in age from 5 to 15 were taken into protective custody from a trailer on the property.

Investigators are still interviewing children and looking into the possibility of filing more charges against Johnston.

The Granby church is an offshoot of the Grand Valley Independent Baptist Church, located near Washburn, where four church leaders have pleaded not guilty to child sexual abuse charges dating back to 1977.

In the Granby case, Deputy Mike Barnett, an investigator with the Newton County Sheriff's Department, said in a probable cause affidavit that the girl told him that when she was 12 years old, Johnston told her he was "ordained by God to fulfill her needs as a woman," adding "that is she would have sexual intercourse with him that she would remain a virgin and remain pure."

In the McDonald County case, Deputy Mike LeSueur said in a probable cause statement that one of the church leaders told a child he was "preparing her body for service to God."

Facing child abuse charges in McDonald County are Pastor Raymond Lambert, his wife, Patty Lambert, and church deacons Tom and Paul Epling. The church was founded by the Eplings' father, the late Cecil Epling, who died from injuries sustained in an auto accident in 1982.

Johnston is the uncle of Raymond Lambert, investigators have said.

A preliminary hearing has been set for 1 p.m. Oct. 2 in the McDonald County case. The proceeding will be held in LePage's Pineville courtroom.

About 20 people remain at the Granby commune, while about two dozen are still at the McDonald County compound.

More on the case will be in Thursday's edition of the Neosho Daily News.