Pastor Called 'Evil in Every Way'

By Melody McDonald and Traci Shurley
Star-Telegram
August 29, 2006

http://www.dfw.com/mld/dfw/news/15387639.htm

Fort Worth -- Terry Hornbuckle used to stand before thousands and preach the word of God.

On Monday, he stood silent in a Tarrant County courtroom and listened as one of the women he raped called him the devil.

"You are evil in every way," Kate Jones said defiantly. "You are truly pathetic in everyone's eyes."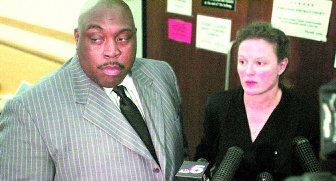 Prosecutors Sean Colston and Betty Arvin take questions from reporters after Terry Hornbuckle's sentencing Monday.
Photo by The Star-Telegram/Jeffery Washington


Minutes after jurors sentenced Hornbuckle to 15 years in prison for drugging and raping her, Jones lambasted him in a three-page, double-spaced victim-impact statement, not only for what he did to her but also for sexually assaulting two other women.

In addition to that 15-year sentence, jurors sentenced Hornbuckle to 14 years in prison for raping Krystal Buchanan and 10 years in prison for raping a third woman, Jane Doe. Jones and Doe are pseudonyms.

"What you have done is the most horrible thing that anyone could do," Jones told Hornbuckle. "You preyed among the people you were supposed to help in their weakest moment."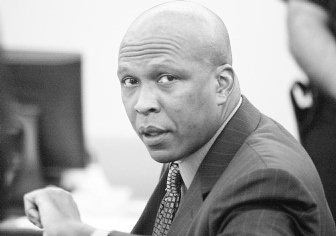 Terry Hornbuckle
Photo by The Star-Telegram/Jeffery Washington


Because Hornbuckle was tried for three rapes at once, the three sentences will run at the same time. Hornbuckle must serve half of the longest sentence, or 7 1/2 years, before he is eligible for parole.

Hornbuckle, a "prosperity preacher" who founded Agape Christian Fellowship in southeast Arlington, must also pay a $30,000 fine: $10,000 for each victim.

After the verdict, prosecutors Sean Colston and Betty Arvin praised jurors for giving Hornbuckle a long prison sentence and vindicating the women who came forward.

"You can't help but to be affected by what these women and their families have gone through," Arvin said.

Prosecutors had asked jurors for the maximum 20 years in prison.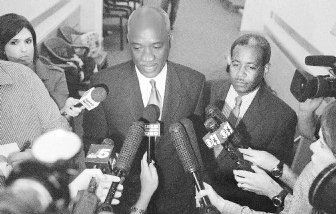 Defense attorneys Mike Heiskell, left, and Leon Haley speak to reporters after the Rev. Terry Hornbuckle's sentencing at the Tarrant County Courthouse on Monday.
Photo by The Star-Telegram/Jeffery Washington


Arvin, who has called Hornbuckle a charlatan, said she doesn't believe he feels remorse, even after sitting through the monthlong trial.

"I would like to hope that he does," Arvin said. "But, no, I don't think he does. I haven't seen any sign of it."

Defense attorney Mike Heiskell, who defended Hornbuckle with Leon Haley, said they had hoped for a "more compassionate sentence" for the pastor, who has three children. They had asked jurors to sentence Hornbuckle, who they say is addicted to methamphetamine, to probation so he could receive drug treatment.

Heiskell said he hopes Hornbuckle can find someone in the prison system "to get him back on the right road."

"Obviously, we are disheartened and disappointed by the sentence that was imposed by the jury," he said.

During the trial in state district Judge Scott Wisch's court, the three women described how Hornbuckle assaulted them.

Buchanan, a 23-year-old former basketball player at the University of Texas at Arlington and a former member of Hornbuckle's church, testified that he drugged and raped her in a Euless apartment in 2004.

Jane Doe, a 25-year-old former parishioner, told jurors that she turned to Hornbuckle for counseling after a devastating breakup with her boyfriend and that the sessions in 2003 turned sexual four or five times. In Texas, it is a crime for a clergyman to take advantage of a parishioner's emotional state for sex.

Jones, a 34-year-old single mother, testified that Hornbuckle drugged and raped her at her apartment after they smoked methamphetamine together in 2004.

Last week, the jury of nine women and three men found Hornbuckle guilty of all three charges.

During the punishment phase, jurors heard from a fourth woman who said Hornbuckle took advantage of her sexually during a church trip to San Antonio. They also heard that he continued to use drugs in the Tarrant County Jail.

After deliberating a total of 8 1/2 hours, jurors assessed his punishment Tuesday afternoon. When the judge announced the verdicts, Hornbuckle stood stoically. Sitting nearby, his wife, Renee, who has taken over as pastor of Agape, appeared stone-faced behind sunglasses.

She left shortly after the verdict was read.

On the other side of the courtroom, Jones and Loretta Sheppard, Buchanan's mother, held hands as tears welled up in their eyes.

Sheppard was the first to address Hornbuckle from the witness stand.

She read a victim-impact statement prepared by her daughter, who was not in court Monday. Buchanan described what her life has been like since she was raped, saying she was hurt "beyond belief."

"Hornbuckle, I hated you for a very long time," Sheppard read. "But there came a point in my life where I realized I was chosen by my Lord and savior to be used in a most difficult way. He needed me to stop you from doing to this to everyone and anyone who you may come in contact with."

In her statement, Buchanan called the jurors "disciples" and thanked them for backing her.

To Hornbuckle, she said, "You have finally lost."

Jones was next.

She also told Hornbuckle he betrayed her trust and nearly destroyed her life. But, like Buchanan, she credited her faith for the strength to stand up.

"I knew I had to survive," Jones told him. "I knew I had to make sure you were off the streets and behind bars. You have no right to ever be free; you are a rapist and you have shown that you will never quit."

She also told Hornbuckle to that he deserved to die for his crimes.

"I see no reason to waste taxpayers' dollars on a waste like you," she said.

After she stepped down, Wisch said a few words of his own for Hornbuckle, church members, the victims and family members on both sides:

"It's time to go on with the rest of your lives," he said. "Close this book. Let it go and move on with your lives. Let this trial end here."

IN THE KNOW

What's ahead

The Rev. Terry Hornbuckle is headed to prison, but six other criminal cases are pending against him. They include three charges of sexual assault involving two other women, a methamphetamine possession charge, a charge of retaliation and a charge of tampering with a witness. The Tarrant County district attorney's office will review the cases to determine whether to prosecute them in light of Tuesday's verdicts, prosecutor Sean Colston said. Also, several lawsuits have been filed against Hornbuckle.

Melody McDonald, 817-390-7386 mjmcdonald@star-telegram.com Traci Shurley, 817-548-5494 tshurley@star-telegram.com