Jury Delivers Sentence in Hornbuckle Trial

NBC5i
August 28, 2006

http://www.nbc5i.com/news/9750625/detail.html

Fort Worth, Texas -- After finding former Arlington minister Terry Hornbuckle guilty of raping three women, a jury on Monday delivered a 15-year sentence.

On Wednesday, jurors found Hornbuckle guilty of raping three women.

Jurors sentenced Hornbuckle to 15 years for one of those rapes, 14 years for the second and 10 years for the third, all of which he will serve concurrently.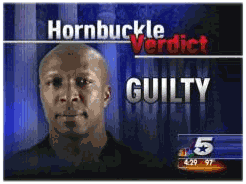 Terry Hornbuckle


Hornbuckle showed no emotion once the sentence was delivered. He sat calmly drinking water and stood up for a brief moment before sitting back down

Hornbuckle's defense said the sex between Hornbuckle and the women was consentual.

They said Hornbuckle has a drug problem that began with back pain pills and progressed into methamphetamines. However, they said he simply needs treatment, not a prison sentence.

"It seems like they're more desperate in trying to send Terry to the penitentiary," defense attorney Leon Haley said.

Prosecutors said Hornbuckle deserved prison.

"He needs to be put away. He needs to not have access to people in the community," Arvin said.