The People Are the Parish

By Debbie Hovanasian
Lowell Sun
August 28, 2006

http://www.lowellsun.com/religion/ci_4243276

Dracut -- The Rev. Robert L. Connors, new pastor of St. Marguerite D'Youville, has taken over a parish that has been through a lot of pain and turmoil resulting from the clergy sexual abuse crisis and parish reconfiguration -- and he knows it.

"I am sensitive to the enormous amount of pain these people have gone through," he said. "The crisis, the mergers, the parish closings ... struggling to become a community, with three parishes coming together."

St. Marguerite D'Youville Parish is comprised of three former parishes: St. Therese and St. Mary of the Assumption of Dracut, and St. Louis de France of Lowell.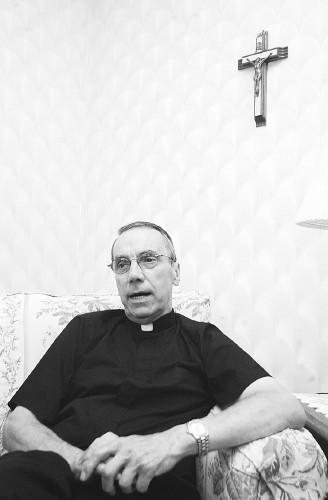 The Rev. Robert Connors, pastor at St. Marguerite D'Youville Parish, at the rectory in Dracut.
Photo by The Sun/Bob Whitaker


In 2001, St. Therese and St. Mary, both on Lakeview Avenue, merged to become St. Marguerite D'Youville Parish.

In August 2004, St. Louis de France Parish of Lowell was closed as part of the archdiocesan reconfiguration (St. Louis School remained open). St. Louis merged with St. Marguerite D'Youville, with Masses offered at both churches.

While acknowledging the enormity of the difficulties and the resulting anger and suffering, Connors stresses that it's now time to move forward.

Shepherding a parish that has been through so many difficult changes will not be easy, but Connors is accustomed to challenges. After all, in 1991 while traveling with Outward Bound, he reached the summit of Mount Kilimanjaro after a grueling six-day climb.

"It really gives you a sense of the power of creation," he said of his climb. "It was the hardest thing I've ever done in my life, but in retrospect, you think, wow, I was at the highest point for half of the world."

Connors, who began his assignment on July 17, now plans to draw on that same energy and enthusiasm to help the people of his new parish to determine how vibrant St. Marguerite D'Youville can be as a church community.

"We have to move forward, and I feel that is why the cardinal sent me here," he said. "Closing a church is traumatic. It's not easy to let go of 'place.' But it is the people that make up the church -- they are the parish."

As a priest who is enthusiasic about his love of the Lord, his priesthood and his ability to help others, Connors clearly understands his role at St. Marguerite.

"Priests come and go, but people stay," he said. "I'm a catalyst. My job is to shepherd this community to become a vibrant and viable parish."

Connors is quick to praise the former pastor and parochial vicar, the Rev. Paul Clifford, "for all he went through in nine years. He deserves a lot of credit for where the parish is today."

He also recognizes that he comes in neutral. "I have no blame, no responsibility for the reconfiguration or the merger," he said, adding that it will be easier for him to move the parish forward -- together.

"Are we a vibrant, viable parish? That answer comes from the people," he says. "But I think we are."

A Haverhill native and only child of Lyle and Toni Connors, who now live in Florida, Connors attended the University of Massachusetts Amherst, for a year after graduating from Haverhill High School, intending to become a math teacher.

Asked what shifted his interests to St. John's Seminary in Brighton in 1963, he simply points upward and smiles. Connors was ordained at the Cathedral of the Holy Cross by Cardinal Humberto Medeiros in 1971.

"I just love the priesthood and can't imagine being anything else but a priest," he said. "I love preaching, I love teaching, being involved with people, doing what I can to help people find the Lord and pray. It's very grace-filled."

Former assignments include parochial vicar at two parishes in Newton, assistant director of the Office of Religious Education at the chancery, campus minister at Bridgewater State College, pastor of Immaculate Conception in Newburyport, and most recently, three years as Secretary for Ministerial Personnel for the Archdiocese of Boston.

In 1986, he had earned a doctorate in catechetics and theology from The Catholic University of America. And while in Dracut, he will continue his Boston role as chair of the Bicentennial of the Archdiocese of Boston committee, to be celebrated in 2008.

An outdoor enthusiast, Connors enjoys cooking for friends, hiking, boating, biking, traveling, and getting involved in the community. "I recently rode my bike to the Lowell Folk Festival," he smiled of his efforts to get to know the area.

Noting that his welcome at St. Marguerite has been "wonderful," he says that he looks forward to "moving forward, after a lot of turmoil, with great hope and enthusiasm."

When wished good luck in his assignment, he expresses optimism and acknowledges a little help from above. "I feel that the Lord is with me," he says with a confident smile.