Sexual Abuse by Priest Haunts Woman
Having Her Children Helped the Healing Process, Says Victim, Abused for Three Years in Ontario

By Chantal Eustace
The Vancouver Sun [Canada]
August 28, 2006

http://www.canada.com/vancouversun/news/westcoastnews/story.html?
id=90484426-ff2a-4368-9a64-48de329e45fd&k=42689

White Rock - Even when she lived on a remote Gulf Island where no one locked their doors and everyone knew each other, Joanne Morrison felt nervous whenever her children stepped out the door.

Morrison felt trapped by her own childhood memories of sexual abuse and felt paranoid over the safety of her own kids.

"You move to an island in the middle of no place, thinking you can be far away from everything, but you're not, it's still there," said Morrison, 46, who now lives in White Rock where she owns a jewelry store.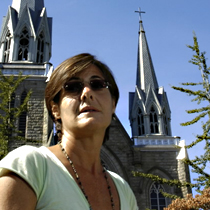 Joanne Morrison was abused as a child by Roman Catholic priest Charles Sylvestre in Chatham, Ont. She is pictured here in front of Holy Rosary Cathedral in Vancouver. Photo by Stuart Davis, Vancouver Sun


Morrison was first molested by her priest when she was eight years old. The abuse lasted about three years, but the pain never went away, she said.

Morrison is now going public with her story because her abuser is facing court for his crimes.

Charles Sylvestre, 83, a retired Roman Catholic priest, pleaded guilty this month to 47 charges of indecent assault occurring between 1954 and 1985 in parishes across southwestern Ontario, including the town of Chatham, where Morrison grew up.

"The worst effects have been on me, but my biggest regrets are on all the stuff I've transferred on my children in my inability to cope with it," said Morrison, who has two grown children, ages 21 and 22.

"I was constantly reminding them that they had every right to say . . . 'No thank you, I don't want a hug' -- you know, all of that stuff."

For example, she said, she only let her son join Cub Scouts because she was a leader.

"It was just I was so paranoid that it would happen to them that I was always trying to empower them, to the point of paranoia," Morrison said. "It didn't just affect me. I have two children who have bore the effects of my abuse their whole lives."

On the other hand, she said having her children helped her to heal.

"When your children become the age that you were, two things can happen -- two profound things. They will trigger all the things that you maybe forgot, but the beauty is they can help you heal," she said.

"It really wasn't until them that I realized how profoundly affected I was by the abuse, and yes, I absolutely had been abused."

In 2000 Morrison and another victim settled a seven-year civil suit against Sylvestre out of court. Morrison said she received $100,000 on condition she sign a gag order, which she later had lifted.

Earlier this month, in an Ontario courtroom, Morrison came face to face with Sylvestre again when she read her victim impact statement to the court.

"I wanted to just send back all the shame and guilt that I'd carried because it really, really should just sit on his lap, not mine," she said. "But that's the irony. We the victims have felt guilty our whole lives."

She told the judge about years of sexual abuse and described her lost childhood, innocence and her overwhelming sense of shame. She spoke of nightmares, lost spirituality and depression.

Sharing her pain with the courtroom -- in front of other victims, the media, a judge and the man who abused her -- was something that felt good, Morrison said, despite the difficult subject matter.

"I was a child victim. I did nothing wrong and I will not hide behind shame or guilt anymore," she said.

Morrison said she went public with her story so people would know the facts.

Standing outside a church in Vancouver as the bells chime for service, outwardly she seems at ease, though she said she is disenchanted with religion.

She said was one of the first altar girls selected in her parish, and she loved the singing, the atmosphere and the stories.

"There's certain parts of it that remind me of how promising [religion] felt as a child," she said, pausing for a moment to collect herself as tears ran down her cheeks.

But everything changed in Grade 2 when her faith was ripped away, along with her innocence.

"I didn't know it was sexual abuse," she said, pausing. "That's the whole thing. As a child you don't know it's sexual abuse because you don't know what sex is."

It happened at least once a week. Sylvestre would usually lure her onto his lap with candy, she said, then fondle her chest and genitalia.

Sometimes it occurred in the church rectory where the priest had a "closet full of candy" or in the area where she would fold the bulletins and newsletters near the front of the church. He even touched her in public, while they were on the school grounds, she said.

It was all very confusing for a little child, Morrison adds, because everyone -- including her devoutly Catholic mother -- respected the man who was abusing her.

"You know he's a guy everyone trusts and loves, so it must be okay. There must be something wrong with you for wanting to get away and get off his lap," she said. "And when you discover years later that what he was doing to you was sex, it was 'Oh my God. I'm going to hell. I'm a bad girl.'"

Well into her 30s, Morrison said she couldn't erase the smell of her abuser -- of rye and cologne -- from her memory. Even today, lingering feelings interfere with her adult relationships, she said.

"I still smell him every time a man touches me sexually; I'm an eight-year-old girl trying to get off his lap," Morrison said.

In search of closure, she plans to return to Chatham for two more court dates, including a Sept. 22 hearing where other victims will share their stories, and again for Sylvestre's sentencing in October.

"It's not so much for me, personally, anymore, this feeble old man who appeared in the court with his little collar on," she said, adding that what she wants is accountability.

"This man's been free his whole life, and he's been saying mass. I think any priest that molests a single child should no longer be allowed to hold any position.

"They are not above the law. They think they are. There needs to be an inquest. It can't just be them saying they're going to clean up their act, because they don't, they haven't and they didn't."

In an Aug. 6 statement, Bishop Ronald Fabbro of the Diocese of London, Ont., apologized to the victims "for the abuse they endured at the hands of Fr. Sylvestre" and said he would petition Rome to get Sylvestre laicized -- so he would no longer be a priest.

"The abuse of minors has been a scourge in the Diocese of London that must end," he said.

For her part, Morrison said she will continue to speak up and share her story for as long as people will listen.

"People would say to me, 'Why don't you get on with your life?' If we could have, we would have," she said. "That's the whole point -- we can't."

ceustace@png.canwest.com