Jury Starts Deliberations on Hornbuckle Punishment

By Melody McDonald and Traci Shurley
Star-Telegram
August 25, 2006

http://www.dfw.com/mld/dfw/news/15359084.htm

FORT WORTH — There will be no more victims on the witness stand. No more fiery closing arguments. No more talk of sex, drugs and religion.

Jurors in the sexual assault trial of the Rev. Terry Hornbuckle have heard it all.

Now, the panel must decide whether Hornbuckle gets prison or probation for raping three women.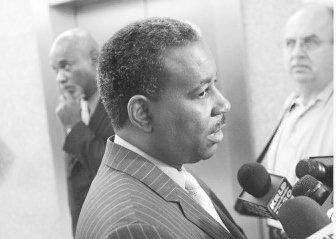 Defense attorneys Mike Heiskell, background, and Leon Haley talk with reporters Thursday after the jury left for the week.
Photo by The Star-Telegram / Rodger Mallison



The nine-woman, three-man jury began deciding Hornbuckle's fate Thursday morning, deliberating for about three hours before adjourning for the week.

On Tuesday, jurors found Hornbuckle guilty of three charges of sexual assault after six days of deliberations.

Hornbuckle, the 44-year-old founder of Agape Christian Fellowship in southeast Arlington, faces up to 20 years in prison on each charge. Because prosecutors tried all three cases together, the sentences will run at the same time.

Before leaving Thursday, jurors sent out a note asking whether they would be violating the judge's instructions if they gave Hornbuckle probation on one or more charges but not all three. State District Judge Scott Wisch answered that they could "render a different and independent verdict" on each charge.

Defense attorneys, prosecutors and others who filled the hallway outside the courtroom expressed disappointment after learning that the monthlong trial would go into next week.

"For my own selfish reasons, I probably would have liked for a verdict to come out today," said prosecutor Sean Colston, who is working with Betty Arvin. "But this jury has been a jury that has been working hard. I can't fault them for that."

Defense attorney Mike Heiskell, who along with attorney Leon Haley is representing Hornbuckle, said there is no way to predict when the jury will finish -- especially considering that jurors took 33 1/2 hours deliberating in the guilt-or-innocence phase of the trial.

"We'll have to wait and see," Heiskell said.

During closing arguments Thursday, Colston urged jurors to give Hornbuckle the maximum 20 years in prison, saying he has been "building his resume" for prison for some time.

Colston then pointed to the words on a large screen in the center of a courtroom and explained how each one described Hornbuckle: "Rapist 4x. Sorry Bishop. Drug Addict. Con Man. Control Freak."

"He cannot help himself, and the penitentiary is the only thing that's going to help him," Colston said.

He said Hornbuckle would be a "disaster" on probation. He reminded jurors that while out on bond, Hornbuckle had 11 tracking violations on his electronic monitor, failed two drugs tests because he tested positive for methamphetamine and had his bond revoked four times.

Because of his repeated violations, Hornbuckle is being held without bond in the Tarrant County Jail.

"Sentence Terry Hornbuckle to 20 years in the penitentiary, because that is what he deserves and that is what he has earned," Colston said.

Heiskell and Haley asked jurors to find it in their hearts to give Hornbuckle another chance.

They reminded them of the good work Hornbuckle did in the community before he got "screwed up" on methamphetamine.

"Can you imagine all the souls he saved before he got caught up in this trash?" Haley asked.

The defense team said Hornbuckle needs the treatment he can get while on probation -- not prison.

"This man is sick. He is an addict," Heiskell said. "That is why we have all these problems."

They also attacked prosecutors for dropping charges against a violent career criminal in exchange for damaging testimony against Hornbuckle and other high-profile inmates.

On Wednesday, Russell Eason, a Tarrant County Jail inmate who was housed in a cell near Hornbuckle, testified that he exchanged prescription medications with Hornbuckle for coffee and sweets from the jail commissary.

"If he can get drugs in the Tarrant County prison, imagine what kind of drugs he can get in Huntsville, the big house," Heiskell said.

Haley told jurors that Hornbuckle has been punished severely with a fall from the heights of success. Once the leader of a successful and unorthodox "hip-hop" church, Hornbuckle will have to register as a sex offender for the rest of his life.

"You can't get any more punishment than God taking you from the top and going to the bottom," Haley said.

Haley said jurors have sent a message to the community and to Hornbuckle's victims. Now it is time to show that there is hope for redemption, he said.

"They've got their vindication," he said of the victims. "This isn't about them anymore; this is about Terry Hornbuckle."

Speaking last, prosecutor Arvin countered that the trial was, indeed, still about the women. She praised them for having the courage to come forward even though they felt no one would believe them.

"It's about giving voice to those women," Arvin said. "It's about redeeming them."

Arvin told jurors that when she got Hornbuckle's case, she talked to her father, a retired minister, about what could motivate a man of God to commit such crimes.

She said that her father, who died shortly before the trial began, assured her that most clergy members are drawn to the ministry for the right reasons but that he cautioned: "There are some who are called to ministry who are charlatans. ... It's all about them. It's all about power."

Arvin contends that Hornbuckle was one of those "charlatans." She said Hornbuckle is responsible for his own choices and should be punished as harshly as the law allows.

"It's not about being a drug addict," Arvin said. "Terry Hornbuckle has always thought first, foremost and only about himself."

Jurors, who took Thursday afternoon off, will take today off as well because a juror has a prior commitment. They will resume deliberations at 9 a.m. Monday.

Melody McDonald, 817-390-7386 mjmcdonald@star-telegram.com Traci Shurley, 817-548-5494 tshurley@star-telegram.com