Congregants Urged to Rally for Pastor

By Mitch Mitchell
Star-Telegram
August 24, 2006

http://www.dfw.com/mld/dfw/news/local/15348998.htm

Arlington -- Prosecutors spent most of Wednesday trying to persuade a jury to send the Rev. Terry Hornbuckle away to prison.

But at night, congregants at Agape Christian Fellowship heard that this is not the time to abandon their church.

The Rev. Johnny Green, pastor at Mount Nebo Church in Harlem, New York, said that Agape was a pretty church and that the devil wanted it for himself.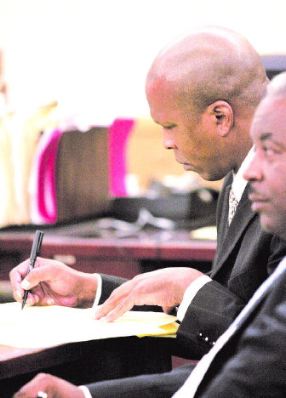 The Rev. Terry Hornbuckle, background, and defense attorney Leon Haley await the start of the afternoon session in the sentencing phase of Hornbuckle's sexual assault trial Wednesday. Jurors are expected to begin deliberating his punishment this morning.
Photo by Star-Telegram/Rodger Mallison


"I'm so sick and tired of fair-weather Christians," Green said. "People talking about they can't go down there because the preacher ain't right. You ain't right."

The crowd of more than 200 responded with applause and celebration throughout the three-hour service.

The people, Green said, ought to stop criticizing Hornbuckle, who was convicted Tuesday of three counts of sexual assault, and start calling for the saints to pray for him. They should flow into the sanctuary and lead an all-night prayer rally for the Hornbuckle family, he said.

"Don't let nobody make you feel bad because you pray for your pastor," Green said. "Yes, he got issues. You got issues, too. We just don't know about yours."

Green, who said he has been friends with Hornbuckle since he was in second grade and who testified on his behalf Wednesday, also voiced support for Hornbuckle's wife, Renee, who Green said continues to stand by her husband even though she has the right -- legally and biblically -- to divorce him.

Renee Hornbuckle said that this was a time when God was "disciplining us, rebuking us and molding us, so that we can become more like him."

"God is good, and he's worthy of all praise and honor despite what you see," she said.

Green described himself as a man of God who has made mistakes and said that he was able to stay in the pulpit not because he was good, but because God was good.

Green said congregants at Agape should remember Corinthians, a story about discord in the church that the Apostle Paul founded. What was going on at the church in Corinth made what was going on at Agape look like a Boy Scout troop, Green said.

"Don't you know there have always been hoochie mamas in the church?" Green said. He said Agape's problems aren't unique to Arlington. "It's in Fort Worth, in Dallas, in Chicago. It's in the black church and the white church.

"Y'all acting like Bishop is the first preacher who has ever been found guilty of an indiscretion," Green bellowed.

Mitch Mitchell, 817-548-5411 mitchmitchell@star-telegram.com