Officer: Hornbuckle Kept up Drug Use after Arrest

Star-Telegram
August 23, 2006

http://www.dfw.com/mld/dfw/news/local/15341835.htm

Fort Worth -- The Rev. Terry Hornbuckle didn't stop using methamphetamine even months after he was arrested on sexual assault charges, a probation officer testified Wednesday.

A jury convicted Hornbuckle, 44, of three counts of sexual assault Tuesday afternoon. Those same nine women and three men must now decide on a sentence. He could get probation or up to 20 years in prison.

His attorneys, Mike Heiskell and Leon Haley, have said they believe probation would be a fair sentence for Hornbuckle, the founder of Agape Christian Fellowship in Arlington.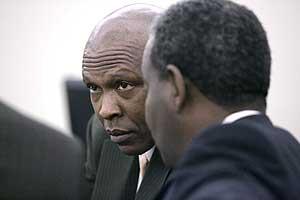 Terry Hornbuckle, left, talks with defense attorney Leon Haley after the verdict was read on Tuesday. Hornbuckle was found guilty of all three sexual assault charges.
Photo by The Star-Telegram / Ron T. Ennis


Prosecutors Betty Arvin and Sean Colston started their case Wednesday by showing jurors the trouble Hornbuckle encountered while trying to follow the conditions of bond after his March 11, 2005, arrest.

Many of those conditions are the same as probation requirements, they said.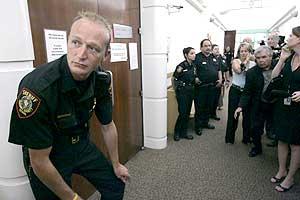 Tarrant County Sheriff's baliffs and members of the media wait in the hallway for word of a verdict
Photo by The Star-Telegram / Ron T. Ennis


Jeremy Lee, a Tarrant County probation officer, said that between March 14, 2005, and March 3 of this year Hornbuckle tested positive for meth twice and violated the conditions of his electronic monitoring 11 times.

The pastor's bond was revoked for the last time March 3, and he has been held in the Tarrant County jail since.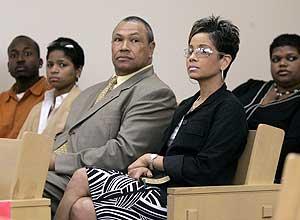 Terry Hornbuckle's wife, Renee Hornbuckle, right, sits in the courtroom after the verdict is read in her husband's trial.
Photo by The Star-Telegram / Ron T. Ennis


Colston also questioned Lee about what would happen if Hornbuckle continued to deny raping the three women who testified against him.

"In general terms, if a person does not accept responsibility for their offense, can they successfully complete probation?" Colston asked.

Lee said they could not.

Two of the women who testified against Hornbuckle said he drugged and raped them. The other said he took advantage of his position as a pastor to have sex with her, a violation of Texas state law.

Haley, in an objection to Judge Scott Wisch, said that the law does not require probationers to admit their guilt and that Lee should not be able to testify as such.

The defense attorneys also suggested that the electronic monitoring violations could have been unintentional.

Also Wednesday morning, jurors heard evidence that about 2 grams of methamphetamine was found in Hornbuckle's Cadillac Escalade pickup during his arrest.

An investigator also said that Viagra and an herbal sexual enhancement drug were found.

Testimony in the sentencing phase of Hornbuckle's case is expected to continue throughout the day Wednesday.

Traci Shurley, (817) 548-5494
tshurley@star-telegram.com