A Bad Pastor Gets an Exemplary Trial

By Bob Ray Sanders
Star-Telegram [Fort Worth TX]
August 23, 2006

http://www.dfw.com/mld/dfw/news/15339936.htm

On the one hand, the courtroom drama was just as I previously described it: a trashy soap opera with a plot full of drugs, sex, religion and celebrity.

On the other hand, however, the Terry Hornbuckle sexual assault trial was a textbook case of good lawyering on both sides, a patient and even-handed presiding judge and a jury that took its duties very, very seriously.

Hornbuckle was the once mighty bishop of Agape Christian Fellowship in Arlington.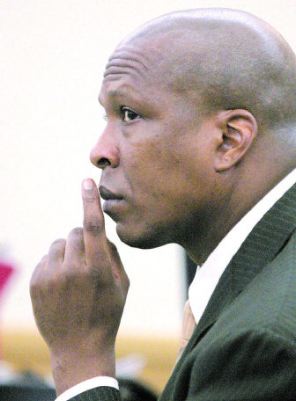 Terry Hornbuckle in court after hearing the verdict Tuesday.
Photo by Star-Telegram / Ron T. Ennis


By the time both sides rested in the trial, his own defense team had called him everything but a child of God. His attorneys referred to him as a "sinner, adulterer, drug user and bad bishop."

But they maintained that he was not a rapist.

Late Tuesday afternoon, a jury decided that he was, indeed, guilty on all three counts of sexual assault.

The verdict came one week, almost to the hour, after jurors began deliberating the case of a pastor who counted some Dallas Cowboys among his circle of influential friends.

Prosecutors Sean Colston and Betty Arvin wanted to show Hornbuckle as a conniving predator who used his powerful position, charisma and even pulpit prophecies to gain the trust of women and then betray them by drugging and raping them.

The goal of defense attorneys Mike Heiskell and Leon Haley was to convince jurors that the three accusers were shrewd, calculating women who welcomed Hornbuckle's attention and advances, were out for money or both.

Through tough questioning, particularly of the three accusers, the defense team tried to make its case during cross-examinations and final arguments. They did not put their client on the stand, nor did they call any other witnesses.

The state had its mostly circumstantial case well-orchestrated and its witnesses well-prepared. The accusers, who admitted that they were naive or made bad decisions, stood firm even under tough and sometimes embarrassing cross-examinations.

Final arguments by both sides were keenly crafted, challenging jurors to consider all the evidence (or lack thereof) in deciding the case.

The first half of the defense's final argument, presented by Haley, was one of the most sexually graphic and condemning -- and at the same time preachy -- ever presented in a Tarrant County courtroom.

It made many people in the courtroom squirm, and even prosecutor Colston told jurors that he found some of the comments "a bit offensive."

But Haley was not about to apologize for making anyone, including the jurors, uncomfortable. That was the job he had to do on his client's behalf, he said.

"Talking about sex makes people feel uncomfortable," he said after court that day. He had to make jurors see it, think about it and talk about it, Haley said.

"Here they feel uncomfortable," he said. "But if I had given that same speech in church on Sunday morning, they would be saying, 'Amen' and 'Praise God.'"

I don't know that any jurors said, "Amen," but they apparently did think about those arguments, because they sent out more than 40 notes during deliberations, and some of their messages used the defense team's language.

As day after day passed without a verdict and as some in the courtroom grew restless, I asked state District Judge Scott Wisch if he would ever consider trying to hurry jurors or checking to see how they were coming along.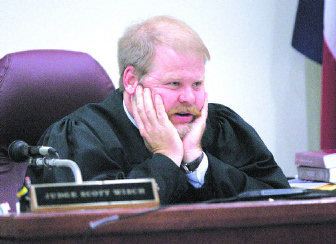 State District Judge Scott Wisch speaks with attorneys after the verdict in the Hornbuckle trial.
Photo by Star-Telegram / Ron T. Ennis


He said he would not do that and would give them all the time they wanted. He noted that these jurors had been very "calm, quiet, professional and deliberative." They were congenial -- bringing food for one another every morning -- and there had been no shouting or other signs of tempers flaring.

At no time did the jury signal that it was deadlocked, he noted.

Despite what anyone may think about the verdict, this jury did its job. And although I'm sure most judges would not like to see all juries take this long in reaching a verdict, all of us should appreciate people who took their task this seriously.

This jury will now have to decide Hornbuckle's punishment, and he could receive a maximum of 20 years in prison on each count; the sentences would run concurrently. That's what the prosecution will ask for.

"We don't try these cases for probation," Colston responded when I asked whether the state will seek the maximum punishment. "He'll be a disaster on probation."

A source told me that before the trial, the state offered Hornbuckle a plea bargain with what some would consider a light sentence. Neither side would confirm that, but neither side denied it, either.

Whether the fallen bishop goes to prison or receives probation, his case ought to be a warning to many men of the cloth who are misusing their positions.

But I'm afraid it won't.

In Friday's column, I'll talk about the too frequent phenomenon whereby a man of God becomes the man in a female church member's life.

Bob Ray Sanders' column appears Sundays, Wednesdays and Fridays. 817-390-7775 bobray@star-telegram.com.