Testimony: Hornbuckle Failed Drug Tests

By Jeff Mosier
The Dallas Morning News [Fort Worth TX]
August 23, 2006

http://www.dallasnews.com/sharedcontent/dws/news/city/tarrant/
stories/082406dnmethornbuckle.29ed5766.html

A day after Terry Hornbuckle was convicted on three counts of sexual assault, the prosecution began the first full day of the trial's punishment phase by introducing evidence about the Arlington pastor's repeated bail violations.

From March 2005 to March 2006, Mr. Hornbuckle's bail was revoked four times. Prosecutors said he failed to provide a sample for a urine analysis once, saying said he couldn't come in to give the sample because of a doctor's appointment. His probation officer Jeremy Lee testified he later learned there was no appointment at the time the pastor gave him.

Mr. Hornbuckle also failed three drug tests, testing positive for methamphetamine each time. On two occasions, urine samples provided by the minister were too diluted to give an accurate test, but in both cases there were traces of meth in the sample.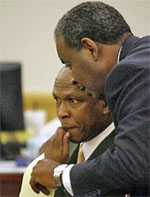 Terry Hornbuckle (center) consults with attorney Leon Haley after his conviction Tuesday.
Photo by Michael Ainsworth / DMN


Mr. Lee testified that diluted samples can occur when someone drinks large amounts of water.

Testimony also indicated that there were 11 violations of the pastor's electronic monitoring device during the same one-year period. Mr. Lee said part of Mr. Hornbuckle's monitoring requirements involved him having a cell phone within six feet at all times in order to keep track of his location.

Prosecutor Sean Colston asked Mr. Lee, "Would (Mr. Hornbuckle) be a good probationer?"

"No, sir," the officer answered.

Defense attorney Mike Heiskell then asked Mr. Lee whether he said that just to impress the district attorney's office, to which the officer also answered "no."

Testimony from Danny McCormick, an investigator with the Tarrant County district attorney's office, revealed that 2.71 grams of meth were found in Mr. Hornbuckle's car when he was arrested. Viagra and a product called TestroGel, a testosterone lotion said to enhance sexual performance, were also found in the vehicle.

Mr. McCormick said the minister was cooperative and followed orders during his arrest.

Tuesday's verdict ended more than 33 hours of jury deliberations over a week. Mr. Hornbuckle could receive probation or two to 20 years in prison for his crimes. The sentences will run concurrently.

E-mail jmosier@dallasnews.com