Fourth Woman Accuses Hornbuckle
In Punishment Phase, She Says He Drugged Her, Pressured Her into Sex

By Jeff Mosier
The Dallas Morning News
August 23, 2006

http://www.dallasnews.com/sharedcontent/dws/dn/latestnews/stories/
082406dnmethornbuckle.29ed5766.html

Fort Worth – A fourth woman testified that Arlington pastor Terry Hornbuckle drugged her and, as he did with a previous victim, used his status to persuade her to have sex.

The woman's testimony came during Wednesday's punishment phase of Mr. Hornbuckle's trial. Mr. Hornbuckle was convicted Tuesday of sexually assaulting three other women, two of them church members.

The prosecution and the defense rested Wednesday after the testimony of Mr. Hornbuckle's elderly mother, who asked the jury to be lenient. The jury could begin deliberating Mr. Hornbuckle's punishment today following closing arguments at 8:30 a.m. He could receive two to 20 years in prison or probation.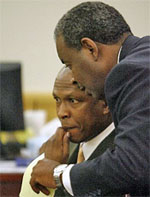 Terry Hornbuckle (center) consults with attorney Leon Haley after his conviction Tuesday.
Photo by Michael Ainsworth / DMN


The fourth woman, using the pseudonym Rachel Johnson, traveled to San Antonio as a baby sitter for Mr. Hornbuckle, his wife and several church elders. Once there, she said, Mr. Hornbuckle told her in the hotel lobby that he "wanted to teach me how to have an orgasm."

He performed sex acts on her in their rented van on two consecutive nights, she testified. On the third day of the trip, she believes, the pastor gave her a mixed drink laced with a drug.

Several hours later, Mr. Hornbuckle started to have sex with the woman in a hotel room but stopped after she complained of pain – and after that she couldn't feel her hands and had trouble walking, she said.

In earlier testimony, a Tarrant County Jail inmate testified that Mr. Hornbuckle bought about 60 prescription pills for recreational use from while the two were in lockup.

Fellow inmate talks

Russell Eason, an admitted career criminal, said he agreed to sell his Seroquel to Mr. Hornbuckle in exchange for candy bars, honey buns and bags of coffee from the jail commissary. Mr. Eason said he stopped taking the anti-psychotic pills because they made him woozy and disoriented.

He testified that Mr. Hornbuckle also said he had given Seroquel to some of his "lady friends at the church." Earlier in the trial, Mr. Hornbuckle's victims – two of whom were church members – testified that he also drugged them.

Seroquel is used to treat schizophrenia. Mr. Eason said that although he doesn't have that illness, the pills were prescribed to help him sleep.

Defense attorney Mike Heiskell questioned the motivations of Mr. Eason, who is facing charges of failing to identify himself to a police officer, theft and assault with bodily injury. The district attorney's office has agreed to drop those charges in exchange for testimony in the trials of Mr. Hornbuckle and other inmates.

Also, two other charges against Mr. Eason were dismissed several years ago when he told the district attorney's office what he knew about other inmates in the jail.

"You know how to work the system?" Mr. Heiskell said.

Mr. Eason is cooperating with the district attorney in the cases of Stephen Lance Heard, who was charged with capital murder in the shooting death of a Fort Worth police officer; and Chris Wilkins, who is facing three capital murder charges.

Mr. Eason told jurors that Mr. Wilkins, who goes by the nickname Cujo, introduced him to Mr. Hornbuckle.

Notes from Mr. Hornbuckle to Mr. Eason were read to the jury Wednesday. Two of the notes said he would have to temporarily stop taking the pills because of an upcoming blood test.

Mr. Eason also testified during cross-examination by the defense that he wrote a note saying that his testimony would make for a good newspaper article.

Repeated bail violations

The prosecution began the first full day of the trial's punishment phase by introducing evidence about Mr. Hornbuckle's repeated bail violations.

Testimony earlier in the day showed that from March 2005 to March 2006, Mr. Hornbuckle's bail was revoked four times.

Prosecutors said he once failed to provide a urine sample, saying he couldn't come in because of a doctor's appointment.

His probation officer, Jeremy Lee, testified that he later learned there was no appointment at the time the pastor gave him.

Mr. Hornbuckle also failed three drug tests, testing positive for methamphetamine each time. Twice, urine samples provided by the minister were too diluted to give an accurate test, but in both cases there were traces of meth in the sample.

Mr. Lee testified that diluted samples can occur when someone drinks large amounts of water.

Testimony also indicated that there were 11 violations involving the pastor's electronic monitoring device during the same one-year period.

Mr. Lee said part of Mr. Hornbuckle's monitoring required him to have a cellular phone within six feet at all times to keep track of his location.

Prosecutor Sean Colston asked Mr. Lee whether Mr. Hornbuckle would "be a good probationer."

"No, sir," the officer answered.

On cross-examination, Mr. Lee denied giving that answer just to impress the district attorney's office.

Testimony from Danny McCormick, an investigator with the Tarrant County district attorney's office, revealed that 2.71 grams of methamphetamine were found in Mr. Hornbuckle's car when he was arrested.

Viagra and a product called TestroGel, a testosterone lotion said to enhance sexual performance, were also found in the vehicle.

Mr. McCormick said the minister was cooperative and followed orders during his arrest.

Mother asks for leniency

In her son's defense, Lavoice Hornbuckle told jurors that she hoped they would give him probation.

"Be kind to him and give him the benefit of the doubt," she said.

She also told the jury: "I know that he did something wrong, but he just needs help."

Mrs. Hornbuckle blew her son a kiss as she left the courtroom to return to the hospital where her husband of 54 years is recovering from surgery.

E-mail jmosier@dallasnews.com