Witnesses Testify about Hornbuckle's Character

By Melody McDonald
The Star-Telegram
August 23, 2006

http://www.dfw.com/mld/dfw/news/15341835.htm

Fort Worth — In the "free world," the Rev. Terry Hornbuckle's drug of choice was methamphetamine.

While awaiting trial in the Tarrant County Jail, however, Hornbuckle took whatever he could get his hands on.

Jail inmate Russell Wayne Eason testified Wednesday that he traded Seroquel, an antipsychotic medication he had been prescribed, with Hornbuckle for items such as coffee and sweets.


Terry Hornbuckle, left, talks with defense attorney Leon Haley after the verdict was read on Tuesday. Hornbuckle was found guilty of all three sexual assault charges.
Photo by The Star-Telegram / Ron T. Ennis


"I said, 'These are 100 mg. They make you drowsy, woozy and disoriented,'? " Eason said. "He said he had given them to some of his church members – he called them lady friends."

Eason was one of nine witnesses who testified Wednesday during a marathon day of testimony in the penalty phase of Hornbuckle's trial.

On Tuesday, jurors convicted Hornbuckle of three charges of sexual assault for raping three woman, including two who said they were drugged first.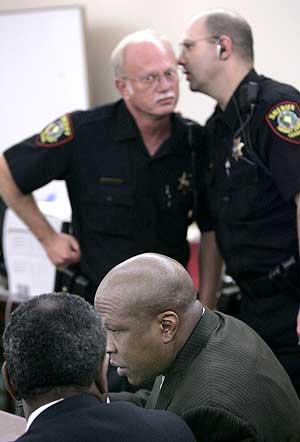 Tarrant County Sheriff's baliffs talk as Terry Hornbuckle talks with defense attorney Leon Haley, left, after the verdict was read Tuesday.
Photo by The Star-Telegram / Ron T. Ennis


The panel of nine women and three men will begin deliberating Hornbuckle's punishment this morning. Hornbuckle, the 44-year-old founder of Agape Christian Fellowship in Arlington, faces a sentence ranging from probation to 20 years in prison on each charge.

The sentences will run concurrently, which means Hornbuckle will serve them at the same time. He will also have to register as a sex offender for the rest of his life.

To try to secure the maximum punishment, prosecutors Sean Colston and Betty Arvin called seven witnesses, who testified about a variety of bad acts committed by the man whom everyone – including jail inmates – called "bishop." The day was filled with testimony about sex and drugs.

Jurors heard from a former mistress of Hornbuckle, who testified about the day she found pornographic magazines, many depicting teenage girls, in a black bag he had left in an apartment she had rented for their trysts.

They heard from a former female church employee who said Hornbuckle once asked her if he made her panties "wet" and told her that he had an "erection."

And they heard from another parishioner who testified about three sexual encounters she had with Hornbuckle during a church trip in San Antonio.

That woman, who is being identified by the pseudonym Rachel Johnson, testified that after she went to Hornbuckle for counseling, he suggested she needed to be coached on how to have an orgasm. She told the jury that she twice allowed Hornbuckle to give her oral sex in a van outside their hotel.

During their third encounter, she said, Hornbuckle gave her an alcoholic drink that made her hands numb and legs wobbly. She said they had oral sex and attempted to have intercourse, but she was a virgin so she made him stop because it was painful.

Perhaps the most colorful witness of the day, though, was Eason, an admitted "career criminal," who was wearing a red jail jumpsuit because of his propensity for violence.

Eason told jurors that he shared a jail pod with Hornbuckle and other high-profile inmates, including Stephen Heard, who is accused of killing Fort Worth police Officer Henry Nava, and Christopher Wilkins, who is accused of killing three men.

Eason said he and Hornbuckle began communicating through notes after Hornbuckle learned that Eason had been prescribed Seroquel, a psychotropic drug used to treat schizophrenia. Eason said he didn't like the way the pills made him feel so he decided to sell them for items from the jail commissary.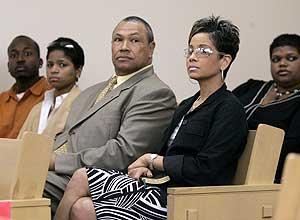 Terry Hornbuckle's wife, Renee Hornbuckle, right, sits in the courtroom after the verdict is read in her husband's trial.
Photo by The Star-Telegram / Ron T. Ennis


In their first transaction, Eason gave Hornbuckle pills in exchange for a candy bar and a sweet roll. Over time, however, the standard deal became four pills in exchange for a bag of coffee, he said.

Eason estimated that he gave Hornbuckle about 60 pills while they were housed together in the same pod in jail.

In exchange for Eason's testimony, prosecutors have agreed to dismiss his pending criminal cases — which include charges of theft, failure to identify himself to a peace officer and assault — a fact that defense attorney Mike Heiskell pounced on during his cross-examination.

Heiskell, who is defending Hornbuckle with Leon Haley, called Eason a "serial testifier" and pointed out that Eason has twice before had cases dismissed by prosecutors in exchange for testimony. In response to Heiskell's questioning, Eason admitted that he was also currently working to help prosecutors with the Heard and Wilkins cases.

Heiskell suggested that Eason was a liar who learned his information from newspapers and then contacted prosecutors to try to cut a deal for hismself.

"You know how to work the system, don't you?" Heiskell asked Eason.

"I did contact them, and I told the truth," he replied.

The defense team,. which called two witnesses, has portrayed Hornbuckle as a man who has done great things for the community but lost his way after becoming addicted to pain medication after a back injury. They said he eventually turned to illicit drugs, such as methamphetamine.

Johnny Green, a longtime friend of Hornbuckle and a New York minister, told jurors that he believes that Hornbuckle's drug use altered his character and that Hornbuckle should be judged on a lifetime of good deeds and not a couple of years of mistakes.

He told jurors that Hornbuckle is redeemable and asked the jury to sentence him to probation.

"I ask that you show mercy," he told the jury.

Closing arguments are scheduled to begin at 8:30 this morning in state District Judge Scott Wisch's court with the jury to deliberate immediately afterward.

Melody McDonald, (817) 390-7386
mjmcdonald@star-telegram.com