Hornbuckle Guilty of Sexual Assault

By Melody McDonald and Traci Shurley
Star-Telegram
August 23, 2006

http://www.dfw.com/mld/dfw/15339757.htm

Fort Worth -- Minutes after jurors found the Rev. Terry Hornbuckle guilty Tuesday afternoon of raping three women, he and his wife sat knee to knee facing each other in the courtroom.

Renee Hornbuckle touched her husband's hand, whispered in his ear and, at times, appeared to be offering words of encouragement.

It could be a long time before they share such a private moment again.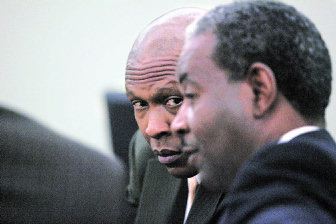 The Rev. Terry Hornbuckle, left, talks with defense attorney Leon Haley on Tuesday after being convicted of sexually assaulting three women. Two of the women were members of his church, Agape Christian Fellowship in southeast Arlington.
Photo by The Star-Telegram / Ron T. Ennis


Hornbuckle -- the 44-year-old founder of Agape Christian Fellowship in southeast Arlington and the man everyone called "bishop" -- faces a sentence ranging from probation to 20 years in prison on each charge. The sentences will run concurrently.

A jury of nine women and three men deliberated 33 1/2 hours over six days before convicting him of three charges of sexual assault. It was the longest jury deliberation in recent memory in Tarrant County.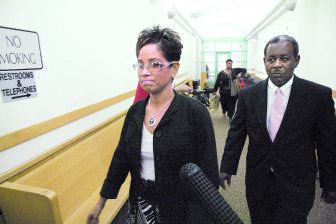 Renee Hornbuckle, who now serves as pastor of Agape, has been at the trial each day to support her husband.
Photo by The Star-Telegram / Ron T. Ennis


"This was what we expected from the beginning," prosecutor Sean Colston said. "We thought the evidence was strong and, apparently, the jury agreed with us."

Defense attorney Mike Heiskell said that Hornbuckle was "depressed and down" about the outcome but that he and his attorneys were preparing for the sentencing phase of the trial.

Jurors "carefully reviewed all the evidence, and we have to accept it," Heiskell said.

During the trial, which began Aug. 2, three women described how Hornbuckle sexually assaulted them.

Krystal Buchanan, 23, a former church member and University of Texas at Arlington basketball player, testified that Hornbuckle drugged and raped her inside a Euless apartment on July 31, 2004.

Jane Doe, 25, another former parishioner, said her counseling sessions with Hornbuckle turned sexual on at least five occasions in 2003. In Texas, it's a crime for a clergyman to exploit a parishioner's emotional dependency for sex.

Kate Jones, 34, the only victim who did not attend Hornbuckle's church, said he drugged and raped her inside her apartment after the two smoked methamphetamine in 2004.

Doe and Jones are pseudonyms.

In graphic and sometimes aggressive cross-examinations, defense attorneys Heiskell and Leon Haley attacked the women's credibility. They suggested that the women either had consensual sex with Hornbuckle or were motivated by money to lie.

Colston and fellow prosecutor Betty Arvin called defense attorneys' attacks "desperate measures." They said Hornbuckle's pattern was clear: He abused his power, drugs and the women around him.

On Aug. 15, jurors began deliberating Hornbuckle's fate. During deliberations, they sent out 42 notes requesting evidence or portions of testimony.

Because of the lengthy deliberations, many spectators predicted that a mixed verdict was possible or that the panel could be leaning toward the defense.

At 3:30 p.m., jurors hit the buzzer in state District Judge Scott Wisch's courtroom, and a bailiff indicated that a verdict had finally been reached.

Hornbuckle, sharply dressed in an olive pinstriped suit, appeared nervous as the room filled with reporters, attorneys and about a half-dozen of his supporters. The victims, who prosecutors said had other commitments, were not present.

When Wisch announced that the jury had found Hornbuckle guilty of raping Buchanan, Hornbuckle shook his head in disbelief.

He dropped his head when Wisch repeated the word "guilty" two more times.

After the verdict, as reporters rushed from the courtroom to call their newsrooms and the jury was led away by bailiffs, Wisch allowed Hornbuckle and his wife to visit in a corner of the courtroom.

"There might not be another chance to let them do this," Wisch said, adding that he allows well-behaved defendants to visit with their loved ones. "I'm giving them an opportunity for some kind of closure because you don't know when they'll get it again."

Renee Hornbuckle, who founded Agape with her husband and serves as pastor, declined to comment after the trial. Each day, she has arrived at the courthouse and stationed herself behind her husband, sometimes clutching a Bible.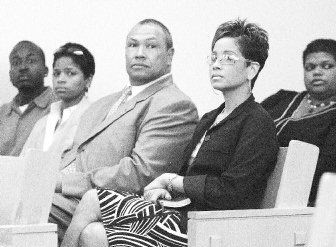 Renee Hornbuckle sits in the courtroom after the verdict was read in her husband's trial.
Photo by The Star-Telegram / Ron T. Ennis


Day after day, she sat with her chin up as her husband's lies, adultery and drug use were exposed.

"It is admirable to see her standing by him," Heiskell said. "She is a devoted wife and mother, and she wants to seek whatever help she can for her husband to try and get him through this."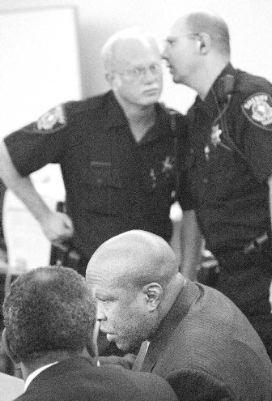 With two bailiffs standing by, the Rev. Terry Hornbuckle discusses his case with defense attorney Leon Haley.
Photo by The Star-Telegram / Ron T. Ennis


The sentencing phase began late Tuesday afternoon. Defense attorneys said they will fight to keep Hornbuckle, who has no prior convictions, out of prison by showing that he is redeemable.

But first, prosecutors are working to show jurors why they think he deserves a lengthy prison sentence.

Prosecutors have indicated in court documents that they have additional damning evidence to use in the sentencing phase, including allegations of more sexual assaults.

"In a case like this, I don't think anything less than the maximum is appropriate," Colston said.

The verdict

Almost three weeks after the trial started, Arlington pastor Terry

Hornbuckle was found guilty of sexually assaulting three women, including two from his church, Agape Christian Fellowship.

What's next

The sentencing phase began Tuesday afternoon and will resume this morning. Hornbuckle faces a maximum of 20 years in prison.

Melody McDonald, 817-390-7386 mjmcdonald@star-telegram.com Traci Shurley, 817-548-5494 tshurley@star-telegram.com