Hornbuckle Found Guilty
Hornbuckle Drugged, Attacked 3 Women, Jury Finds after 33 Hours

By Jeff Mosier
The Dallas Morning News
August 22, 2006

http://www.dallasnews.com/sharedcontent/dws/news/city/tarrant/
stories/082306dnmethornbuckle.25c783d5.html

FORT WORTH – Terry Hornbuckle bowed slightly and church members held hands as a judge announced Tuesday that the Arlington minister was guilty of sexually assaulting three women.

The Tarrant County jury's verdict ended more than 33 hours of deliberations spanning a week. Jurors began hearing testimony shortly afterward to determine whether Mr. Hornbuckle deserves probation or two to 20 years in prison for his crimes. The sentences will run concurrently.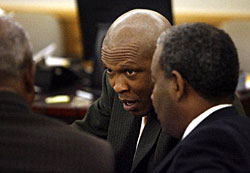 Terry Hornbuckle (center) is facing two to 20 years in prison, but could also be eligible for probation.
Photo by Michael Ainsworth / DMN


"I think that the evidence was strong, and the defendant was guilty," prosecutor Sean Colston said after the verdict was announced. "That's what turned the case."

Mr. Colston said that anything less than the maximum sentence would be inappropriate for Mr. Hornbuckle, founder of Agape Christian Fellowship church. Two of his victims were church members, and one testified that she was a virgin when the minister drugged and raped her shortly after her 21st birthday.

Defense attorney Mike Heiskell said that he never argues with the jury's decision but that he would try to convince them that probation is a fair sentence. Mr. Hornbuckle has no prior criminal record.

"We hope the jury will see the redemptive side of Terry Hornbuckle," Mr. Heiskell said.

The three women all testified that Mr. Hornbuckle drugged them. Two said they were raped either while they were blacked out or groggy from a drug.

One of the victims tested positive for benzodiazepine, a class of drug that can cause drowsiness and amnesia.

Defense attorneys argued during the trial that Mr. Hornbuckle was a "playboy" outside the pulpit and that any extramarital sex was consensual.

Mr. Hornbuckle's wife, Renee, who is now senior pastor at Agape, declined through a spokesman to comment after the verdict. Charles Richardson, chairman of the Agape board of directors, said church officials would make a statement after the trial ends.

Mrs. Hornbuckle, who sat through the entire trial – including testimony about her husband's womanizing and drug use – sat ramrod straight when the verdict was read by state District Judge Scott Wisch.

The handful of church members remaining in the courtroom held hands, a common practice during Agape services. Mr. Richardson grasped Mrs. Hornbuckle's shoulder and murmured: "I'm sorry. I'm really sorry."

In accordance with Judge Wisch's warnings, there was no crying or other overt display of emotion in the audience when the verdict was read. Church members had filled the courtroom at the beginning of the three-week trial, but the number had dwindled to barely more than a half-dozen at the end.

Leon Haley, one of Mr. Hornbuckle's attorneys, said this week he was hopeful of a not-guilty verdict. He said that a lawyer's rule of thumb is that the longer a jury deliberates, the better the chance that it will find the defendant not guilty.

The prosecutors, defense attorneys and judge said they had never participated in a case in which a jury deliberated so long.

Jurors began discussing the cases about 4:15 p.m. the previous Tuesday. They sent 41 notes to the judge asking to look at evidence, requesting legal definitions and calling for copies of testimony.

Judge Wisch said this week that there was no indication that the jury was deadlocked despite the large number of notes and long deliberations. About 3:30 p.m. Tuesday, the jury sent its 42nd note, saying that it had reached a unanimous verdict.

For two weeks, the jury listened to sordid and sometimes explicit testimony about the three separate rape cases.

The first victim, a longtime Agape member, told jurors that her mistake was trusting the man who baptized her. The woman said Mr. Hornbuckle lured her to a Euless apartment, where he fed her drugged punch after she rejected his repeated requests to "get her drink on."

After waking up naked, she tried to get dressed but was held down by Mr. Hornbuckle and raped, she said.

The second victim, who used the pseudonym Jane Doe on the witness stand, said that Mr. Hornbuckle began counseling her when her boyfriend left. She said she didn't want to have sex with the minister but that he exploited her emotional vulnerability and his position of authority.

The third victim, whose pseudonym was Kate Jones, was not an Agape church member. She said she met Mr. Hornbuckle at a Bedford health club, where he used a fake name and claimed to be a counselor for Dallas Cowboys rookies and a former NFL player.

She testified that she and Mr. Hornbuckle smoked methamphetamine before he drugged and raped her in her home.

The punishment phase started late Tuesday afternoon with testimony about a glass pipe, lighter and bag of methamphetamine in Mr. Hornbuckle's Cadillac Escalade after he was arrested.

Mr. Heiskell noted that there has already been testimony about Mr. Hornbuckle's drug problems, and he called his client a "meth addict."

Mr. Hornbuckle's bail was revoked twice for failing drug tests and once for failing to provide a urine sample for a drug test. He has been held in the Tarrant County jail since March without bail.

Testimony will continue at 9 a.m. today.

Staff writer Laurie Fox contributed to this report.

E-mail jmosier@dallasnews.com

THE CHARGES

A look at the rape charges against Terry Hornbuckle:

• The first accuser, a member of Mr. Hornbuckle's church, testified that he served her fruit punch with a drug in it and that she woke up naked. The woman said that when she tried to get dressed, Mr. Hornbuckle held her down and raped her.

• The second accuser, using the pseudonym Jane Doe, said her pastor made sexual advances after she went to him for counseling. She said she eventually had sex with him because it seemed easier.

• The third woman, who testified as Kate Jones, said she met Mr. Hornbuckle at a fitness club. She said Mr. Hornbuckle drugged and raped her after they smoked methamphetamine together.

TIMELINE

1986 – Mr. Hornbuckle founds Victory Temple Bible Church in Arlington with 15 members.

1987 – He moves his church to a vacant Dairy Queen.

Nov. 26, 1988 – Mr. Hornbuckle and Renee Fowler marry.

1988 – Victory Temple moves to Fort Worth with 165 members.

1992 – Victory Temple changes its name to Agape Christian Fellowship.

1995 –Agape moves to an 8,000-square- foot building. It has 250 members.

May 16, 1999 – Agape holds a grand opening for its 30,000-square-foot church called The Destiny Center.

July 27, 2003-Sept. 1, 2004 – Time period in which Mr. Hornbuckle's three accusers say he raped them.

Dec. 29, 2004 – Mr. Hornbuckle is accused of tampering with a witness.

Dec. 30, 2004 – Mr. Hornbuckle is accused of retaliation.

March 11, 2005 – Mr. Hornbuckle is indicted on four counts of sexual assault involving three women. He is arrested and found with methamphetamine.

April 15, 2005 – Mr. Hornbuckle is charged with possession of methamphetamine.

April 17, 2005 – Mr. Hornbuckle is reinstated as senior pastor of Agape. He had been suspended after his arrest.