Accused Priest Resigns
Father Richard Mickey Steps down from Post in Jackson

By James Dowd
Comercial Appeal [Tennessee]
August 22, 2006

http://www.commercialappeal.com/mca/local/article/0,2845,MCA_25340_4934324,00.html

A priest accused of molesting twin brothers more than a quarter-century ago has resigned as pastor of one of the largest parishes in the Catholic Diocese of Memphis, church leaders confirmed Monday.

On Sunday, Father Richard Mickey cited "personal reasons" in announcing his resignation from St. Mary's in Jackson, Tenn. He also resigned as pastor of St. John in Brownsville.

"Father Mickey is not involved in any pastoral or public ministry, effective immediately," said Father John Geaney, diocesan spokesman. "He indicated his resignation is due to the responsibilities he has with several diocesan tasks as well as dealing with the civil trial."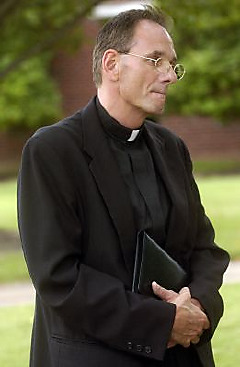 Father Richard Mickey announced Sunday that he'll resign as pastor of St. Mary's Catholic Church in Jackson, Tenn., and St. John Church in Browns- ville. A law- suit alleges he sexually abused twin brothers when he was a counselor at Bishop Byrne High in 1980.
Photo by Lance Murphey/The Commercial Appeal


In 2004, twin brothers Blain and Blair Chambers alleged in a civil lawsuit that Mickey sexually abused them in 1980 when they were students at Bishop Byrne High School. Mickey, ordained in 1988, served as a counselor and teacher at the Whitehaven school at the time.

Following the allegations, Mickey was placed on administrative leave by the diocese in August, 2004, but returned to pastoral ministry in early 2005.

That decision angered some in the diocese and led to protests by the Survivors Network of those Abused by Priests (SNAP). Monday a SNAP leader called the resignation a step in the right direction.

"He never should have been working as a priest with the civil trial pending," said Ann Brentwood, Southeast coordinator for SNAP. "We're relieved he resigned, but we still urge the diocese to work to find anyone who may have been hurt by him."

No court date has been set for the suit against Mickey, Geaney said.

Father Thomas Kirk, pastor of St. Mary in Savannah and Our Lady of the Lake Mission in Pickwick, will assume Mickey's duties at both congregations. Father Francis Chiawa, a priest from Nigeria who has served locally as an associate pastor at St. Louis Church, will succeed Kirk.

-- James Dowd: 529-2737