Deliberations in Pastor's Trial Hit 6th Day
Jurors Send 16 More Notes, but No Sign of Deadlock, Judge Says

By Jeff Mosier and Laurie Fox
The Dallas Morning News
August 21, 2006

http://www.dallasnews.com/sharedcontent/dws/news/localnews/
stories/082206dnmethornbuckle.2136928c.html

FORT WORTH — Jurors in pastor Terry Hornbuckle's rape trial deliberated for a fourth full day Monday, but they still did not reach a verdict.

After 28 hours of deliberation over five days, there is no evidence that the jury is deadlocked, state District Judge Scott Wisch said. The jury sent at least 16 notes to the judge Monday, but most were about testimony or evidence connected to the second of three accusers.

"We hate to be all this trouble," Judge Wisch said, quoting the jury about the long wait.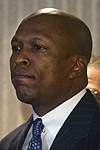 Terry Hornbuckle



He described the jurors as calm and methodical. Also, they appear to be getting along well, and some have even brought home-baked food to share with other jurors, Judge Wisch said.

The jury of nine women and three men is scheduled to resume its work this morning. Judge Wisch said the trial would be put on hold Thursday and Friday, if it lasts that long, to accommodate a juror's family reunion.

Mr. Hornbuckle, 44, was charged with sexually assaulting three women, two of whom were members of his Agape Christian Fellowship church in Arlington.

Defense attorneys and prosecutors said the deliberations are the longest they've encountered.

The jury has sent Judge Wisch at least 36 notes since deliberations began Aug. 15. None of the notes has referred to testimony or exhibits related to the third of Mr. Hornbuckle's three accusers. She testified earlier in the trial that she smoked methamphetamine with Mr. Hornbuckle and that he later drugged and raped her.

Monday's notes included requests for testimony about Jane Doe, the pseudonym for the second accuser, and information about benzodiazepine. The drug was found in the system of the first accuser, and each of the women testified that Mr. Hornbuckle drugged them.

The defense attorneys said that Mr. Hornbuckle was a womanizer but that any sex with the women was consensual.

Mr. Hornbuckle has also been charged with additional counts of sexual assault, possession of methamphetamine, retaliation and tampering with a witness. Those charges were not included in the trial.

Mr. Hornbuckle and his church have also been sued by some of the women who accused him of rape.

E-mail jmosier@dallasnews.com and lfox@dallasnews.com