Class Action Threatened over Sex Offender Ridsdale

Catholic News [Australia]
August 21, 2006

http://www.cathnews.com/news/608/118.php

Victims of convicted child sex offender and former priest Gerald Ridsdale are planning to ask the Victorian Government for an exemption from the three year limit for launching legal proceedings in order to mount a class action against the Church.

The Ballarat Courier reports that one victim who cannot be identified says that victims would lobby the government to legislate changes to the Limitations of Actions Act for all sexual assault victims.

"We're going to be running a campaign to have the government exempt sexual assault victims from the Limitations of Actions Act, which would then enable victims of Ridsdale and others to claim compensation against the Catholic Church," he said.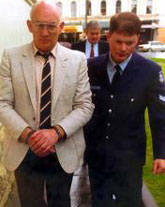 Mr Ridsdale, 72, a former Ballarat diocesan priest, was sentenced to a further four years' jail recently for sexually abusing 10 boys between 1970 and 1987 in addition to the time he is already serving for earlier convictions.

"If they (the Catholic Church) had any decency they would go to each victim in Australia and say let's sort this out," the victim said.

Ballarat lawyer Katalin Blond from Slater and Gordon, a law firm that has previously acted for victims of clerical abuse as well as in a series of class actions, said the Limitations of Actions Act would normally require that people bring proceedings within three years.

"However, there is case law to support the argument that the time limit doesn't commence until the victims become aware of the connection between any disorder that they have suffered and the acts that were perpetrated against them," Ms Blond said.

"When they are kids you often find they have a delayed onset of the symptoms. They may start to suffer post traumatic stress disorder or other symptoms in their adult years."

Faced with massive damages claims in multiple suits for clergy sexual abuse, the US Catholic dioceses of Portland, Oregon, Spokane, Washington and Tucson, Arizona have filed for bankruptcy protection.