Pastor's Jury Yet to Reach Verdict

By Traci Shurley and Melody McDonald
Star-Telegram [Fort Worth TX]
August 19, 2006

http://www.dfw.com/mld/dfw/news/local/15313482.htm

The Rev. Terry Hornbuckle, 44, has been on trial since Aug. 2 in state District Judge Scott Wisch's court. The jury deliberated for a fourth day Friday before breaking for the weekend.

The judge, two prosecutors and two defense attorneys said they have never had a jury deliberate this long without indicating that they were deadlocked or having some major difficulty.

Deliberations are scheduled to resume at 9 a.m. Monday.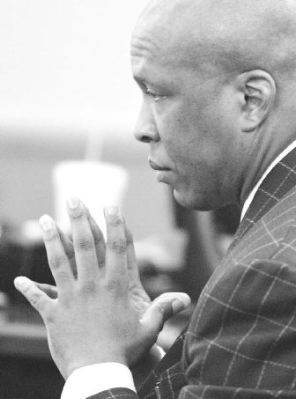 The Rev. Terry Hornbuckle, the founder of Agape Christian Fellowship in Arlington, is accused of raping three women. He did not testify in his trial.
Photo by The Star-Telegram / Jill Johnson



Hornbuckle's defense attorneys presented no witnesses on his behalf. The attorneys told jurors that Hornbuckle had numerous affairs with women, including his three accusers, but that the sex was always consensual.

By the numbers

10 -- Number of days trial has been in session

4 -- Number of days jury has deliberated

21 -- Number of hours jury has deliberated

20 -- Number of notes sent by the jury with questions

3 -- Number of men on the jury

9 -- Number of women on the jury

Accusers

Krystal Buchanan, 23, a former member of Agape, who testified that Hornbuckle drugged and raped her at a Euless apartment. Hornbuckle's attorneys acknowledged that the pastor leased the apartment for "escapades."

A woman using the pseudonym Jane Doe, 25, also a former parishioner, who testified that she went to Hornbuckle for spiritual advice but that the counseling sessions ended in sex four or five times. In Texas, it's against the law for a clergyman to exploit a parishioner's emotional dependency for sex.

Kate Jones, 34, also a pseudonym, who met Hornbuckle at a fitness club. She testified that he raped her after they smoked methamphetamine together and after he slipped some kind of drug into a bottle of water. His defense attorneys agreed that Hornbuckle provided meth for Jones but said the sex was consensual.