Hornbuckle Jury Adjourns without Verdict
Pastor, Supporters Await Verdict

By Jeff Mosier and Debra Dennis
WFAA
August 18, 2006

http://www.wfaa.com/sharedcontent/dws/news/localnews/tv/
stories/wfaa060818_wz_hornbuckle.10905474.html

FORT WORTH – The jury in the rape trial of pastor Terry Hornbuckle quit for the weekend after 21 hours of deliberation spread over four days.

The defense and prosecution said there is no indication that the nine-woman, three-man jury is deadlocked. The trial started 2 1/2 weeks ago.

"Jury deliberations are jury deliberations. It's kind of hard to read anything into them," said prosecutor Sean Colston.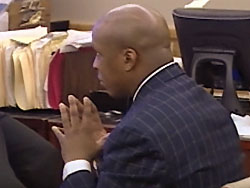 Terry Hornbuckle
Photo by The WFAA-TV



Defense attorneys Mike Heiskell and Leon Haley said they have never participated in a trial where the jury has taken this long to reach a verdict. But Haley said the longer the jury deliberates, the better it is for Hornbuckle.

"We're glad they've been out that long," Haley said. "It appears they are looking at all the evidence, and that makes us hopeful."

Hornbuckle, 44, was indicted last year on charges that he sexually assaulted three women. Jurors started deliberating late Tuesday afternoon and have sent 21 notes to the judge.

They asked to look at evidence and review testimony related to the first two women and also asked the judge for the definitions of "rape" and "burden of proof."

On Friday, jurors asked to look at the lease for a Euless apartment where one of the alleged sexual assaults occurred and review testimony about whether the lights were on or off when Hornbuckle masturbated in front of one of the accusers.

The jury also wanted to know whether the mother of one of the victims spoke to T.D. Jakes, pastor of The Potter's House church. The mother testified earlier in the trial that former Dallas Cowboys star Deion Sanders told her that he and Jakes were trying to get help for Hornbuckle.

Sanders and Jakes were on the witness list for the prosecution, but they were never called to testify.

The defense has acknowledged that Hornbuckle was womanizer and drug-user, but they said he was not a rapist. They said that any sex was consensual.

None of the notes sent by the jury were specifically related to the third woman.

The first two accusers to testify were members of Hornbuckle's Agape Christian Fellowship church in Arlington.

The third accuser testified that Hornbuckle drugged and raped her after they smoked methamphetamine. She also said she didn't realize that he was a minister.

The woman told the jury that Hornbuckle used a fake name and claimed to be a counselor for the Dallas Cowboys and a former NFL player.

Hornbuckle is also facing additional charges of sexual assault, possession of methamphetamine, retaliation and tampering with a witness. He also has been sued by some of the women accusing him of rape.

E-mail jmosier@dallasnews.com and debdennis@dallasnews.com