Jury in Hornbuckle Case Asks to Review Evidence

By Traci Shurley and Melody McDonald
Star-Telegram
August 17, 2006

http://www.dfw.com/mld/dfw/news/local/15294418.htm

Fort Worth -- For seven days, jurors in the sexual assault trial of the Rev. Terry Hornbuckle listened to attorneys ask questions.

On Wednesday, they had a few of their own.

During their daylong deliberation, the nine-woman, three-man panel sent out eight notes, asking to review testimony and evidence.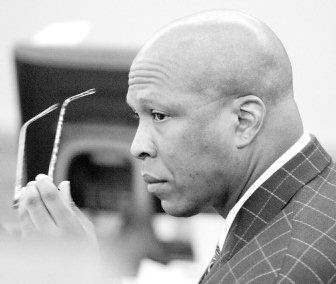 Terry Hornbuckle


Among other things, they wanted phone records, a list of prescription drugs found in Hornbuckle's Cadillac Escalade and a photo of the apartment where one of his accusers said she was raped.

Jurors are considering three separate charges of sexual assault against Hornbuckle, 44, founder of Agape Christian Fellowship in southeast Arlington. If convicted, he faces a sentence ranging from probation to 20 years in prison on each charge.

During the trial in state District Judge Scott Wisch's court, three women testified against Hornbuckle. They were:

Krystal Buchanan, a former church member, who said she was drugged and raped by Hornbuckle in a Euless apartment in July 2004.

A woman using the pseudonym Jane Doe, who said Hornbuckle used his position as her pastor to coerce her into having sex with him on at least five occasions in two months in 2003.

Kate Jones, also a pseudonym, who accused Hornbuckle of drugging and raping her inside her apartment after the two smoked methamphetamine in the fall of 2004.

All the jury's questions Wednesday dealt with Buchanan's testimony.

Defense attorney Leon Haley, who is defending Hornbuckle with Mike Heiskell, declined to speculate on why the questions focused on Buchanan and whether that meant the jury hadn't moved past the first charge.

"They could, for all we know, be on just the one case right now and are making a determination, or they could have made decisions on the others," Haley said. "I don't know what they have done."

Prosecutor Sean Colston, who is working with Betty Arvin, also wouldn't speculate about when jurors might return a verdict or what they would decide.

"They are deciding three different cases, and in each case they have the choice of guilty or not guilty, so they could come back with any combination of verdicts," Colston said.

Since Tuesday afternoon, the jury has spent eight hours deliberating. They are to return at 9 this morning.

Traci Shurley, (817) 548-5494 tshurley@star-telegram.com Melody McDonald, (817) 390-7386 mjmcdonald@star-telegram.com