Still No Verdict in Hornbuckle Rape Case

By Jeff Mosier
The Dallas Morning News
August 17, 2006

http://www.dallasnews.com/sharedcontent/dws/news/localnews/stories/
DN-hornbuckle_17met.ART.North.Edition1.3e5a55a.html

Fort Worth – A jury will return to the Tarrant County Courthouse today to continue deliberating the fate of Arlington minister and rape suspect Terry Hornbuckle.

The jury met for 45 minutes on Tuesday and all day Wednesday without deciding whether Mr. Hornbuckle was guilty of sexually assaulting three women. Testimony in the two-week trial ended Tuesday when the defense rested without calling any witnesses.

Defense attorney Leon Haley said the long deliberation is a sign that the jury is taking its responsibility seriously.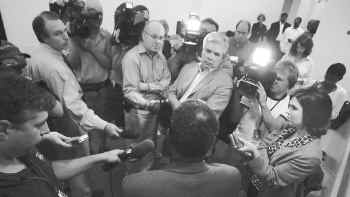 Defense attorney Leon Haley spoke to reporters Wednesday. He said the lack of a fast verdict shows the jury's doing its job.
Photo by Ricky Moon / Special Contributor


"This is what they are supposed to be doing," he said.

Prosecutor Sean Colston said he doesn't know whether the slow pace is good or bad for his case.

"When you have a jury deliberating, anything can happen," he said.

Mr. Colston and Mr. Haley declined to comment on the notes that jurors sent to the judge. There were at least a half-dozen notes – most concerning the first alleged victim in the case.

The jurors requested medical and cellphone records, copies of testimony and audio of Mr. Hornbuckle's voice mail messages to one of the accusers.

The medical records show that the first alleged victim tested positive for benzodiazepine, which can make a person drowsy, more compliant and forgetful. The three accusers testified that Mr. Hornbuckle drugged them. Also, benzodiazepine was found in his sport utility vehicle.

The defense attorneys argued that Mr. Hornbuckle had consensual sex in some of the cases and that other allegations of sexual encounters were lies. They said that the women were trying to get money from the successful megachurch pastor.

Mr. Hornbuckle's attorneys acknowledged that their client was a bad husband, father and pastor, but they said he wasn't a rapist.

The first accuser told jurors that she met Mr. Hornbuckle so he could give her money for her birthday. She testified that he served her drugged fruit punch and that she woke up naked.

The woman also said that when she tried to get dressed, Mr. Hornbuckle held her down and raped her.

The second alleged victim, who used the pseudonym Jane Doe, said that her pastor preyed on her emotional vulnerability after her live-in boyfriend left her. She said she didn't want to have sex with Mr. Hornbuckle, but she eventually gave in because it seemed easier.

Ms. Doe said she had about four or five sexual encounters with Mr. Hornbuckle. She also testified that Mr. Hornbuckle drugged her but that she awoke fully dressed and didn't appear to have been assaulted.

The third accuser, who used the pseudonym Kate Jones, said that Mr. Hornbuckle drugged her and raped her after they smoked methamphetamine together. She also said the minister used a fake name and claimed to be a former NFL player and a counselor for the Dallas Cowboys.

Mr. Hornbuckle is facing two to 20 years in prison or probation if convicted. He also has pending charges of sexual assault, possession of methamphetamine, retaliation and tampering with a witness.

E-mail jmosier@dallasnews.com