Pastor, Accusers Await Verdict
Jury in Rape Case Deliberates a Third Day with No Decision

By Jeff Mosier and Debra Dennis
The Dallas Morning News
August 17, 2006

http://www.dallasnews.com/sharedcontent/dws/news/localnews/
stories/081806dnmethornbuckle.c7164ee.html

Fort Worth – The jury in the rape trial of pastor Terry Hornbuckle deliberated for another day Thursday without reaching a verdict.

The jury has deliberated for 14 1/2 hours over three days.

Jurors will continue their deliberations at 9 a.m. today. Mr. Hornbuckle, 44, is on trial on charges that he sexually assaulted three women. The accusers testified that the founder of Agape Christian Fellowship church in Arlington also drugged them.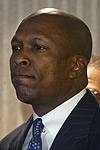 Terry Hornbuckle



Mr. Hornbuckle faces two to 20 years in prison if convicted, but he could also receive probation.

Prosecutor Betty Arvin said there's no way to know how long the jurors will take to agree on a verdict.

"We're still very hopeful," she said. "They're just going through the case methodically."

Ms. Arvin said the three women are "holding up as well as possible."

Mike Heiskell, one of Mr. Hornbuckle's attorneys, said his client is patiently awaiting a verdict.

"He's taking things in stride," Mr. Heiskell said. "He's praying. He's praying for his family."

He said that Mr. Hornbuckle has passed the time by reading books provided by the defense team, but Mr. Heiskell would not reveal the titles.

The jury began deliberating late Tuesday afternoon after the defense rested without calling a witness. Testimony started Aug. 2.

Two of the accusers, both members of Agape at the time of the alleged assaults, said Mr. Hornbuckle used his authority as pastor to meet with them alone.

One woman testified that the minister drugged her and that when she awoke naked, he held her down and raped her. The other church member said that Mr. Hornbuckle used his position to coerce her into having sex with him several times.

The third woman told jurors that Mr. Hornbuckle drugged and raped her after they smoked methamphetamine. She said he also used a fake name and claimed to be a counselor for the Dallas Cowboys and a former NFL player.

Mr. Hornbuckle has also been indicted on additional charges of sexual assault, possession of methamphetamine, retaliation and tampering with a witness. He and his church are also facing lawsuits from some of the women accusing him of rape.

E-mail jmosier@dallasnews.com and debdennis@dallasnews.com