Parish Predators
Despite the Bishop's Remarks to the Contrary, the Galveston-Houston Roman Catholic Archdiocese Had Child Molesters and Let Them Go. but Don't Blame Just the Church

By Craig Malisow
Houston Press
August 17, 2006

http://www.houston-press.com/Issues/2006-08-17/news/feature_1.html

Oh, could he sing.

At St. Francis de Sales, where he sang in choir, they called him Pavarotti. He performed at church concerts and weddings, and even with Houston Grand Opera.

A dark-skinned Costa Rican with a goatee and eyes set widely apart, German Rojas Moreno was everyone's friend. He was a doctor back home, he said. In Houston, he worked at a health clinic where he treated some of the boys who sang in the choir. And, he opened his home to them. It was just an apartment, but it was a boy's dream: big-screen TV, Xbox, pool table. During the school year, they spent weekends there, and in the summer, they were there nearly every day.

According to the boys, who are now men, Moreno was playful, boisterous. He'd jokingly put them in a headlock, challenge them in soccer. The boys, who filed police reports about Moreno, say he tried to show them new games, too, like the one where you masturbate and see who can last the longest. And he always wanted to show them the videos in the closet, the ones with the men, they say.



Despite the bishop's remarks to the contrary, the Galveston-Houston Roman Catholic Archdiocese had child molesters and let them go. But don't blame just the Church.
Photo by Craig Malisow


Around the parents, the good doctor was an adult. A congenial but sober authority figure, he'd shake parents' hands after mass and they'd thank him for doing such a wonderful job with their boys. And he did. At his apartment, the men say, he always made sure they took their vitamins. Tiny, tiny white vitamins. And he made his special frozen drink, ciropa, and it was so good the boys would not remember the rest of the day.

Moreno appeared to have no worries. After leaving Costa Rica in 1994, he had no problem carving out a life for himself in the Archdiocese of Galveston-Houston. Even though he sang in the choir and spent great amounts of time with children, no one at the archdiocese ever did a background check. So they didn't know about his little problem back home. They didn't know he was wanted for sexually abusing five boys who were his "patients." They didn't know he had been sentenced to nine years in prison.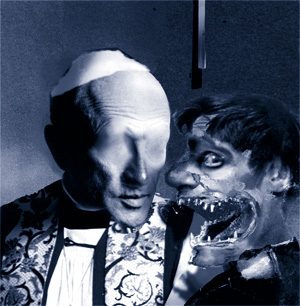 Despite the bishop's remarks to the contrary, the Galveston-Houston Roman Catholic Archdiocese had child molesters and let them go. But don't blame just the Church.
Photo by Craig Malisow


And St. Francis de Sales was an especially good parish for Moreno. At the same time he was there, a young seminarian named Juan Carlos Patino-Arango was spending great amounts of time with boys as well. He saw them in the rectory; he picked them up at their homes and took them for drives. Those boys said he examined their pubic hair and jacked them off. And he told them not to tell. But when one of the boys finally did, in 1996, the parish leaders bought the seminarian a plane ticket back to Colombia. If Moreno ever needed an indication as to how the Galveston-Houston archdiocese and St. Francis de Sales treated child molesters, he now had one.

So he stayed for years, until last May, when he was charged with two counts of indecency with a child, two counts of assault of a child and one count of aggravated sexual assault of a child. Harris County prosecutors had in their hands a fugitive who was accused of abusing more boys here. But if they knew about Moreno's past, they didn't make a good argument that he was a flight risk: Judge Belinda Hill set bail at $60,000. In June, Moreno bonded out and disappeared.

The case of German Moreno reveals a breakdown of accountability among leaders of the Catholic archdiocese, the Harris County district attorney's office, the Harris County Public Health Department and the Texas Department of State Health Services. A breakdown that might have led to the victimization of dozens of boys.

Breakdown I: The Archdiocese of Galveston-Houston

When Archbishop Joseph Fiorenza retired from the Galveston-Houston archdiocese earlier this year, he was celebrated for overseeing such a prosperous, influential community.

In 2004, Pope John Paul II elevated the jurisdiction to an archdiocese. At the time, Fiorenza was the president of the U.S. Conference of Catholic Bishops. Perhaps most important, his archdiocese had mostly avoided the child abuse scandal that had plagued other dioceses. He would retire with an unquestioned, unblemished record.

In truth, Fiorenza had a tendency to accept troubled clergy into his domains (see the sidebar, "Free Rides," at the end of this story). And as was the case with most dioceses, the Galveston-Houston archdiocese did whatever was necessary to protect the church from public scrutiny. As would any business accused of serious crimes, the archdiocese mounted vigorous defenses, including placing partial blame at the victims' feet. For the media, the tactic was obfuscation.

Since 2002, when the latest wave of allegations rocked the Catholic Church, the U.S. Conference of Catholic Bishops has commissioned studies and instituted procedures to weed out predators and be more compassionate to victims. While the Galveston-Houston archdiocese, under Fiorenza, has paid public lip service to these standards, it has outright ignored them when allegations surface.

In 2002, the U.S. Conference of Catholic Bishops adopted a charter defining sexual abuse and outlining the steps to investigate the allegations. Violating the charter means canonical penalties; the charter applies to both dioceses and religious orders.

The charter states that sexual abuse "need not be a complete act of intercourse. Nor, to be objectively grave, does an act need to involve force, physical contact, or a discernible harmful outcome."

Yet earlier this year, when a host of women accused a Houston priest of kissing them when they were children and young adults, the priest's attorney argued that kissing is not sexual abuse, stating that none of the girls accused him of attempted "genital contact."

The conference in 2002 also issued a 140-page indictment of how most bishops harbored predators and revictimized children who were abused. Findings included:

• The threat of litigation caused some bishops to disregard their pastoral role and adopt an adversarial stance not worthy of the Church

• Some bishops and other Church leaders placed the interests of the accused priests above those of the victims and too often declined to hear from victims directly

• Dioceses and orders did not screen candidates for the priesthood properly. As a result, many sexually dysfunctional and immature men were admitted into seminaries and later ordained into the priesthood

• The fear of scandal caused [bishops and Church leaders] to practice secrecy and concealment

Also in 2002, the U.S. Conference of Catholic Bishops ordered all dioceses to implement a program known as "Safe Environment," whereby all diocesan personnel and volunteers would undergo criminal background checks. Furthermore, the archdiocese would bear the costs of training anyone who has regular contact with youths how to spot potential predators. The same year, Fiorenza issued a statement proclaiming that the archdiocese would "make the protection and safety of children and young people a top priority."

Three years after Fiorenza's proclamation, boys were still spending nights at Moreno's apartment and sitting on his examination table at Dynamic Health Care.

While a diocese spokeswoman has repeatedly told the Houston Press that Fiorenza was well ahead of the curve when it came to church policies for protecting children, internal memos from 1996 indicate otherwise.

That year, a 14-year-old boy told parish leaders that a seminarian named Juan Carlos Patino-Arango had molested him. That boy and two others would give affidavits in 2005 describing similar abuse.

Predators within the Catholic Church often indulge in fetishes that show a methodical approach to abuse. Father Rudy Kos in Dallas had to masturbate himself with the feet of boys wearing white athletic socks. Father Thomas Teczar of Fort Worth liked to take pictures of erect boys sitting in his mother's rocking chair.

For Patino-Arango, it was pubic hair.

The boys -- referred to in the case as John Does I, II and III -- stated in affidavits that Father William Pickard introduced Patino-Arango as "the priest who would be in charge of the Spanish-speaking masses."

The 27-year-old ingratiated himself with the mothers of the boys, offering to counsel them about sex and masturbation -- topics that the parents might not be able to comfortably discuss with their boys.

Patino-Arango held the "counseling sessions" at the parish rectory, telling the boys to pull down their pants so he could see their pubic hair. He wanted to observe their development from "boy to man."

John Doe II stated that during his second counseling session, Patino-Arango "took me to his room and told me to lie down on his bed. He then pulled down my pants. He started massaging my legs and told me he was going to take away all the 'bad energy' that had got me in 'trouble' with my parents. He then grabbed my penis and put it in his mouth and the same time, started masturbating himself...After the second incident, Father Juan Carlos gave me the Bible. I burned it."

John Doe II told the Press in July, "He came up to me after the second time and he just came and told me, 'Who you think you are? You think they're going to believe you? You're a stupid kid -- who's going to listen to a little kid instead of a priest? So just keep it to yourself.' "

He was abused in eighth grade. A year later, he was running away from home and failing high school. That first year of high school, he was called to the principal's office 52 times.

In 2004, Dallas attorney Tahira Khan-Merritt sued the archdiocese on behalf of the boys. The suit dug up memos showing just where the parish's allegiance lay.

The memos show that the parish terminated Patino-Arango as a seminarian shortly after the allegation, although his health benefits would last for another month.

On May 30, 1996 -- four days after John Doe I reported the abuse -- Monsignor Frank Rossi wrote in his log: "Masturbating did occur. Juan Carlos minimized it. Says boys showed pubic hair and denies touching penis."

May 31: "Juan Carlos: anxiety attack. Given anti-depresant [sic] med. Could stay at Mary Knoll [a diocesan treatment center] for a one [sic] month."

June 16: "J.C. is very remorseful about the incident. He plans to immediately return to Colombia because he fears his mother would try to come see him here."

June 26: "Juan Carlos Patino has a return ticket from his mother to return to Colombia on July 7. He is trying to get a ticket for an earlier date. Giving $550 to pay for $650 ticket."

July 2: "Juan Carlos leaves Saturday, July 6."

On July 26, Rossi wrote the bishop of the Medellín, Colombia, archdiocese, stating: "If Juan Carlos does not receive therapy, he could be a risk to children. I want to make you aware of this situation in case he attempts ordination of ministry with children in your Archdiocese or a diocese in Colombia."

The notes claim that the parish reported the allegation to Harris County Children's Protective Services, which subsequently reported it to the Houston Police Department. Rossi's notes state that the boys' parents wanted to "avoid a scandal" and did not want to file charges.

A 2004 court filing by the archdiocese claims that the police conducted an investigation in June 1996 and that police stated Patino-Arango was "free to leave the country."

Because CPS destroys closed cases after three years, it is impossible to verify whether the agency ever received the complaint. However, two public records requests from HPD turned up no records of a complaint or investigation. (In 2005, the boys' parents swore in affidavits that they did not recall ever being contacted by Houston police.)

And in a 1998 letter from archdiocese seminarian director Stephen Tiemann to his counterpart in Colombia, Tiemann wrote, "If Juan Carlos had stayed in the United States, they would have arrested him."

Patino-Arango was indicted in 2004 for indecency with a child. Records at the Colombia Department of Education, as well as media reports from that country, indicate that Patino-Arango is working at a school in Medellín. Colombia has no extradition agreement with the United States.

In 2005, a fourth man stepped forward to say he, too, was abused by Patino-Arango. His allegations led to a second indictment.

The man, who joined the John Doe suit in August, has asked that the Press not publish his name.

He and his two brothers also have filed reports with the Houston police alleging their abuse at the hands of German Moreno.

The archdiocese hired Vinson & Elkins to mount a vigorous defense in the Patino-Arango case. This defense includes blaming the victims, a good four years after the U.S. Conference of Catholic Bishops admonished bishops for victimizing accusers and coddling pedophiles.

While the victims say Patino-Arango was introduced to them as a "priest," and that Patino-Arango offered to counsel the boys on sexual matters, lawyers for the archdiocese argue, "Any message gleaned by plaintiffs from any function Patino performed was solely an inference drawn by the plaintiffs."

The lawyers also argue that the archdiocese wasn't really responsible for Patino-Arango because he was "a mere seminary student" and not an employee. (Again, the U.S. Conference of Catholic Bishops in 2002 ordered each diocese to run criminal background checks on seminarians.)

Archdiocese spokeswoman Annette Gonzales Taylor told the Press that the archdiocese has routinely run background checks since 2003. She also explained that the archdiocese is in compliance with the conference charter and has provided training to children and youths "to protect themselves from becoming victims of sexual abuse and have done so since 2004."

Breakdown II: The Harris County Department of Public Health and Texas Department of State Health Services

Under the Refugee Medical Assistance Program, the federal government provides funds to state health departments to provide free health screenings to official refugees.

In October 2004, Harris County Commissioners Court contracted with Dynamic Health Care Clinic to be an official provider under the program. The court paid the clinic, then located at 6006 Bellaire Boulevard, $60,000 to provide services from October 2004 to September 2005. Broken down, the clinic would receive $120 per patient screening.

The Public Health Department's point of contact would be clinic manager Beatrice Molho, German Rojas Moreno's girlfriend and business partner.

The doctor authorized to perform the screenings was Horace Halbert Jr. This was the same Horace Halbert Jr. whom the Texas Medical Board fined $5,000 for "failure to practice medicine consistent with public health and welfare."

That was in 2001, but Halbert's trouble started years before.

In 1986, the board held a hearing to discuss Halbert's alleged "poor record keeping of controlled substances, possible intemperate use of drugs and alcohol and [his] non-therapeutic prescribing of anorectic agents [appetite suppressants]."

Halbert followed the board's recommendation that he submit himself "for complete physical examination and psychiatric evaluation to competent physicians."

In 1994, the board stayed a five-year suspension of Halbert's license, placing him on probation and ordering him to attend at least 50 hours of continuing medical education classes a year. The board also ordered that Halbert be monitored or supervised by a physician "acceptable to the Board."

In January 2005, Jack Alford became the clinic's lead physician. Alford told the Press that Halbert was gone by then. Alford told the Press he worked at Dynamic from January to April 2005 and never met Halbert. He said his job was to sign off on the patients Moreno -- who was not licensed -- treated.

The county's contract does not list Alford as an approved physician.

Alford also had a history with the Texas Medical Board. In 1991, he prescribed codeine to an undercover U.S. Drug Enforcement Administration officer. He subsequently pleaded nolo contendere to prescribing a controlled substance without a valid medical purpose, a felony. He was placed on five years' deferred adjudication and ordered to pay a $2,000 fine. Like Halbert, his five-year suspension was stayed. (Halford failed to return multiple telephone messages.)

Dynamic was not receiving referrals just from the Harris County Public Health Department.

In 2003, the State Department of Health Services, through the Texas Medicaid and Healthcare Partnership, approved Dynamic as a Medicaid provider. The state did not run criminal background checks on provider personnel until this year, but even if it had in 2003, it would not have checked out Moreno, because the department didn't know he existed.

A State Health Department spokeswoman said the department's contract listed Halbert as the owner of Dynamic, and only he and Alford were authorized to see patients.

She also said the clinic stopped billing Medicaid in May 2005 -- the month Moreno was arrested. (Houston police arrested him at the clinic.)

In June 2006, the Houston Chronicle reported that the County Public Health Department was notifying the parents of 46 children who were treated at the clinic by a man charged with sexual assault of children. Department spokeswoman Rita Obey confirmed in July that an investigation was still pending; she declined to say how many parents had actually been contacted.

While Beatrice Molho, Moreno's girlfriend, has never been accused of a crime, her attorney told the Chronicle in May 2005 that she was closing the clinic and considering opening another.

Her attorney, Gus Pappas, would not reveal the name of that clinic to the Press, but personnel at CarePro Healthcare confirmed that Molho managed the clinic, located at 8885 West Bellfort.

Pappas also contradicted Obey by saying no agencies were investigating potential child sexual abuse at Dynamic Health Care. When told that the department was notifying the parents of 46 children treated at the clinic, Pappas told the Press: "Forty-six is not a very big number."

Pappas, who said he has represented child victims of sexual abuse, also betrayed a lack of awareness of the vast majority of crimes against children by telling the Press the charges against Moreno were not "your typical kid gets abducted and raped and abused by some unknown person." (Children's Protective Services, for example, is an agency that exists solely to investigate the thousands of allegations of child abuse by family members and/or caretakers; also, the entire Catholic Church sex scandal revolves around the abuse of children by trusted authority figures well known to the victims and their families.)

Pappas also suggested that the family of one of Moreno's accusers was complicit in the abuse.

"There was a long and extensive outgoing relationship between this entire family...it almost was as if, notwithstanding these allegations...everybody kind of knew what was going on and...there was financial benefits to be gained by everybody, so it was kind of overlooked," he said.

Pappas's "financial benefits" reference was based on his belief that Moreno paid for the alleged victim's wedding and was in fact the boy's godfather.

"It was just really very sordid and demented, from my perspective, but when you kind of looked into it...so, you know, why are the parents involved with this guy and why is all this happening, why is he paying for kids' weddings?" Pappas said.

The accuser told the Press that Moreno paid for half of his high school graduation ring and, based on that, told everyone he was the boy's godfather. However, Moreno also told people he was a doctor.

While Pappas confirmed that Molho and Moreno were at one time romantically involved, he said they never lived together. However, a driver's license database search listed identical addresses for both in 2004.

Pappas also said there were no allegations of abuse occurring at the clinic, but at least five men have filed police reports claiming Moreno abused them during their health screenings.

And while Pappas maintains that Moreno was a "foreign-trained" medical professional authorized to perform certain health procedures in Texas, he could not provide the Press with any supporting documents. The spokeswoman for the Texas Medical Board said searching for the names of authorized foreign-trained doctors is outside the scope of the Texas Open Records Act.

Furthermore, when the Press tried to find out how the Texas Health and Human Services Commission -- charged with overseeing the state's Medicaid and Children's Health Insurance programs -- approved a clinic staffed by a fugitive child molester and two doctors with extensive disciplinary histories, spokeswoman Stephanie Goodman was not much help. After two weeks of trying to understand the commission's approval and oversight process, the Press finally reached Brian Flood, the commission's inspector general.

Flood said the commission did not have the funds to conduct background checks until the state legislature allocated them in December 2005. He also said the commission was now charging an extra $49.50 application fee to help subsidize the costs. To date, the commission has conducted background checks on 4,000 individuals, resulting in the disqualification of 150 clinics.

"There were some weaknesses identified in the system prior to that period of time as it relates to doctors," Flood said.

The Getaway

The third breakdown was, of course, the low bond that allowed Moreno to flee.

Harris County Assistant District Attorney Marie Primm refused to comment on the Moreno case, saying she did not want to "hinder" an ongoing investigation.

Primm has ordered Moreno's criminal file to be sealed and would not confirm the charges against him.

The Houston Police Department has posted a notice on its Web site, saying that "Due to the number of victims who have come forward, investigators believe other potential victims have not reported similar contact with the suspect. Anyone who has been victimized by German Moreno is urged to contact the HPD Juvenile Division Sex Crimes Unit at 713-731-5335."

Moreno's bail bondsman told the Chronicle in May 2005 that Moreno paid 10 percent of the bail in cash. The County Public Health Department paid Moreno's clinic $120 per patient. Those 46 children brought the clinic $5,520 -- just about enough to cover the amount Moreno paid out of pocket to bond out and disappear.

A representative of Affordable Bail Bonds in Richmond told the Press in July that the agency is "making arrangements" to retrieve Moreno.

The agency just may find Moreno sooner than authorities in Harris County. After all, the owners have a possibly greater motivation than justice. They want their money.

Free Rides

Archbishop Joseph Fiorenza's history with troubled priests

With the exception of the Houston Chronicle, Houston media outlets have given Archbishop Joseph Fiorenza a free ride when it came to his involvement in the scandal plaguing the Catholic Church. But a study of his actions while bishop of the San Angelo Diocese in the '80s and the Archdiocese of Galveston-Houston shows a history of questionable judgment.

Father David Holley

The earliest record begins with notorious pedophile David Holley, a priest sentenced in 1992 to 275 years for raping parish boys in New Mexico.

In 1997, The Dallas Morning News published a series of letters among Fiorenza and other bishops suggesting that Fiorenza was aware of Holley's actions -- but willing to overlook them or, at the very least, showing no interest in finding out more about them to minimize risks.

In 1982, Holley requested to be incardinated in the San Angelo Diocese, meaning he would be an official employee of that diocese alone. At the time, Holley worked in San Angelo but was beholden to the Worcester, Massachusetts, diocese.

On June 2, 1982, Fiorenza wrote to Bishop Bernard Flanagan of Worcester: "I am aware of some of [Holley's] past difficulties, yet I do not know the extent of his problems. With our shortage of priests, I am willing to risk incardinating him unless you would advise me against it, since you know him far better than I doÉHe is very sensitive about his past and becomes most emotional in talking about it or if he thinks any of the priests are too inquisitive about his past ministry before coming to West Texas."

Shortly afterward, Flanagan replied: "You indicate your awareness of his past problems and I don't think of anything that I might add by way of further information."

December 22, 1982, Fiorenza to Flanagan: "...Some of his past problems surfaced again which made it advisable for me not to incardinate him...I have made it clear to him that I will give him a fair chance to exercise his priesthood here, but if there is one more lapse, I will ask him to leave."

May 25, 1984, Fiorenza to Flanagan: "It is with great regret that I write now to say that Father Holley has made it impossible for us to keep him in this diocese. I will ask Father Holley to return to his own diocese for whatever counsel you may wish to give him...I will continue to pray for him and hope that he will successfully deal with his problems so that he can continue a useful priestly ministry in the service of the Church."

Fiorenza did not comment for that story. Five years after it ran, he told the Chronicle that the "difficulties" he was referring to were Holley's problems with alcohol.

Archdiocese spokeswoman Annette Gonzales Taylor told the Press in July that the difficulties also referred to complaints "about Holley's insensitivity to the Hispanic culture [and] poor people skills."

Gonzales added: "Archbishop Fiorenza has a 50-year record of addressing the needs of anyone who sought his help. No one who's worked to review that record questions his compassion."

Father Fernando Noe Guzman

Guzman, who had fathered two illegitimate children in his native Mexico, came to Navasota, under Fiorenza's jurisdiction at the Diocese of Galveston-Houston, in 1984.

In 1986, a social worker visiting a deaf and blind elderly client's home walked in on Guzman having sex with the client's 13-year-old granddaughter on the kitchen floor while her grandfather lay in a room nearby.

Chronicle articles and subsequent court reports indicate that the social worker notified Diocese Chancellor Daniel Scheel. Scheel testified that he accepted Guzman's description of the girl as "a rather precocious child who came onto him" and notified Fiorenza.

After the social worker caught Guzman a second time, the priest was transferred to a parish in Galena Park, where he subsequently had an affair with a church secretary and fathered her child.

In his deposition, Fiorenza stated that he let Scheel handle things. For his part, Scheel testified that "I didn't feel we had an obligation to go pursue the situation."

Guzman confessed to having a sexual relationship with the Navasota teenager over a two-year period. He served 90 days in Grimes County Jail and was released on "shock probation," a procedure based on the theory that first-time felons can be "shocked" into lawfulness after a brief incarceration. He was never defrocked.

Father Donald Stavinoha

On the night of April 30, 1986, a Houston police officer spotted what he thought was an empty church van in Glenbrook Park. But when he traced his flashlight across the windows, he saw a man performing oral sex on a boy.

The man was 66-year-old Reverend Donald Stavinoha, and the boy was 11. Stavinoha ultimately confessed to sexually abusing the boy since he was nine. He pleaded guilty to aggravated sexual assault. He was sentenced to ten years and released after 14 months.

In 1993, the Reverend William Morell, Stavinoha's superior at Houston's office of the Oblate Order of Mary Immaculate, told the St. Louis Post-Dispatch: "A brother who is a pedophile is still a brother, isn't he?"

Father Richard Edelin

In 1996, the diocese paid a $5,000 settlement to a woman who claimed she was repeatedly groped by Edelin in 1982. She was 17 at the time. Fiorenza issued a letter of apology but stated that the allegations could not be verified. After the settlement agreement, Edelin ceased working as a priest, working instead as an "auditor."

In 2003 -- a year after Fiorenza proclaimed that child safety would be the top priority -- the diocese announced Edelin would join a Sugar Land parish as a priest. When the woman publicly complained about the appointment, the diocese rescinded Edelin's appointment.

Edelin is now a priest in Baker, Oregon.

Father Joseph Tu Ngoc Nguyen

Father Tu, as he was known, was transferred to Houston from Fort Worth in 1993. He had been accused of groping and kissing two young sisters and was treated at a clergy rehab center, where he was diagnosed with a "very undeveloped psycho-sexual personality."

Fiorenza in 1993 told parishioners at Holy Rosary Church that the Dominican Order had investigated and cleared Tu. The only problem was, no one ever told the two girls there was an investigation.

So far, six women have accused Tu of groping and kissing them; the youngest victim was about seven at the time, the oldest 22. The allegations date back to 1975.

The allegations surfaced last year when the late Fort Worth Bishop Joseph Delaney released the names of eight priests accused of sexual abuse. The Dallas Morning News and Fort Worth Star-Telegram have filed a joint suit to have their personnel records opened.

Earlier this year, Tu's attorney, Allen Pennington, told a Dallas judge that his client's record should not be revealed because his original accusers "never accused [Tu] of sexual abuse...They don't want to be involved in the current case or in the resulting media circus...These ladies do not want their names in the press or in the courtroom."

However, Pennington's crystal ball was a bit murky, because the women did not even know about the litigation until they read a newspaper article; they never told anyone about staying out of the case because they had no idea there even was a case.

In conversations with the Press earlier this year, Archdiocese spokeswoman Annette Gonzales Taylor brushed off the kissing as a cultural misunderstanding -- four years after the U.S. Conference of Catholic Bishops declared that sexual abuse did not even have to include physical contact.

Tu was suspended from the priesthood in March.