Hornbuckle Jury Still Deliberating

By Jeff Mosier
WFAA
August 16, 2006

http://www.wfaa.com/sharedcontent/dws/news/localnews/tv/stories/
wfaa060816_wz_hornbuckle.62db58d.html

Fort Worth — A Tarrant County jury continued its deliberations Wednesday morning in the rape trial of Arlington pastor Terry Hornbuckle.

The jury deliberated about 45 minutes Tuesday afternoon and returned at 9 a.m. Wednesday.

Jurors asked to review several pieces of evidence during the morning related to the first accuser who testified against the pastor. They requested Mr. Hornbuckle's cell phone records and those of one of his accusers who testified that the pastor drugged and raped her in a Euless apartment, and also asked for recordings of cell phone messages left by Mr. Hornbuckle for the woman following the alleged assault.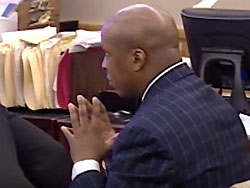 Terry Hornbuckle
Photo by The WFAA-TV


If convicted, Mr. Hornbuckle faces two to 20 years in prison, but he could also be eligible for probation.

The prosecution spent six days building a case against Mr. Hornbuckle, founder of Agape Christian Fellowship church. The defense rested Tuesday morning without calling a witness.

Prosecutors said Mr. Hornbuckle used his position as a respected and successful preacher to prey on women's weaknesses. In two cases, Mr. Hornbuckle was accused of drugging women before he raped them. The third woman said she was drugged but there was no rape at that time.

All three women said they believed they were drugged, and one of them tested positive for a class of drug that can cause drowsiness and amnesia. Two said they awoke to find themselves naked with Mr. Hornbuckle either in bed with them or nearby.

The women also testified that Mr. Hornbuckle gave them money and gifts, and in some cases, intimidated them into not telling anyone.

Defense attorney Leon Haley said in his closing argument that his client was caught up in the "raptures of sin," but argued that the sex between Mr. Hornbuckle and the women was consensual.

During cross-examination, defense attorneys questioned the motives of the women, trying to show that they were either willing participants or only looking to profit from a successful minister with a weakness for women and drugs.

Mr. Hornbuckle has been sued in civil court by the women, who are seeking damages.

E-mail jmosier@dallasnews.com