Jury Begins Deliberations for Hornbuckle

By Melody McDonald and Traci Shurley
Star-Telegram
August 16, 2006

http://www.dfw.com/mld/dfw/news/local/15285352.htm

Fort Worth -- Drug addict. Liar. Cheat. Sinner.

Prosecutors and defense attorneys agree that the Rev. Terry Hornbuckle is all these things.

But is the charismatic Arlington preacher a rapist?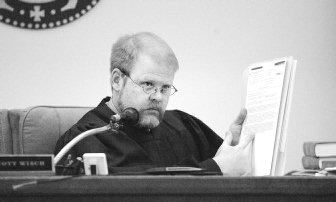 Judge Scott Wisch instructs attorneys in the trial of the Rev. Terry Hornbuckle on Tuesday.
Photo by The Star-Telegram / Jill Johnson


A jury of nine women and three men began deliberating that question Tuesday afternoon. They worked about 45 minutes before breaking for the evening.

They will return this morning to continue deliberations.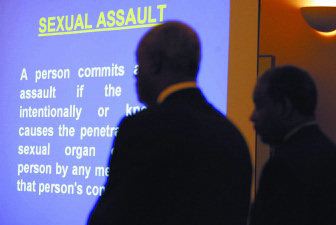 Judge Scott Wisch instructs attorneys in the trial of the Rev. Terry Hornbuckle on Tuesday.
Photo by The Star-Telegram / Jill Johnson


During the seven-day trial in state District Judge Scott Wisch's court, three women testified that they were raped by Hornbuckle, the 44-year-old founder of Agape Christian Fellowship.

Two accusers -- Krystal Buchanan and a woman testifying under the pseudonym Kate Jones -- said Hornbuckle drugged them before sexually assaulting them in 2004. The third woman -- who testified using the name Jane Doe -- said Hornbuckle used his position as her pastor to coerce her into having sex at least five times in 2003.

Tuesday morning, defense attorneys rested their case without calling any witnesses. After lunch, closing arguments began.

Defense attorney Leon Haley quoted scripture, and at times his fiery delivery seemed more like a sermon than a closing argument.

"Save me, O Lord, from lying lips and deceitful tongues," Haley said, quoting Psalm 120:2.

At other times, however, Haley's language was graphic and downright shocking.

He attacked Buchanan's sexuality and characterized her as a money-grubber who is suing Hornbuckle.

"She is on the hustle just like her stripper girlfriend," Haley told the jury.

Haley went on to accuse Jane Doe of ending the "affair" she had with Hornbuckle because their sex got "a little too freaky."

And he called Kate Jones a "meth ho" who, like all the other accusers, refuses to take responsibility for her bad choices.

Haley made no apologies for any of it.

"I'm not being nice to anybody," Haley said, pacing before the jury box. "You come in here and accuse my client of something, and I'm going to defend him because it is wrong."

Prosecutor Sean Colston fired back, saying he was "offended" by some of the defense arguments but was not surprised.

"When you are sitting next to a guilty man, desperate times call for desperate measures," Colston said, his voice rising. "You have to slander these women when you are sitting next to a guilty man, a bad bishop, a drug addict and a rapist."

He said that Haley's name-calling illustrates why many women who have been sexually assaulted don't report the crime to authorities.

"You come into a courtroom and some lawyer is calling you a meth whore. Even though you are a victim, you are on trial now," Colston said.

From the beginning, defense attorneys have told jurors that the trial is about "cash, consent and credibility." During his closing argument, Colston offered his own alliteration -- "con man, control and conviction."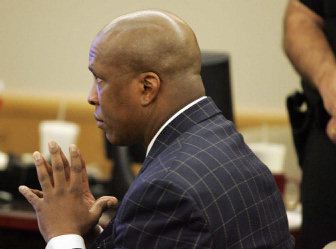 Terry Hornbuckle


Colston said Hornbuckle, whom he called a con man who liked to be in control at all times, deserves a criminal conviction.

"He conned everyone. He conned these ladies. He conned his powerful friends, he conned his congregation, and he ran his long con from the pulpit," Colston said.

Two of Hornbuckle's accusers were former parishioners who said they trusted the man they called "Bishop."

Buchanan, 23, a former University of Texas at Arlington basketball player, said Hornbuckle took her to an Euless apartment on July 31, 2004, where he gave her some punch that made her pass out. She testified that she awoke to find a naked Hornbuckle climbing off her and feeling as though she had been penetrated sexually.

A drug test at a Waxahachie hospital found Benzodiazepine, a class of drugs that causes sedation, in her body.

Doe also attended the church. She testified that Hornbuckle began counseling her after a devastating breakup with her boyfriend and that those counseling sessions, in 2003, ended in sex. In Texas, it is against the law for a clergyman to use his influence to have sex with a parishioner.

Jones, the third accuser, said she met Hornbuckle at a fitness club in fall 2004. He told her that his name was Terry Lee and that he was a counselor who worked for the Dallas Cowboys. Within days, the two began smoking methamphetamine together in her apartment, she said. On his second visit, he gave her a drink of water that made her black out and he raped her, she said.

On Tuesday, the defense team had an answer for just about every accusation.

Mike Heiskell suggested that Buchanan went out with a girlfriend the day after the alleged assault and could have purchased drugs that showed up in the drug test. He said there was no proof that she had sexual intercourse with Hornbuckle.

Defense attorneys pointed out that Jane Doe said she had sex at least five times with Hornbuckle, which proved the sex was consensual. They said Hornbuckle was acting as a man and not a clergyman -- going so far as to give Doe Dallas Cowboys tickets and money to get her nails done.

Heiskell said Kate Jones, a single, unemployed mother, exchanged sex for the drugs Hornbuckle brought to her home.

He said prosecutors provided ample evidence of Hornbuckle's shortcomings as a man and a bishop, but said they failed to prove that Hornbuckle is guilty of three charges of sexual assault.

"He is not on trial for being a liar," Heiskell said. "He is not on trial for being an adulterer. He is not on trial for being a drug user. He is on trial for rape."

Prosecutor Betty Arvin, who called Hornbuckle "Bishop Casanova," told jurors that the preacher had "pulled the wool over" the eyes of plenty of people, including famous friends like former Cowboys running back Emmitt Smith.

She urged them not to be swayed by his defense attorneys' explanations.

"This isn't about sins," Arvin told the jury. "This is about criminal acts."

Melody McDonald, 817-390-7386 mjmcdonald@star-telegram.com Traci Shurley, 817-548-5494 tshurley@star-telegram.com