Defense Rests in Hornbuckle Trial

By Jeff Mosier
The Dallas Morning News [Fort Worth TX]
August 15, 2006

http://www.dallasnews.com/sharedcontent/dws/news/localnews/
stories/081606dnmethornbuckle.a3bd9c.html

The defense attorneys for Terry Hornbuckle rested Tuesday morning without calling a single witness in the Arlington pastor's rape trial.

When asked by the judge, Mr. Hornbuckle confirmed he was satisfied with his attorneys' work on the case, and agreed not to testify on his own behalf.

"He indicated that he was satisfied with our trial strategy," said Mike Heiskell, one of the defense attorneys.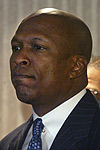 Terry Hornbuckle


The prosecution rested Friday afternoon following six days of testimony.

Both sides are expected to begin their final arguments around 1 p.m. Tuesday, and should go to the jury shortly afterward. Due to juror commitments, deliberations will end for the day at 5 p.m. and resume Wednesday morning.

Any testimony from character witnesses for Mr. Hornbuckle will be held until the punishment phase, if it occurs.

The founder of Agape Christian Fellowship church in Arlington is on trial on three charges of sexual assault. Two of the accusers are former church members, and two said the megachurch minister drugged them.

If convicted, Hornbuckle, 44, could be sentenced to 20 years in prison on each charge.

E-mail jmosier@dallasnews.com