Minister Demanded Loyalty, Aide Says

By Melody McDonald
Star-Telegram
August 12, 2006

http://www.dfw.com/mld/dfw/news/15259541.htm

Fort Worth -- When the sexual assault allegations came out against the Rev. Terry Hornbuckle, plenty of people had the popular minister's back.

Lisa Fuller was not one of them.

The 37-year-old woman, who worked as Hornbuckle's executive assistant, said she refused to obey Hornbuckle's orders to lie to the grand jury.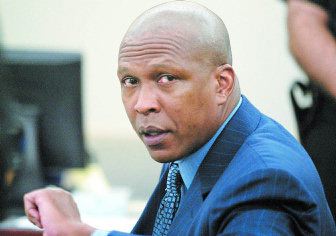 Hornbuckle


"I was intimidated by him, but the truth was the truth," Fuller told jurors Friday. "I wasn't going to run the risk of perjuring myself for him."

Fuller was the first witness to testify Friday on the sixth day of Hornbuckle's sexual assault trial. The 44-year-old founder of Agape Christian Fellowship in Arlington is accused of raping three women -- including two who said Hornbuckle drugged them first.

If convicted, Hornbuckle faces up to 20 years behind bars on each charge.

The allegations against Hornbuckle surfaced in the fall of 2004. Lawsuits were filed. A criminal investigation was launched. Hornbuckle hired a private investigator to begin working on his defense.

Fuller -- who worked for about five years alongside Hornbuckle and his wife, "Pastor Renee" -- told jurors that Hornbuckle made it clear to her and other staff members that he expected them to be loyal to him, even if it meant lying, and that disobedience would not be tolerated.

"He said, 'Listen here. You better sell me like the MF I am. Even if you don't love me, you better act like you do -- or your ass will be out of here,'" Fuller testified.

Fuller said Hornbuckle coached her and other staff members on how to answer questions before the grand jury and from his investigator.

Specifically, Fuller said, Hornbuckle told her that if she was asked whether he used drugs or had extramarital affairs to tell them that she "had heard rumors but that it came from a disgruntled employee."

After she testified before the grand jury, Fuller said Hornbuckle called her and told her to meet him at church after Bible study to discuss what she had told the grand jury. Fuller said she later contacted a church elder and Hornbuckle's wife and told them that she wasn't feeling well and wouldn't be coming in.

The next morning, Nov. 18, 2004, Fuller said Hornbuckle accused her of disobeying him and reminded her that he -- not elders, not his wife -- was in charge.

"He said, 'I think you fail to understand. ... You work for me,'" Fuller quoted Hornbuckle as saying.

Fuller said Hornbuckle told her that "he needed some soldiers around him and not somebody that was weak."

During a meeting two months later, Fuller said Hornbuckle threatened her and other staff members.

"He basically said he needed to know that we had his back and that we were with him," Fuller said. "He said if he found out we weren't with him, he said he would know because he had eyes and ears in the street and would come after us."

Despite the threats, Fuller said she didn't follow Hornbuckle's instructions about what to tell the grand jury.

"He did not care about me at all or whether I went to jail or not -- as long as I saved him," she said.

On cross-examination, defense attorney Mike Heiskell, who is working with Leon Haley, suggested that Hornbuckle's behavior was out of character because he was under an enormous amount of stress. Fuller acknowledged that Hornbuckle had recently learned that three women affiliated with Hornbuckle's longtime friend and security guard had sued him.

She said Hornbuckle told her and other staff members that he was being set up and that they were conspiring against him.

"He told the staff, 'I'm not guilty of this. Do you see these people, they are plotting against me,'" Fuller quoted Hornbuckle as saying.

In March 2005, Hornbuckle was indicted on allegations that he sexually assaulted several women and a warrant was issued for his arrest.

Danny McCormick, an investigator for the district attorney's office, testified Friday that after Hornbuckle's arrest, he found an empty prescription bottle of Xanax, a prescription bottle of Lorazepam with 29 pills in it, and a printout that described the effects of benzodiazepines.

Prosecutors have suggested that Hornbuckle used benzodiazepines -- a large class of drugs that cause sedation -- to drug his victims.

Before resting their case Friday evening, prosecutor Sean Colston, who is trying Hornbuckle with Betty Arvin, played jurors an excerpt of an interview Hornbuckle did with KHVN radio talk show host Robert Ashley on April 17, 2005. In the interview, Hornbuckle tells Ashley that he is "totally innocent" of all charges.

"Did you have sex with any of these folks?" Ashley asked him.

"I'm totally innocent of all of that," Hornbuckle replied.

Since then, Hornbuckle has changed his story. His attorneys have been arguing since his trial began that Hornbuckle was guilty of being a playboy and an adulterer, but that he is no rapist.

The defense is expected to begin presenting their case Tuesday at 9 a.m. when the trial resumes in state district Judge Scott Wisch's court.

Melody McDonald, 817-390-7386 mjmcdonald@star-telegram.com