Diocese Won't Appeal Release of Priest Files

By Darren Barbee
Star-Telegram
August 12, 2006

http://www.dfw.com/mld/dfw/news/local/15259704.htm

Fort Worth's Roman Catholic diocese dropped its fight Friday over the release of details about sexual-abuse allegations against seven priests and revealed that one of those clerics had been performing priestly duties until he was ordered to stop this week.

The Rev. Philip Magaldi has been forbidden to perform services or present himself as a cleric, Bishop Kevin Vann said.

Although the Fort Worth Diocese won't appeal a court order to release the files, attorneys for Magaldi and other accused clerics may do so. The documents are part of a sexual-abuse lawsuit settled last year and apparently have been heavily edited by a state district judge.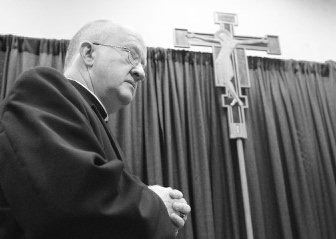 Bishop Kevin Vann fields questions after announcing that the Fort Worth Roman Catholic Diocese will not fight a court order to release files on seven priests accused of sexual abuse.
Photo by The Star-Telegram / Ron T. Ennis


At a news conference to announce his decision on the appeal, Vann said he was saddened by what he has read in the files, which comprise more than 700 pages. Judged by the church's current standards, Vann said, "We could have acted more promptly, forthrightly, and with greater compassion to those who came forward with allegations."

Vann also apologized to the victims for the "sin and crime" of sexual abuse and said his decision not to appeal is a turning point for reconciliation and healing. Addressing victims, Vann said abuse "not only took your innocence and your childhood, [but] in some cases it destroyed your faith."

Vann also revealed that Magaldi, who last served at St. John the Apostle Catholic Church in North Richland Hills in 1999, can no longer conduct services or present himself as a priest at the North Richland Hills assisted-living center where he lives.

Vann said it was unclear when Magaldi was allowed to resume some duties. Magaldi had unsuccessfully petitioned Bishop Joseph Delaney, who has since died, for a return to ministry after a sexual-abuse lawsuit against him was dismissed. The man who accused him of abuse has died.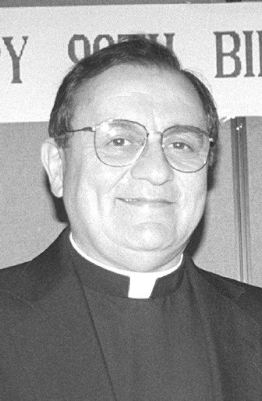 Rev. Philip Magaldi
Photo by The Star-Telegram


Magaldi, who pleaded guilty to embezzlement in Rhode Island and has weathered perjury charges, has steadfastly maintained that he abused no one. Vann said Magaldi still receives a church pension. Magaldi, 70, could not be reached for comment.

Details of the accusation against Magaldi are part of files that the diocese had fought to keep sealed. The files had been sought by the Star-Telegram and The Dallas Morning News.

The files were sealed last year as part of a lawsuit against the diocese and the Rev. Thomas Teczar, who faces related criminal charges in Eastland County. Two men accused Teczar of abusing them in Ranger when they were boys during the 1990s. Teczar has denied the allegations. Last year, the diocese settled the case for $4.15 million. As part of the settlement, the diocese denied wrongdoing.

Dallas attorney Tahira Khan Merritt said Vann's decision not to appeal is a good first step. Merritt represents men who say they were abused by the Rev. James Reilly, who led St. Maria Goretti Catholic Church in Arlington. Merritt, who said the number of Reilly accusers she represents has grown to 12, is suing the diocese on their behalf. Reilly is dead.Her clients "feel very strongly that these records must be made available to the public in order for them to continue their healing process," Merritt said.

Whether an appeal will happen is unclear. Messages for the priests' attorneys were not returned. Mark Hatten, an attorney for the diocese, said that he was aware of discussions among the attorneys about a possible appeal but that he couldn't say whether anyone will do so. Hatten also said it would be improper to disclose whether the diocese had paid the priests' attorneys.

Last month, state District Judge Len Wade ordered the files released after he spent months removing details that could identify complainants, as well as financial, health and other information about the priests.

The files contain information about the priests: Magaldi, Reilly, William Hoover, Rudolf Rentería, James Hanlon, John Howlett and Joseph Tu Ngoc Nguyen.

Tu, a Dominican order priest, was removed from active ministry in Houston this year after more complaints emerged against him. He declined to comment Friday.

Darren Barbee, 817-390-7126 dbarbee@star-telegram.com