Cowboys' Smith Says Pastor 'Trustworthy'
Former Player Praised Minister Accused in Rapes in Letter to Panel

By Jeff Mosier
The Dallas Morning News
August 11, 2006

http://www.dallasnews.com/sharedcontent/dws/news/localnews/stories/
081206dnmethornbuckle.606c2c7.html

Fort Worth – Retired Dallas Cowboys star Emmitt Smith described pastor and rape defendant Terry Hornbuckle as an "honest and trustworthy man" of high integrity, according to a letter presented to jurors Friday.

The letter, sent to a Tarrant County grand jury in February 2005, said the former running back had known Mr. Hornbuckle for a decade and that the minister counseled him and his wife before they married.

"He has been a blessing to us, and he has been a blessing to others as well," said Mr. Smith, who retired as the NFL's all-time leading rusher.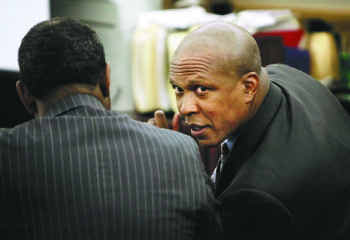 Defense attorney Mike Heiskell (left) produced a letter from Emmitt Smith that called Terry Hornbuckle a spiritual advisor for the Cowboys.
Photo by Michael Ainsworth / DMN


The letter was sent less than a month before Mr. Hornbuckle, 44, who founded Agape Christian Fellowship church, was indicted on charges of sexual assault. He's on trial accused of sexually assaulting three women.

The pastor is facing other sexual assault charges as well as charges of possession of methamphetamine, tampering with a witness and retaliation. Those aren't part of this trial.

All three accusers have testified in the trial, which started last week. The attorneys representing Mr. Hornbuckle have argued that any sex with the women was consensual.

The letter's description of Mr. Hornbuckle as a "true model for our family" clashes dramatically with trial testimony.

Two of the three women have accused Mr. Hornbuckle of drugging them before he raped them.

In one case, the accuser said she smoked methamphetamine with Mr. Hornbuckle before he drugged and raped her. Another said she was assaulted by the pastor in a Euless apartment rented specifically for an affair with a church employee.

Authorities said methamphetamine, a "glass crack pipe" and business cards for a massage parlor and escort service were found in Mr. Hornbuckle's car when he was arrested. The business cards weren't presented to the jury.

Mr. Hornbuckle has long bragged about his friendships with celebrities, especially Dallas Cowboys players. He has been friends with former Cowboys Quincy Carter and Deion Sanders, who could be called as witnesses.

One accuser testified that Mr. Hornbuckle was high on methamphetamine when he consoled the mother of Mr. Carter after the quarterback was released from the Cowboys. Mr. Carter has violated the NFL's substance abuse policy and spent time at a drug treatment center.

Two other letters presented to the jury Friday also dealt with Mr. Hornbuckle's connections to the Cowboys and NFL.

A letter from the Cowboys said Mr. Hornbuckle was never a team employee or the team chaplain. Mr. Hornbuckle made those claims, according to a witness and published reports.

A letter from the NFL said Mr. Hornbuckle was never a player in the league. Witnesses testified that Mr. Hornbuckle claimed to be a former player for the Cowboys and the Washington Redskins.

In earlier testimony Friday, a former assistant to Mr. Hornbuckle testified that he instructed her to lie to the grand jury and then demanded that she detail her testimony afterward.

Lisa Fuller, executive assistant to Mr. Hornbuckle and his wife, told jurors that her boss threatened her and demanded that she portray him as a loving father and husband.

"You had better sell me like the M.F. I am," she said, quoting Mr. Hornbuckle.

Defense attorney Mike Heiskell questioned Ms. Fuller about whether her boss's actions might have resulted from the stress of lawsuits filed by some of his accusers. He also pointed out during cross-examination that Ms. Fuller wasn't so intimidated that she followed Mr. Hornbuckle's instructions.

"I was intimidated by him, but the truth is the truth," she said, adding that she didn't want to go to jail.

Ms. Fuller also said Mr. Hornbuckle coached her on her grand jury testimony based on information he received from another person who testified. He instructed her to say rumors of drug use and extramarital affairs by Mr. Hornbuckle were spread by a disgruntled former employee, Ms. Fuller told the jury.

She also said Mr. Hornbuckle repeatedly reminded her what to say. Instead of following his orders, she said, she told the truth and refused to reveal her grand jury testimony to him.

Ms. Fuller said his reaction was: "I don't want to hear that (expletive)."

Another former church employee, Lisa Mikals, was given probation for lying to the grand jury on behalf of Mr. Hornbuckle. She also testified that he coerced her.

Also Friday, the chief toxicologist for the Tarrant County medical examiner testified that the drugs found in Mr. Hornbuckle's car could have caused all the symptoms two of the accusers reported. The women said they felt numbness, heaviness, amnesia and an inability to focus on conversations after they drank beverages provided by Mr. Hornbuckle.

The prosecution has rested, and the defense is scheduled to start Tuesday morning.

E-mail jmosier@dallasnews.com