Victims' Victory White Rock Woman's 1993 Accusations Lead to 47 Guilty Pleas from Catholic Priest

By Ken MacInnis
The Peach Arch News [Canada]
August 11, 2006

http://www.peacearchnews.com/portals-code/list.cgi?paper=44&cat=23&id=706859&more=

Joanne Morrison wasn't shocked to see Charles Sylvestre still wearing the collar.

When he faced his accusers in an Ontario court last week, the man who bribed her with a closet full of candy so he could fondle her four decades ago was still dressed as a man of the cloth.

Sylvestre, an 83-year-old retired Roman Catholic priest, pled guilty Aug. 4 to 47 counts of indecent assault on young girls, including Morrison, who has lived in White Rock since 1992.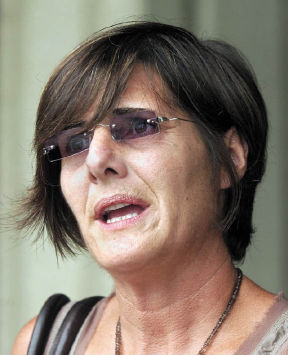 "They knew he was a pedophile and found it more beneficial to save face with their old boys' club than to protect their parishioners' souls..."– Joanne Morrison
Photo by The Chatham Daily News


"It was beautiful," she said of the irony that unfolded at court.

"It shows the hypocrisy of this whole thing. The church is not above the law. (Clergy) choose to think they are."

Morrison, 46, was one of 10 women to have publication bans lifted so they could read victim impact statements in Chatham's largest courtroom Aug. 4. The statements read like a devil's laundry list of sexual abuse at the hands of Sylvestre, abuse at the hands of nuns who were told of the assaults, disbelief and inaction from authorities – police, school boards and church administration – and lives ruined during four decades the priest abused his charges.

"I was a child victim, and I did nothing wrong," Morrison told the court.

"I will not hide behind shame or guilt anymore."

Morrison, a successful White Rock business owner, plans to fly back to Chatham for a second part of the hearing in September and sentencing Oct. 6. She'll keep flying to her childhood home because she wants to hear other victims confirm what she's long believed – that adults knew about the assaults and did nothing.

"I should not have been abused," Morrison said, noting victim impact statements told of reporting the abuse as early as 1961. The abuses took place between 1953 and 1986.

"No one after 1961 should have been abused, Morrison said.

"Not one of us. The authorities knew, and they are responsible for all the victims after that."

When she saw Sylvestre for the first time in decades, Morrison was "gobsmacked in the face" by the feelings of shame and sinfulness that haunted her childhood.

But she is now looking beyond Sylvestre to the people she considers his enablers.

"It's not even about him anymore," she said, adding he looked "feeble" in court.

"For me, it's become about his employers, because they knew he was a pedophile and found it more beneficial to save face with their old boys' club than to protect their parishioners' souls - the little people."

Morrison was the first of Sylvestre's victims to speak out. She and London resident Irene Deschenes sued Sylvestre and the diocese in 1993, the first time his abuses were made public.

The case never made it to court. After eight years of meetings, psychological exams, and what Morrison considers stall tactics, the women settled for $100,000 each in late 2000 on the advice of their lawyer.

They also agreed not to make their allegations public, a gag order Morrison regrets signing.

"It was just another form of abuse. Now we were no longer allowed to talk about it."

She accepted the deal because she did not want to go to court, where she feared she'd be the one on trial.

"Every blemish on your butt is on the front page of the newspaper," she said.

"But as soon as I took the money, I felt just as dirty. It felt like my ability to move forward in my healing was stifled."

In 2004, Morrison appeared on a CBC television episode of Disclosure. Even though her face was in silhouette, she knew she was breaking the gag order. This time, she didn't regret it, and she and Deschenes asked the London bishop to release them from the gag order. He agreed, and Deschenes immediately held a press conference to name Sylvestre as a molester.

Victims began to come forward immediately.

Morrison regrets her settlement prevents her from joining 21 other victims in a $101-million civil suit filed last week against Sylvestre, the Diocese of London, three previous bishops, an order of nuns, Sarnia Police, and two school boards, claiming they knew of the abuse, and should have stopped it. The suit, the largest sexual abuse case brought against a church in North America, could see each plaintiff awarded $4.8 million.

Morrison was eight when Sylvestre began molesting her in 1969.

Like many the priest preyed on, she was devoted to the church. She sang in the choir, and was one of the first altar girls. She and a friend would go to their Chatham church early every Sunday to tidy pews, and raise kneelers.

"It was a powerful feeling, being in the church by ourselves," Morrison said. But her faith was shattered once she went to Sylvestre's house after Mass.

He invited the girls to the house, and they'd sit on his lap as they choose a chocolate bar from a closet full of candy. The chocolate was a bribe to let him put his hands on her chest or down her pants. Morrison said she was also digitally penetrated.

Sylvestre abused her three or four times a week for three or four years, she said.

So scarring was the impact, Morrison told court, she could "still smell him" – rye and his aftershave – until she was 35 years old.

"I was naive, I was innocent, and I didn't know what sex was," she said.

"I wanted to be a nun, and I was enamored with the Church. I felt bad and guilty for wanting to get off his lap because he was a priest, and he was next to God."

Sylvestre's actions – and the church's reaction – destroyed that faith. Morrison hasn't participated in organized religion since.

But that didn't stop her from feeling like a sinner, when in Grade 6, she did learn about sex.

"It was like the rug was pulled out from beneath me," she said.

"I was horrified and shocked. I felt dirty."

Morrison fell into a "downward spiral," a period in her life she prefers not to discuss in detail – other than to say she was "a very at-risk teenager with one foot on the street."

Today, Morrison takes joy from her kitchen view of Semiahmoo Bay, her two children, and her White Rock jewelry business.

She has plenty of plans for the future.

While she isn't sure she will ever really heal, she no longer feels God has singled her out for punishment.

"I feel blessed, and feel I'm able to enjoy my blessings because I've always spoken about this," she said.

"I want others who have been abused to speak up if they can.

"They will be heard, and they will be believed because of this."

The Ontario court heard stories of horrific abuse, shattered lives, drug abuse, and suicide attempts, Sylvestre went so far as to abuse some children while taking their confessions.

"For some of the women, that was the first time they talked about it," Morrison said of last week's trial.

"They were reeling in pain, just non-functioning pain."

Now, she said, talking about the abuse helps victims heal. Every re-telling makes them a bit stronger.

That re-telling will continue Sept. 22, when Sylvestre's hearing resumes. He is expected to be sentenced Oct. 6.

Joanne Morrison will be there.