Tanzanian Priest Molested Child

BBC News [Tanzania]
August 11, 2006

http://news.bbc.co.uk/2/hi/africa/4783017.stm

A Roman Catholic priest in Tanzania, Fr Sixtus Kimaro has been jailed for 30 years after being convicted of sex offences against a 17-year-old boy.

In the first such case reported in Tanzania, Fr Kimaro was found guilty of having sex with the boy over two years.

He was also ordered to pay the boy 2m shillings ($1,554) in compensation.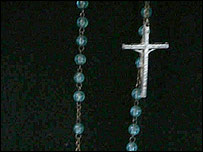 The church has paid millions in damages over child sex cases


The Roman Catholic Church has paid out millions of dollars in damages in other countries over dozens of cases of priests who sexually molested children.

The court rejected the defence argument that Fr Kimaro, 38, should be pardoned because he is a young man.

"That is not a valid excuse for something that is not accepted in society," magistrate Pellagia Khaday said as he passed sentence on Wednesday.

"The clergy must be held in high esteem and so he should have been responsible for his actions."

Homosexual sex, and sex with a minor, are criminal offences in Tanzania.