Woman: Pastor Smoked Meth before Alleged Rape
Woman Says Hornbuckle Lied to Build Her Trust; Defense Disputes Report

By Jeff Mosier
The Dallas Morning News
August 10, 2006

http://www.dallasnews.com/sharedcontent/dws/news/city/tarrant/
stories/081106dnmethornbuckle.b603a0.html

Fort Worth – A third accuser in pastor Terry Hornbuckle's trial told the jury Thursday afternoon that she smoked methamphetamine with the minister before he drugged and raped her.

The woman, who used the pseudonym Kate Jones while testifying, said she met Mr. Hornbuckle at a Bedford health club in 2004. She said he used the name Terry Lee and claimed to be a former NFL player and a counselor for Dallas Cowboys rookies to earn her trust.

Ms. Jones, a single mother of a 4-year-old daughter at the time, said she rarely invited men to her home because of trust issues and because she was molested as a child.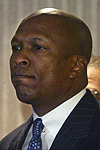 Terry Hornbuckle


"He told me that God brought him into my life to teach me how to trust men," she said, describing a conversation she had with Mr. Hornbuckle while smoking methamphetamine in a "glass crack pipe."

She said she prayed that was true.

Mr. Hornbuckle, who founded Agape Christian Fellowship church in South Arlington, is on trial on charges that he sexually assaulted three women – two of them church members. He has also been indicted in other sexual assault cases and on charges of possession of methamphetamine, tampering with a witness and retaliation. Mr. Hornbuckle's lawyers have denied the allegations and said any sex was consensual.

Ms. Jones told the court that the second time she and Mr. Hornbuckle smoked the drug together, he gave her water she believed was spiked with a knockout drug. She testified that she awoke later naked in bed with the pastor, and there was evidence that he had sex with her while she was unconscious.

She said her daughter was not home during either visit.

Memory uncertain

Leon Haley, one of Mr. Hornbuckle's attorneys, questioned Ms. Jones, and she admitted that she could not say for certain whether intercourse had occurred.

Ms. Jones also testified that she couldn't remember long periods of her life because of medication she had taken.

Mr. Haley hinted that he didn't believe her tearful, sobbing testimony.

"Did you major in acting?" he asked her.

He also pointed out during cross-examination that Ms. Jones allowed Mr. Hornbuckle in her home and suggested that she was lashing out at the pastor because of her bad relationships with other men.

Like the other accusers, Ms. Jones did not contact law enforcement officials immediately. She said she decided not to go to police because they didn't take previous threats made by her ex-husband seriously. Also, she said she assumed that people would believe that she got what she deserved because of the drug use.

She also said she did not know that Mr. Hornbuckle was a minister until she saw a picture of him on television. At that time, she testified that she fell to her knees and cried.

She said her daughter asked her: "What did he do?"

"He was a bad man," Ms. Jones told her daughter.

Previous witnesses

Earlier in the day, two former members of Mr. Hornbuckle's church testified that he tried to seduce them.

In both cases, he told the women he wanted to counsel them, brought alcohol to their homes and made sexual advances, they said. He attempted to kiss one of the women and slid his hand into the pants of the other, they told the jury.

"He asked me if I had ever been with a black man," Mary Gressett, who is white, told the jury.

Ms. Gressett also said that Mr. Hornbuckle gave her a massage and then reached into the back of her pants. Her husband was away at a substance-abuse treatment center at the time.

Mr. Hornbuckle told her that they had much in common, she testified.

"He said, 'We are givers, and our spouses were takers,' " Ms. Gressett said.

The other witness, Alisa Lewis, was a single mother of twins when Mr. Hornbuckle tried to kiss her after counseling her about her personal life and finances.

Both women testified that Mr. Hornbuckle called them frequently after his advances were rejected. They both left the church afterward.

Consent argued

Ms. Lewis said she eventually moved out of her apartment and changed her phone number. One of the accusers also testified earlier that she moved and changed her phone number to get away from Mr. Hornbuckle.

Mr. Haley said after this morning's testimony that the women called by the prosecution could help his case.

"They told him no. He left," Mr. Haley said.

He said that if the other women had said no, Mr. Hornbuckle would have stopped.

The defense has argued that the sexual encounters were consensual, and Mr. Hornbuckle should be labeled a playboy and bad husband but not a rapist.

Defense attorneys have also noted the alleged victims did not notify the police immediately and some instead filed lawsuits.

Testimony in the trial is scheduled to continue Friday.

E-mail jmosier@dallasnews.com