Accuser Says Pastor 'Preyed upon Me'

By Melody McDonald
Star-Telegram Staff Writer
August 10, 2006

http://www.dfw.com/mld/dfw/15234286.htm

Editor's note: An earlier version of this report misstated the amount of time between Jane Doe's first visit to Terry Hornbuckle's church and the beginning of their counseling sessions.

Fort Worth — The goodbye note she found on her computer was devastating.

Jane Doe's boyfriend, the "love of her life," was gone. He had packed his belongings and, without warning, just left.

Distraught, Doe testified, she called the Rev. Terry Hornbuckle, her pastor and a man who she believed could guide her through this troubled time.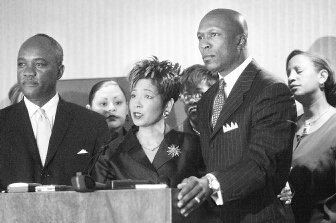 Photo by The Star-Telegram Archives



But instead of giving her spiritual guidance, Doe told jurors Wednesday, Hornbuckle took advantage of her vulnerable state. He had sex with her numerous times during two months in 2003, she said.

"I feel that he preyed upon me because of my weaknesses," Doe told jurors, sobbing. "He knew when he saw me in church that I could be the one he could do this to."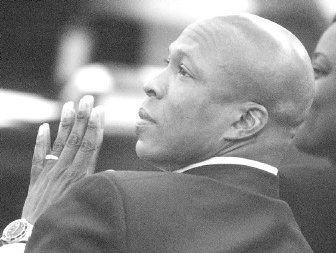 Photo by The Star-Telegram Archives



Jane Doe is a pseudonym she is using in court. She took the stand Wednesday on the fourth day of testimony in Hornbuckle's trial. The church leader is charged with sexually assaulting Doe and two other women.

Speaking softly and crying often, Doe was on the stand for hours, detailing for jurors the dynamics of her relationship with Hornbuckle, founder of Agape Christian Fellowship in southeast Arlington.

Doe said Hornbuckle made her feel special almost from the moment she sat down in the church in 1999.

"I was sitting on the sixth or seventh row with a friend," Doe testified. "He pointed me out. He asked me to come to the front of the church. He laid his hands on my head and told me he knew what I was going through and that everything would be OK — that he understood my struggles and to leave it in God's hands."

Doe, now 25, said she has had a lifetime of unhealthy relationships and low self-esteem, and was comforted by Hornbuckle's words. She believed she had finally found her church home.

"I found it to be an empowering, motivational and spiritual church," Doe said. "I depended on it as a place where I could feel safe."

At some point, Doe said, Hornbuckle called her and talked to her about school and her relationships and about her life in general — a call she said made her feel honored.

"Not everybody was able to speak to the BISHOP," Doe said.

About a month later, Doe said, her boyfriend abruptly left her. Hysterical, Doe drove to her parents' house and called Hornbuckle.

"I was looking for some type of guidance," Doe said. "I was very emotional."

Later that night, Doe testified, Hornbuckle met her at her Arlington apartment, a bottle of wine in hand.

As she sipped on the wine and poured out her heart, Doe said, Hornbuckle began to massage her shoulders. A short time later, she said, she began to feel "relaxed."

"It was a numb, careless feeling that I had never felt before," Doe said. "Mr. Hornbuckle grabbed my hand and walked me to the bedroom. He laid me on the bed and started massaging my back."

Doe, who suspects she was drugged, said she doesn't remember what happened after that, but when she awoke, Hornbuckle was gone.

Over the next two months, Doe said, Hornbuckle came to her Arlington apartment several times. Four or five times, after he counseled her, they had sex. Doe said she went along with it because of Hornbuckle's power and position.

"It honestly seemed easier," she said. "I was scared."

At the beginning of 2003, Doe said, she had had enough. She broke her apartment lease and moved away. She changed her phone number and tried to start anew, she said.

Then last year, Doe saw Krystal Buchanan on the TV news, talking about being drugged and raped by Hornbuckle in a Euless apartment. Doe contacted the district attorney's office.

"I felt guilty that I didn't come out sooner," Doe said. "If I had come out sooner, this might not have happened to several other women."

Hornbuckle, who is being prosecuted by Sean Colston and Betty Arvin, was later charged with sexually assaulting Doe and other women. In Texas, it is against the law for a clergyman to use his power and influence to have sex with a parishioner.

During his cross-examination Wednesday, defense attorney Leon Haley, who is working with Mike Heiskell, suggested that Doe was a sinner and an adulterer, a woman who had sex with Hornbuckle because she was "horny."

"Did you start to get those feelings, the longings for a man, when he started to rub your back?" Haley asked.

"I'm not attracted to Mr. Hornbuckle," she replied.

Haley suggested that Doe was willingly having an affair with Hornbuckle the man, not the minister. Haley wanted to know why Doe didn't avoid Hornbuckle's calls, didn't stop him from coming into her home, didn't call his wife or the church if she was scared of him and did not want to have sex with him.

"Do you understand why I'm questioning you this way?" Haley asked.

"No, not really," Doe replied. "I'm the victim."

"Oh, you're the victim now?" Haley said, with sarcasm. "Well, we're going to talk about that."

Later, in response to questioning by prosecutor Colston, Doe said Hornbuckle had shattered her emotional and spiritual foundation.

"I lost complete faith," she said. "Why would something like this happen to me? Out of 3,500 people [in the congregation], why did this happen to me?"