Retired Sioux City Bishop Accused of Molesting Students

KTIV [Iowa]
August 10, 2006

http://www.ktiv.com/News/index.php?ID=3230

A retired Sioux City bishop is being sued for allegedly sexually abusing 13 students at an Iowa City Catholic high school in the 1950s and 1960s.

The lawsuit was filed today in Scott County. It names Sioux City Bishop Lawrence Soens, Regina Catholic High School and the Davenport Roman Catholic Diocese.

The accusers say Soens abused them from 1959 through 1967 while he was the school's principal. Soens retired as bishop in 1998 and has been named in more than a dozen sexual abuse cases.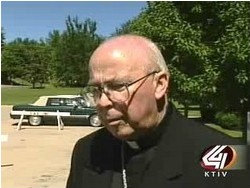 Lawrence Soens retired as bishop of the Sioux City Catholic Diocese in 1998.


Diocese officials say they had no reason to suspect Soens was molesting students and they deny any liability in the case.

Two previous lawsuits have been filed against Soens and the Davenport diocese by two other former Regina High School students. In 2004, the diocese paid 20 thousand dollars to an unnamed man who claimed he was abused by Soens.