Alleged Victim Testifies in Hornbuckle Trial

By Mary Stewart
CBS 11
August 9, 2006

http://cbs11tv.com/topstories/local_story_221193322.html

(CBS 11 News) Fort Worth Two women testified they had sex with Arlington minister Terry Hornbuckle. A 25-year-old woman, who goes by the synonym 'Jane Doe', testified Wednesday afternoon she had a two-month affair with Hornbuckle.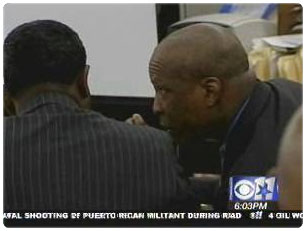 Photo by The CBS 11 News


The woman was a member of Hornbuckle's Agape Christian Fellowship Church in Arlington.

'Jane Doe' said the affair began after Hornbuckle came to her apartment one night... bringing a bottle of wine.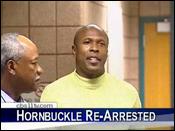 Photo by The CBS 11 News


During testimony in the sexual assault trial prosecutor Leon Haley asked the woman, "You did not see it as inappropriate for a married man to be at your house at 9:30 at night?" She responded, "No."

Prosecutors say the woman was coerced into the affair by the powerful minister.

"It is not adultery; it is sexual assault when you're talking about a minister and a parishioner. That's state law," said prosecutor, Betty Arvin.

Defense lawyers are trying to prove that the relationship was consensual.

Prosecutors maintain the woman was hoping to be consoled by the minister, because her boyfriend had walked out on her. She testified, "He took advantage of my weakness."

The jury was released Wednesday afternoon a hearing was held on whether evidence found in Hornbuckle's car would be allowed into evidence in the trial that resumes Thursday morning.

If convicted, Hornbuckle, 44, could be sentenced to 20 years in prison on each charge. Hornbuckle has also been charged with raping two other women.