2nd Accuser Says Hornbuckle Scared Her
She Testifies Arlington Minister Counseled Her, Then Initiated Sex

By Jeff Mosier
The Dallas Morning News
August 9, 2006

http://www.dallasnews.com/sharedcontent/dws/news/city/tarrant/stories/
081006dnmethornbuckle.a7e8f44.html

Fort Worth – A second woman who has accused pastor Terry Hornbuckle of rape told a jury Wednesday that the minister exploited his authority and her emotional vulnerability to seduce her.

The 25-year-old, using the pseudonym Jane Doe, said that Mr. Hornbuckle went to her home four or five times to counsel her about her relationship troubles, family problems and low self-esteem. She said most times, he would initiate sex and she would eventually give in to his advances.

"It honestly seemed easier," Ms. Doe said, fighting through tears that started before she began testifying. "I was scared. I was afraid."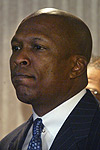 Terry Hornbuckle


Mr. Hornbuckle, 44, founder of Agape Christian Fellowship church in Arlington, is on trial on charges of sexually assaulting three women. The first accuser testified last week at the beginning of what is expected to be a two- or three-week trial.

Ms. Doe told the jury that Mr. Hornbuckle preyed on her weakness and lack of self-confidence. He told her that he could love her, she testified.

She said that she had a troubled childhood and that her mother would say "I love you" only when she was drinking. Ms. Doe said she leaned on Mr. Hornbuckle spiritually and emotionally, especially after her live-in boyfriend abandoned her without an explanation.

In a confrontational cross-examination, defense attorney Leon Haley asked Ms. Doe why she didn't report the pastor to his church, his wife or any of her friends or family.

"You two were full-time sinners?" he asked Ms. Doe.

After she finished testifying Wednesday, Mr. Haley said outside the courtroom that he believes the facts were clear.

"When you have five sexual encounters with someone, that's an affair," he said.

Mr. Haley pointed out during questioning that Ms. Doe accepted money for a manicure and pedicure and a pair of Dallas Cowboys tickets.

During the trial, prosecutor Betty Arvin objected to Mr. Haley's description of the relationship.

"It's not adultery," she said. "It's sexual assault."

State district Judge Scott Wisch said the jury will decide that distinction.

In their first meeting at her home, Ms. Doe said, Mr. Hornbuckle gave her a few sips of wine that he had brought with him. Soon, she said, she began feeling relaxed and numb.

"My body started getting a feeling I have never experienced," she said.

Ms. Doe said that Mr. Hornbuckle told her to lie on her bed so he could massage her back. As he massaged downward, she said she could feel the back of her pants being pulled down.

That was the last thing she remembered before she became unconscious, Ms. Doe testified. She awoke later fully dressed, but Mr. Hornbuckle was gone, she said.

The previous accuser alleged that Mr. Hornbuckle drugged a cup of punch before raping her. Another witness, who was Mr. Hornbuckle's mistress for two years, also testified that the pastor gave her pills that he described as muscle relaxants.

Mr. Haley questioned Ms. Doe about whether her strange feelings while she was being massaged could be explained another way.

"Do you know what horny means?" he asked her.

Ms. Doe insisted that she didn't have sexual feelings for Mr. Hornbuckle, but she couldn't say for sure whether she was drugged or raped that first night.

Ms. Doe also testified that Mr. Hornbuckle said he wanted to take her on a vacation and wanted her to have his baby. Mr. Hornbuckle has three children with his wife, Renee Hornbuckle, who is now senior pastor at their church.

Ms. Hornbuckle, who has sat through every day of testimony, is "standing by her man," Mr. Haley said. "She's a woman of God."

Ms. Doe said she eventually stopped the sexual encounters by moving out of Arlington, changing her phone number and quitting the church.

Several women who have accused Mr. Hornbuckle of rape have filed lawsuits against him, but Ms. Doe was not one of those who filed suit.

Also on Wednesday morning, defense attorney Mike Heiskell spent a second day questioning the motive of his client's former mistress.

Lisa Mikals, 37, who was also a paid employee of Agape with a $70,000-plus salary, denied she was ever in love with Mr. Hornbuckle or planned to leave her husband. She also denied being jealous that the pastor had sex with other women at a Euless apartment they rented.

"That made you even more upset with him," Mr. Heiskell said. "Isn't that the truth?"

"No," she responded.

She also denied discussing any other extramarital affairs with Mr. Hornbuckle.

Ms. Mikals testified Monday that she lied to a grand jury about their relationship out of fear of Mr. Hornbuckle and because he threatened her.

Judge Wisch was expected to rule Wednesday night on whether evidence can be introduced about items found in Mr. Hornbuckle's car, including business cards for a smoking paraphernalia shop and a glass pipe.

E-mail jmosier@dallasnews.com