Church in the Dock
Campaigners Supporting the Victims of a Paedophile Priest Say That His Superiors Must Have Known about His Criminal Past When They Allowed Him to Work with Children Again

Leeds Today [United Kingdom]
August 9, 2006

http://www.leedstoday.net/ViewArticle2.aspx?SectionID=39&ArticleID=1682145

A paedophile priest who preyed on young boys while working at a West Yorkshire school for the deaf already had a conviction for child abuse when he was given his job.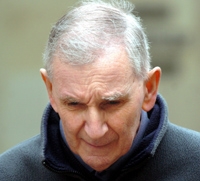 Father Neil Gallanagh.




"It would be unthinkable and unheard of if they were not aware of what he had done "
Quote By : Shy Keenan, founder of child abuse victims' gr


Father Neil Gallanagh, 75, pleaded guilty at Leeds Crown Court last year to indecently assaulting two teenage pupils at St John's School for the Deaf, in Boston Spa, near Wetherby.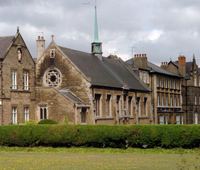 St John's School.


Now it has emerged that, more than a decade before he was made resident chaplain at St John's, he attacked a nine-year-old boy during his time as a priest in Northern Ireland.

Gallanagh was fined £30 and promised to seek medical treatment after admitting carrying out the indecent assault on a day trip to the Isle of Man in June 1960.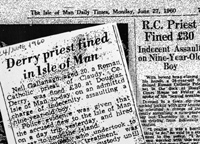 Isle of Man Daily Times dated 1960


Today campaigners said they were "absolutely convinced" the church authorities would have known about his criminal past when the decision was taken to employ him at the school.

Shy Keenan, founder of child abuse victims' group Phoenix Survivors, told the Yorkshire Evening Post: "It would be unthinkable and unheard of if they were not aware of what he had done.

"This was an horrendous case – it involved an abuse of power, an abuse of process – but most importantly of all, it involved abuse of vulnerable children."

A report from The Isle of Man Daily Times of June 27 1960 described how Gallanagh, then aged 30, sat with "bowed head clasped in his hands" when he appeared in the dock at Douglas Court House.

He is quoted as having told the police: "I realise it was a horrible thing to do. I have been worried with this sexual trouble for some time and recently it has become an obsession with me."

Gallanagh took up his position at St John's in the 1970s, and spent a number of years there before becoming parish priest of St Mary's, in Horsforth.

His crimes at the school only came to light decades later, after one alleged victim spoke to his GP and a second talked about his experiences with other former pupils at a school reunion.

In April last year, Gallanagh, by now retired, was given a six-month suspended prison sentence at Leeds Crown Court.

A total of 11 charges involving five boys under 16, including an 11-year-old, were left on file.

As reported in last night's Yorkshire Evening Post, eight men in their 40s who claim they were abused by the priest as boys at St John's have launched a group legal action for compensation against the Roman Catholic Diocese of Leeds, accusing it of "wilful neglect".

The Diocese declined to comment on Gallanagh's court appearance in the Isle of Man and the circumstances surrounding his subsequent school appointment.

It did say, though, it had "developed good policies and practice in regard to all aspects of the protection of children", and had "co-operated fully when approached by statutory authorities in regard to historical cases".