Fed-Up Family Sues Bishops

By Kevin Harter
Pioneer Press [St. Paul MN]
August 9, 2006

http://www.twincities.com/mld/pioneerpress/news/local/15229329.htm

Family members of a Hudson, Wis., man killed by a priest are fed up with what they see as inaction by the Catholic Church and angry that their requests for reform have been ignored. So they're taking the U.S. Council of Catholic Bishops to court.

Nearly 200 bishops were named in a civil lawsuit Tuesday by the family of Dan O'Connell, one of two men shot to death at his family's Hudson funeral home in 2002.

The family filed the unprecedented lawsuit, which asks for the names and locations of some 5,000 clergy accused of molesting children, so they can publicize the list. They say the list is known only to the church.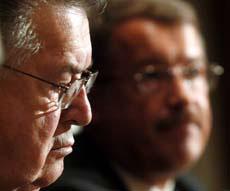 Tom O'Connell Sr., left, and his son, Tom Jr., pause while talking about son and brother Dan O'Connell during a press conference at attorney Jeff Anderson's St. Paul office on Tuesday
Photo by Richard Marshall, Pioneer Press


The litigation is unique because of its scope and because others may join to make it a national class-action lawsuit against the U.S. Council of Catholic Bishops, said Jeff Anderson, the attorney for Dan O'Connell's family,

"The bishops and the USCCB have established a policy of harboring and protecting suspected child molesting agents, thereby endangering numerous children throughout the United States," the complaint said.

The Rev. Philip Heslin, spokesman for the Superior (Wis.) Diocese, could not be reached for comment Tuesday.

Monsignor Frank Maniscalco, a spokesman for the bishops group, said he had not seen the lawsuit, which was filed in St. Croix County, and couldn't comment. But he added that the Catholic Church has policies for removing abusive priests and requiring allegations of abuse be reported to police.

As they have said repeatedly in the 10 months since a St. Croix County judge ruled that the Rev. Ryan Erickson had killed Dan O'Connell and James Ellison, O'Connell family members again said they don't want money. They want answers, accountability and action.

Family members think church officials, including the pope, should hear their complaints and the church should live up to its recent reforms and ensure that pedophiles can no longer enter or stay in the priesthood.

Anderson, who is nationally known for representing victims of clergy sexual abuse, was joined by O'Connell's parents and siblings, along with the executive director of the Survivors Network of those Abused by Priests (SNAP), a Catholic deacon and a priest for a news conference Tuesday at the attorney's downtown St. Paul office.

All said that after failing to get the church's attention, they turned to the only two outlets that sometimes do — the news media and the courts.

The O'Connells are longtime members of St. Patrick's Catholic Church in Hudson, where Erickson served as an associate pastor. Last October, St. Croix County Judge Eric Lundell ruled there was probable cause that Erickson killed O'Connell, 39, and Ellison, 22, and sexually molested at least one teenage boy regularly in the parish rectory.

Investigators believe Erickson fatally shot O'Connell on Feb. 5, 2002, after the Hudson funeral home director confronted him about the suspected abuse. Ellison, a University of Minnesota mortuary science intern from Barron, Wis., was killed when he went to investigate the noise from the gunfire.

Days after police questioned Erickson, the 31-year-old hanged himself Dec. 19, 2004, at a church in Hurley, Wis., where he had been transferred.

"These deaths could have, should have been prevented," said Tom O'Connell Jr., Dan's older brother. He noted that the church knew Erickson had a history of abusing children.

"The church is responsible," said Janet O'Connell, Dan's mother, as she dabbed tears from her eyes. "They let Ryan Erickson be a priest."

"We want to continue what Dan started. We want to protect children," said Tom O'Connell Sr., Dan's father.

The O'Connells and their supporters also chastised the bishops — specifically Superior Diocese Bishop Raphael Fliss, who waited for more than a year following the funeral home murders to contact them — for failing to address their concerns.

The O'Connell and Ellison families met last November to talk about clergy sexual abuse with a representative of the bishops group in Washington, D.C., and asked them to arrange a meeting with Pope Benedict XVI.

The two families also met in February with several Catholic officials in Hudson and had attempted, without success, to meet with bishops in Washington and Chicago.

"They are here today because the bishops have turned their back on this issue and this family," Anderson said.

"I'm very disappointed. We want reform," Tom O'Connell Jr. said. "The bishops have no accountability. They lack pastoral care. … So far, they have slammed the door on us. It has been very hurtful."

Kevin Harter can be reached at kharter@pioneerpress.com or 800-950-9080, ext. 2149.