'I Was Leaving to ... Get a Gun and Kill Him'

By Traci Shurley
Star-Telegram [Fort Worth TX]
August 8, 2006

http://www.dfw.com/mld/dfw/15225782.htm

Fort Worth — One week after her daughter told her that she had been drugged and raped by the Rev. Terry Hornbuckle, Loretta Sheppard said, she received a call at home from former Dallas Cowboys cornerback Deion Sanders.

Sanders said that he and Bishop T.D. Jakes, senior pastor of the 30,000-member Potter's House in Dallas, had met with Hornbuckle and that the minister was sorry — even suicidal — about what he had done to her daughter.

Sanders then asked Sheppard not to go to the police.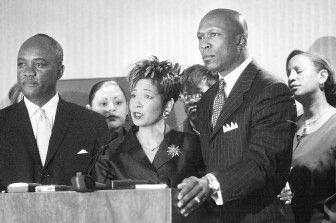 Photo by The Star-Telegram Archives


"He said to hold off doing anything because they were seeking him help," Sheppard testified.

Sheppard testified Tuesday morning in Hornbuckle's sexual assault trial in state District Judge Scott Wisch's court. Prosecutors Sean Colston and Betty Arvin are trying Hornbuckle on three charges of sexual assault involving Sheppard's daughter, Krystal Buchanan, and two women who are identified in court as Jane Doe and Kate Jones.

If convicted, Hornbuckle, 44, founder of Agape Christian Fellowship in Arlington, could be sentenced to 20 years in prison on each charge.

Hornbuckle has also been charged with raping two other women, including Sheppard's sister, but jurors have not heard about those cases.

Sheppard testified that on Aug. 2, 2004, she was sitting in a car with her daughter and her sister when she learned that Hornbuckle had sexually assaulted her daughter two days earlier in a Euless apartment.

"I got out of the car and was leaving to go home and get a gun to kill him," Sheppard testified.

Instead, Sheppard said, she drove Buchanan to a Waxahachie hospital where no one would be affiliated with their well-connected bishop. There, a test showed that her daughter had Benzodiazapene, a strong tranquilizer, in her system.

Her daughter did not want to go to the police, Sheppard testified.

If fact, Sheppard said, she went to church services the next Wednesday and her husband traveled as a security guard with Hornbuckle to California to pick up Quincy Carter, who had been cut from the Dallas Cowboys.

On Aug. 7, 2004, Sheppard said, she and her husband were trying to decide what to do when Deion Sanders called.

Arvin read from Sheppard's grand jury testimony in which she said Sanders told her that Hornbuckle was "very sorry about what he did, that he was suicidal."

Sanders, she said, asked Sheppard not go to the police yet and said that Hornbuckle's problems were "deeper than just the sex."

After the conversation ended, Sheppard said, she called Buchanan and told her that they needed "to stop Hornbuckle from doing this to anyone else."

Days later, Sheppard said, they went to a lawyer, who contacted the district attorney's office, which started an investigation.

Cross-examining Sheppard, Hornbuckle's attorney Mike Heiskell pointed out that, in addition to Sheppard's daughter, her sister and her son also have sued Hornbuckle.

"Your idea of stopping Hornbuckle was to get money?" Heiskell said, his voice rising.

"No," Sheppard replied.

The defense team has portrayed Hornbuckle as a womanizer who cheated on his wife but is not a rapist. They conceded that he had many extramarital affairs but said all of his sexual trysts were consensual.

Lisa Mikals, a former elder and business administrator at Agape, was one of the women who said she had an affair with Hornbuckle.

Mikals testified earlier Tuesday that she and Hornbuckle began having sex in 2002 and the following year rented a one-bedroom furnished apartment in Euless with a church credit card for their liaisons. Mikals said that she felt special at first but that over time, Hornbuckle's behavior changed and she tried to distance herself.

She said that she turned to alcohol to try to escape her guilt and that Hornbuckle twice gave her pink pills that made her pass out.

In the summer of 2004, Mikals said, she learned that Buchanan and two other woman had accused Hornbuckle of rape. Several months later, after she was subpoenaed to testify before the grand jury, Mikals said, Hornbuckle ordered her not to say anything about the apartment or their affair.

"He said, 'You know I'll know if you don't say what I tell you to say. I have dogs on the street,' " Mikals testified.

After his warning, Mikals said, she was afraid and lied to the grand jury — a crime for which she later received three years of deferred-adjudication probation.

When Hornbuckle found out that Mikals had hired an attorney who advised her not to cooperate with a private investigator hired by Hornbuckle's defense, he became furious.

"He was yelling," Mikals testified. "He said, 'You are f------- things up! If you don't talk to him, I'm going to jail.' "

The next day Hornbuckle threatened her, Mikals said, telling her that the president's secretary knows more about the president than the first lady, and that secretaries who side with the enemy disappear.

"He said, 'Do you understand that? I'm the president, and you're the president's secretary,'" Mikals said. " 'I can make you disappear or have someone else make you disappear.' "

Melody McDonald, (817) 390-7386
mjmcdonald@star-telegram.com