Victim's Mother Testifies against Hornbuckle
Accuser's Mother Testifies Ex-Cowboy Said Pastor Suicidal

By Jeff Mosier
The Dallas Morning News
August 8, 2006

http://www.dallasnews.com/sharedcontent/dws/news/localnews/
stories/080906dnmethornbuckle.5403241.html

Fort Worth – Former Dallas Cowboys star Deion Sanders urged a woman not to report allegations that Arlington pastor Terry Hornbuckle raped her daughter, the mother testified in court Tuesday.

Loretta Sheppard, 46, told the jury in Mr. Hornbuckle's rape and drug trial that Mr. Sanders said he and pastor T.D. Jakes of The Potter's House in Dallas were working with Mr. Hornbuckle on his problems.

"Hold off on doing anything," Mrs. Sheppard said, quoting the retired cornerback.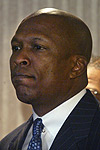 Terry Hornbuckle


She said he also told her that Mr. Hornbuckle, founder of Agape Christian Fellowship, was suicidal and "very sorry for what he did."

Prosecutor Betty Arvin said the testimony helped explain why the 23-year-old accuser and her family didn't immediately go to the police. The accuser – the first of three in this trial – testified last week that she was also worried that no one would believe her accusations against the prominent, politically connected pastor.

Mr. Hornbuckle, 44, is on trial on charges that he sexually assaulted three women, including two church members. He has been in jail since March without the chance for bail after repeatedly violating his terms for release. He also has been indicted but hasn't been tried on charges of sexual assault, possession of methamphetamine, tampering with a witness and retaliation.

Prosecutors have subpoenaed Mr. Sanders and Mr. Jakes to testify at the trial. A hearing is pending to determine whether a pastoral exemption applies.

A court filing by Mr. Jakes' attorneys said that "Bishop Jakes counseled Defendant as a Christian and fellow pastor, and for no other reason." The document said that Mr. Sanders also acted as a "religious functionary" even though he is not an ordained minister.

Defense attorneys have repeatedly questioned why the woman did not immediately report the alleged rape to police. They pointed out that civil attorney G. Lee Finley is representing several women in lawsuits accusing Mr. Hornbuckle of rape as well some former employees who are suing for wrongful termination.

Employee lied

Lisa Mikals, 37, a former church employee who said she had a two-year affair with Mr. Hornbuckle, testified that she lied to a grand jury about their relationship out of fear of Mr. Hornbuckle.

She told the jury that Mr. Hornbuckle described their situation as the same as the U.S. president and his secretary. The secretary knows many of the president's secrets, she said, and Mr. Hornbuckle asked her what would happen if the secretary gave that information to the enemy.

She said Mr. Hornbuckle told her: "They would make her disappear."

Mr. Hornbuckle punctuated the anecdote by reminding Mrs. Mikals that he is the president, she testified.

"You do understand that I could make you disappear or have someone make you disappear," Mrs. Mikals said, describing Mr. Hornbuckle's comments.

Mrs. Mikals testified that Mr. Hornbuckle also told her he wanted to have sex with a virgin.

"He thought that would be a special thing to experience," she said.

The first accuser testified last week that she was a virgin. She also told the jury that she was a lesbian and would not have been interested in sleeping with Mr. Hornbuckle.

Mrs. Mikals testified that Mr. Hornbuckle gave her a pill that he described as a muscle relaxer that knocked her out and left her groggy the next day. The symptoms were similar to those described by the woman who is accusing Mr. Hornbuckle of rape.

State district Judge Scott Wisch allowed Mrs. Mikals to tell the jury about the pill, but she was not allowed to describe its effects to the jurors.

Other allegations

The prosecution is also seeking to introduce testimony that Mr. Hornbuckle gave three women genital herpes. It's not clear yet whether the jury will be allowed to hear those allegations.

The defense attorneys noted that Mrs. Mikals had received a generous plea agreement from the prosecution. For her two felony charges of aggravated perjury, she received three years' probation, and her record could be cleared.

Also during cross-examination, Mrs. Mikals testified that she spent thousands of dollars in church money on herself and for the Euless apartment where she and Mr. Hornbuckle met for sex.

Mrs. Sheppard, a 10-year church member who ran the Agape bookstore, testified Tuesday that she considered killing Mr. Hornbuckle after her daughter told her that the minister drugged and raped her in a Euless apartment. She said her thought was about "going home to get a gun to kill him."

Mrs. Sheppard told the jury that her daughter and sister stopped her.

Mrs. Sheppard said that two days after she learned of the alleged rape, Mr. Hornbuckle preached a sermon about the growing number of molestation cases. He told churchgoers that he would kill anyone who molested his daughter, she said.

She said she stood up and walked out during the service.

"He's lucky I didn't have a gun that night," she said. "He wouldn't be sitting here."

Defense attorneys have previously argued that Mr. Hornbuckle had consensual sex with the women and that they were trying to profit from his success.

Defense attorney Mike Heiskell said during his opening statement that the alleged victims had sex with Mr. Hornbuckle willingly and that he was known as a "playboy" outside the pulpit.

The trial, which started last Wednesday, is expected to last two to three weeks.

E-mail jmosier@dallasnews.com